This Candy Cane Caprese Board is a fun and delicious appetizer board for holiday entertaining.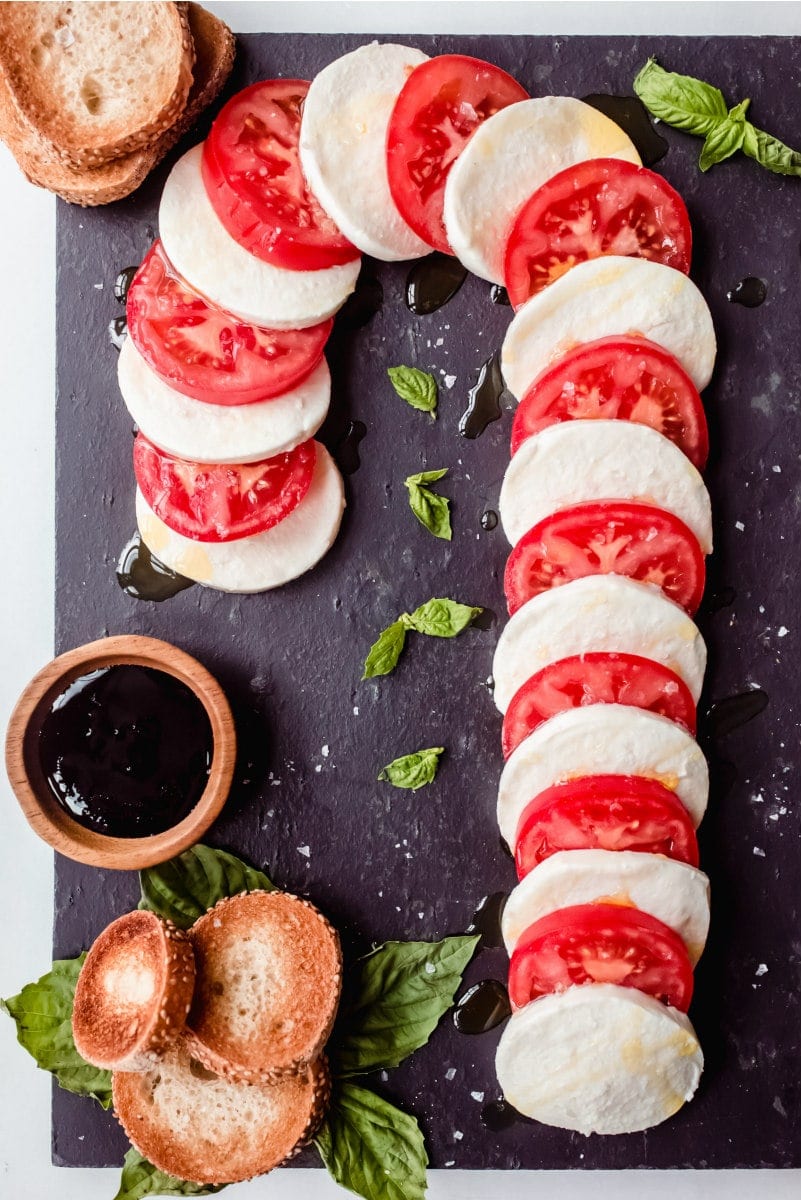 I published this recipe last year, and it was so popular that I decided to re-publish it again this year. It's an easy board that is so fun to display, and even more delicious to eat. I've included a how-to video this time around, showing you how to create this board.
Things can get pretty decadent during the holidays with sweets and heavy appetizers and eggnog. It's nice to have an appetizer display that is a little bit on the healthier side. This Candy Cane Caprese Board is a simple and savory way to impress your guests this time of year. It's cute and festive, but it's delicious too!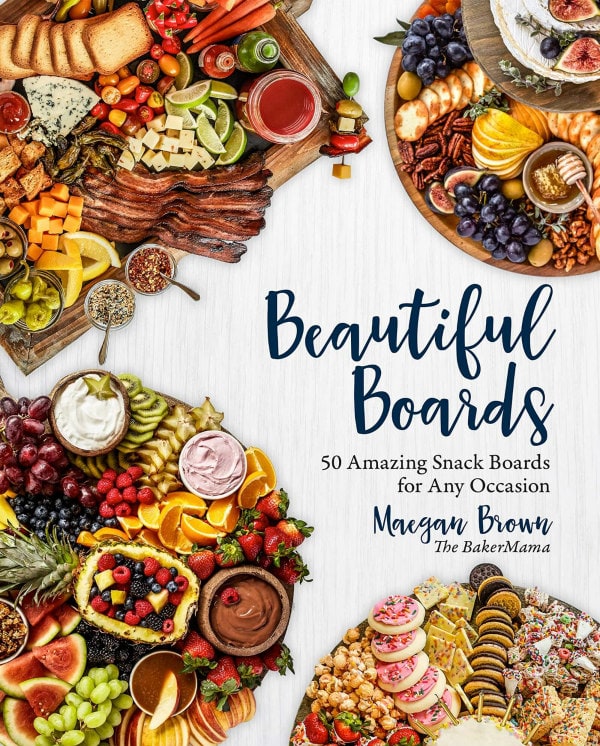 Beautiful Boards
This board comes from a book by my friend Maegan Brown: Beautiful Boards- 50 Amazing Snack Boards for Any Occasion. Snack and charcuterie boards are all-the-rage right now. Visit Pinterest or Instagram, and you'll see plenty of creations. I love that Maegan created a book full of beautiful boards. She has boards for every occasion. It's a super fun book to have on hand if you enjoy entertaining because everyone loves to pick food from a beautifully arranged snack board!
Here are a few of my favorite boards from the book: after-school board (fun board to create if you have a playdate!), gluten-free board (because there is always someone who can't eat gluten), charcuterie and cheese board (the classic), birthday dessert board (super fun idea for a birthday party), Valentine's Day board (again, fun for a party), Hanukkah board (because not everyone celebrates Christmas), bagel board (fun for a brunch), build-your-own sandwich board (lunch party!), and the totally droolworthy chocolate fondue board. See how much fun they are?! I love the candy cane caprese board because it's such an easy and cute one to make for the holidays.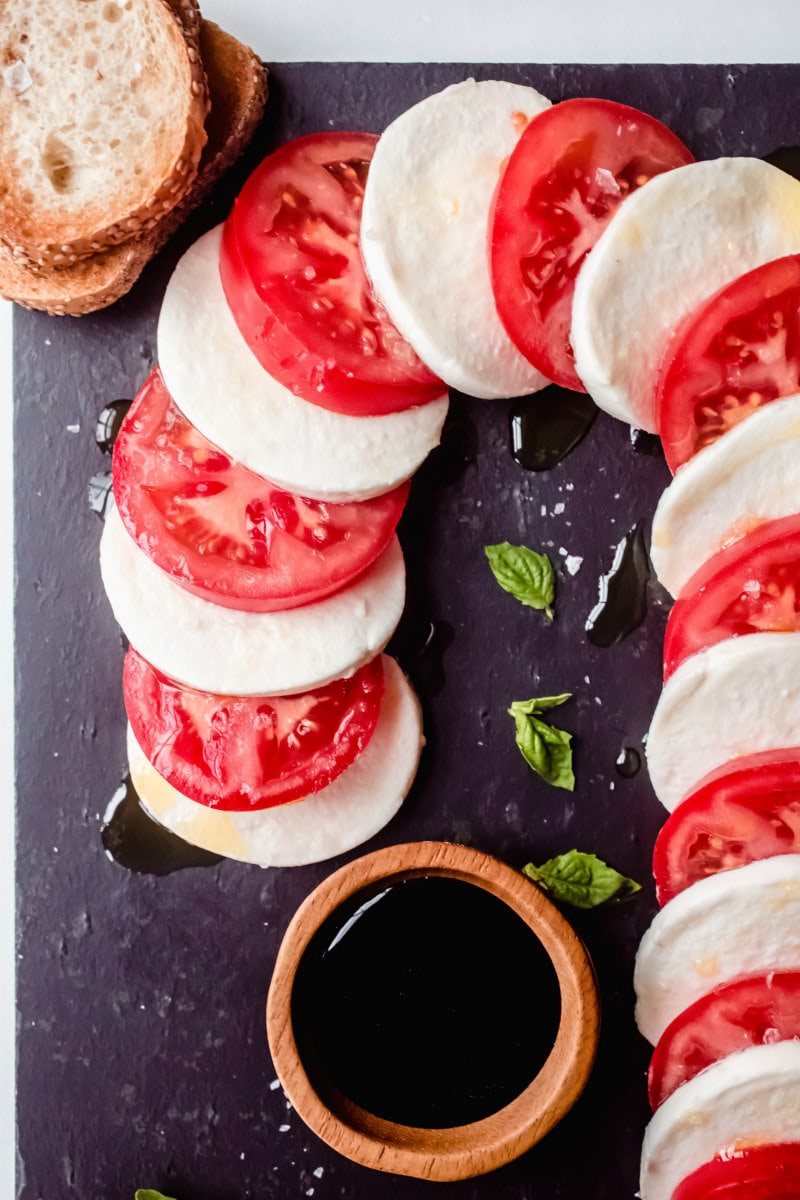 Slices of fresh mozzarella are layered with slices of fresh tomato to form a candy cane shape on whatever rectangular display board or platter that you have available. A rimmed board or platter is optimal, but use whatever works.
Serve with a garnish of fresh basil leaves, a dish of balsamic glaze, olive oil and toasted baguette slices. A sprinkle of sea salt finishes things off. It's basically a caprese salad that has been whimsically shaped on a board.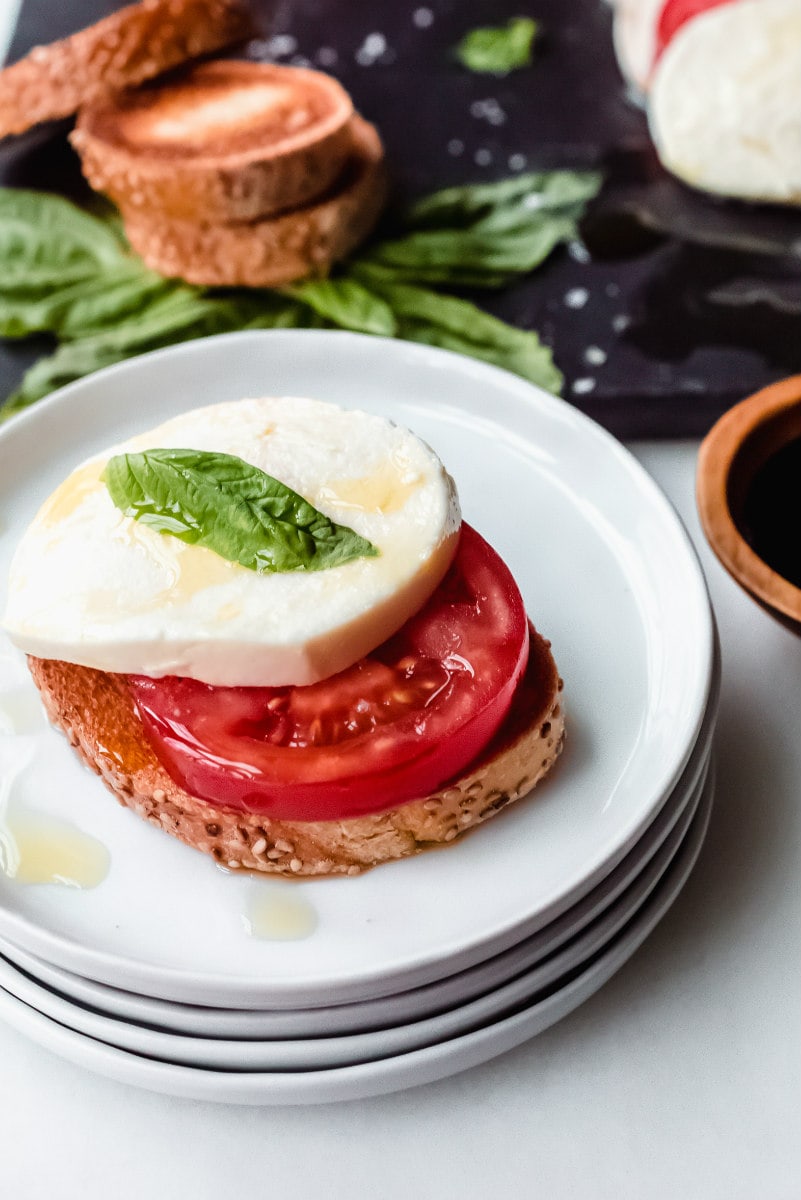 Be sure to display small appetizer plates and forks. Guests can layer their own to make a mini caprese appetizer from the candy cane caprese board.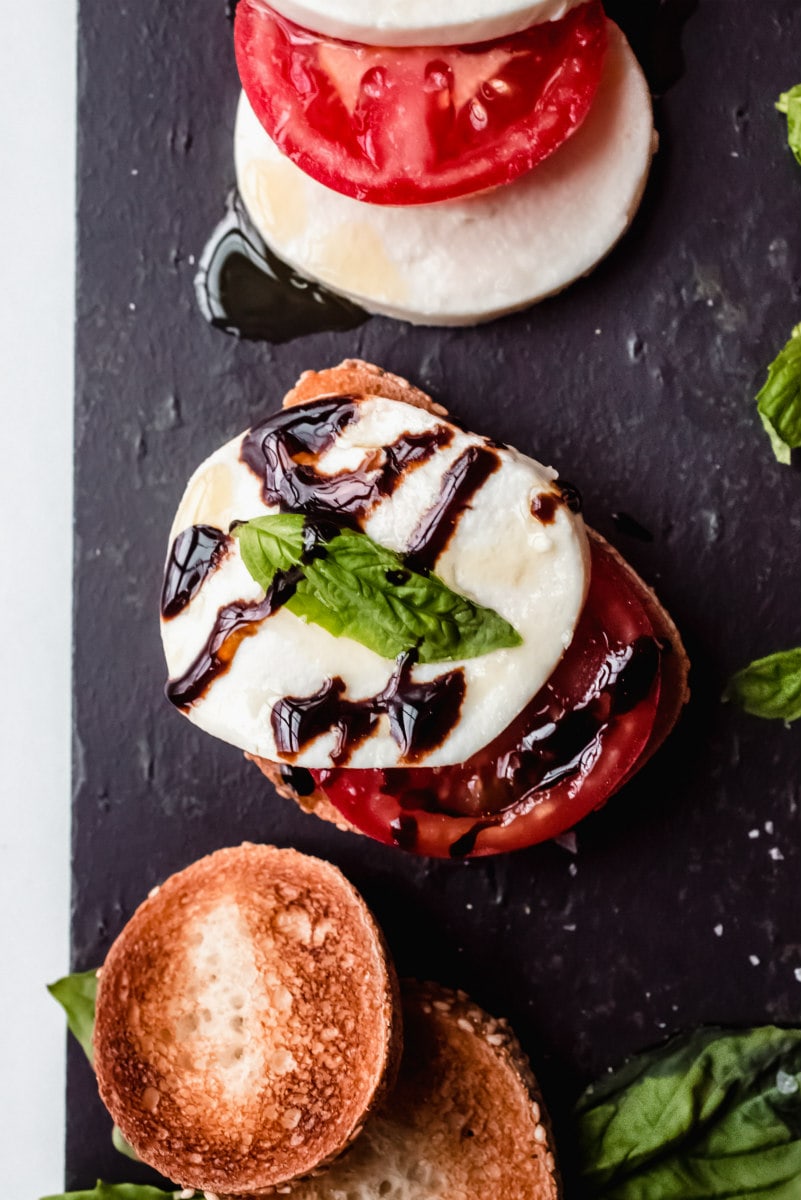 And they can drizzle some of the balsamic glaze on top. Balsamic glaze can be found near the balsamic vinegar in your market. It's a reduced, syrupy version of balsamic vinegar. Or you can make your own!
How to make Balsamic Glaze:
Add 1 cup of balsamic vinegar to a small pan, and heat over medium heat. Bring to a boil, and then reduce the heat to medium-low and let simmer (stirring occasionally). It will reduce into a thickened syrup to about 1/4 to 1/3 cup. Remove from heat and let cool.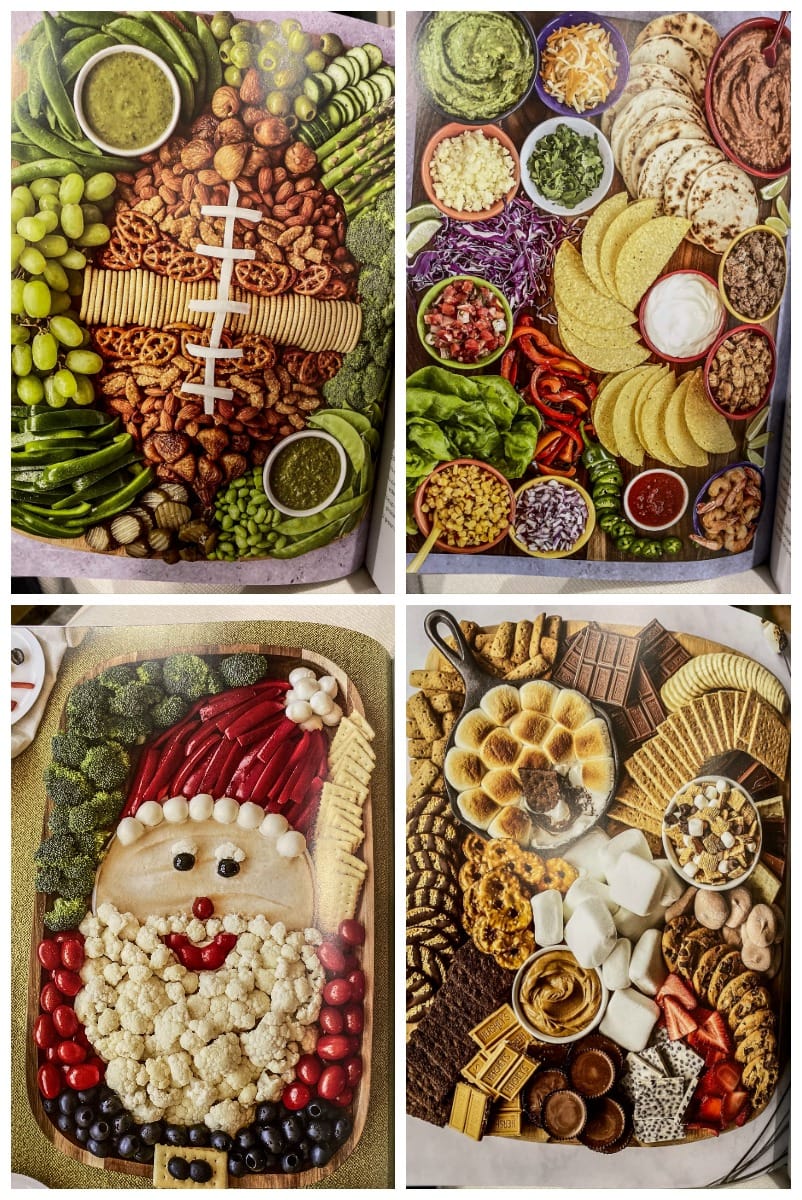 Here are a few or my favorite boards in the Beautiful Boards book: a football party board, make your own taco board, Santa board and a s'mores board. You can also visit Maegan on her blog: The Baker Mama. I can't wait to make more boards!
Here are a few more recipes that are perfect for holiday entertaining:
Candy Cane Caprese Board
Such a cute board for holiday entertaining!
Recipe Details
Ingredients
One

20x13-inch board with a lip

16

ounces

fresh mozzarella cheese log,

sliced 1/4-inch thick into 13 slices

3

large

tomatoes,

sliced 1/4-inch thick into 12 slices

9

whole

fresh basil leaves

2

tablespoons

balsamic glaze

2

tablespoons

olive oil

sea salt,

to taste

1

large

baguette,

sliced and toasted
Instructions
Start at the top end of the candy cane shape and alternate layering a slice of fresh mozzarella with a slice of tomato until you get a big candy cane shape.

Place fresh basil leaves around the board and a small serving bowl with the balsamic glaze.

Just before serving, drizzle the mozzarella and tomatoes with olive oil and sprinkle with sea salt. Serve with additional olive oil and sea salt, as well as the toasted baguette slices.
Nutrition
Serving:
1
serving
,
Calories:
312
kcal
,
Carbohydrates:
22
g
,
Protein:
17
g
,
Fat:
18
g
,
Saturated Fat:
8
g
,
Cholesterol:
45
mg
,
Sodium:
556
mg
,
Potassium:
320
mg
,
Fiber:
2
g
,
Sugar:
3
g
,
Vitamin A:
2376
IU
,
Vitamin C:
14
mg
,
Calcium:
366
mg
,
Iron:
2
mg