These quick-and-super-easy Holiday Cheesecake Bites are both impressive and delicious!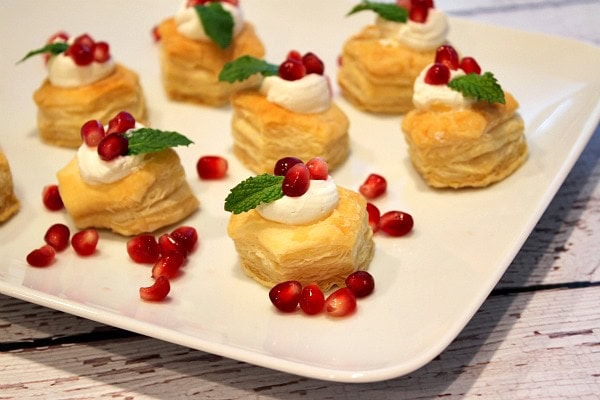 I am so excited to share this recipe with you today.  I am a HUGE fan of cheesecake.  HUGE.  So huge that I begged my husband to have cheesecake-only for our wedding "cake" 18 1/2 years ago.  I backed off on that idea and opted for Spice Cake instead, but I've regretted that decision ever since!  Cheesecake is the best thing ever!!  Who's with me on that one?  This dessert couldn't be any easier to make.  Just pop the Pepperidge Farm® Puff Pastry Cups. into the oven for 20 minutes, then fill with a very easy-to-make no-bake cheesecake filling.  Top with POM arils and mint and that's it!
I'm partnering with Pepperidge Farm® Puff Pastry the next few months to create recipes for my readers, and I also have some very exciting news to share on how you can win a trip to the Pepperidge Farm® Innovation Center in Norwalk, CT by sharing your own idea of creating something delicious with Puff Pastry! Scroll down to the bottom of this post for more info.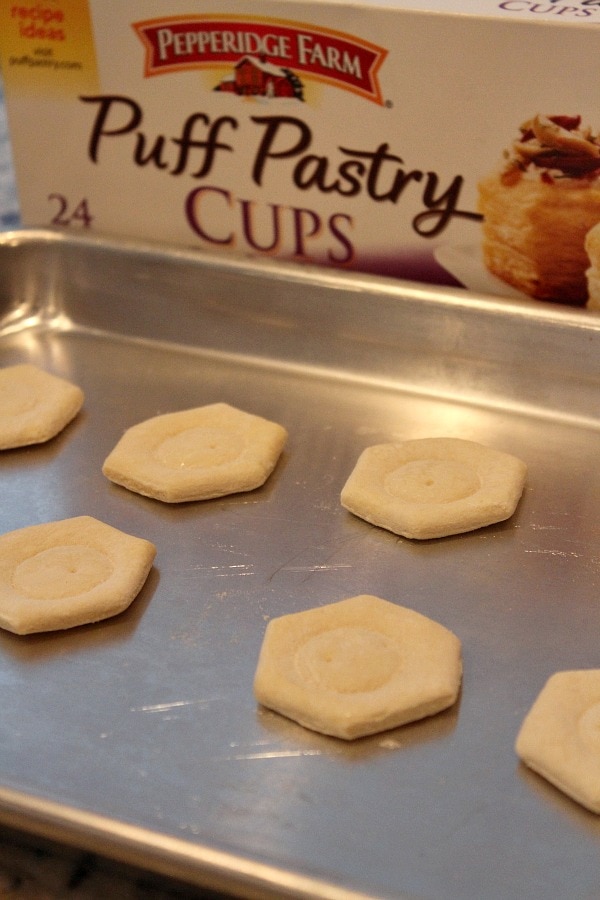 These are the cups to look for at the store.  They're made by Pepperidge Farm®, and you'll find them in the frozen section near the pastries- like pie crust.  These are mini dessert bites.  If you'd prefer to make a more individual, larger-sized fancy dessert then pick up the Puff Pastry SHELLS instead.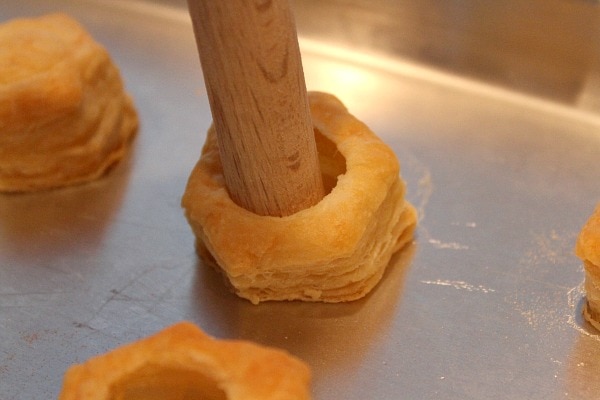 After they come out the oven, you just use the rounded end of a wooden spoon to poke down the middles.
Whip up the cheesecake filling and then scrape it into a baggie.  Snip the end and squeeze the filling into each Puff Pastry Cup…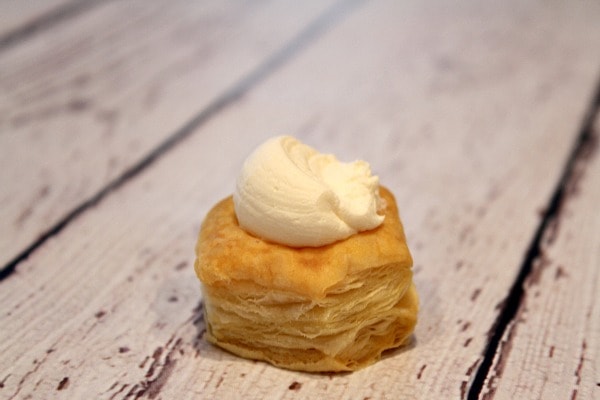 …just like that.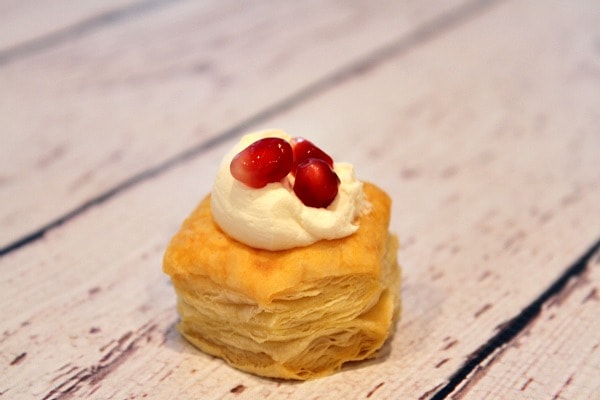 Time for the garnish:  top with a few pomegranate arils (seeds).  You can buy them in little packages at places like Trader Joe's, Whole Foods or other specialty markets.  Or you can open your own pomegranate and remove the arils yourself!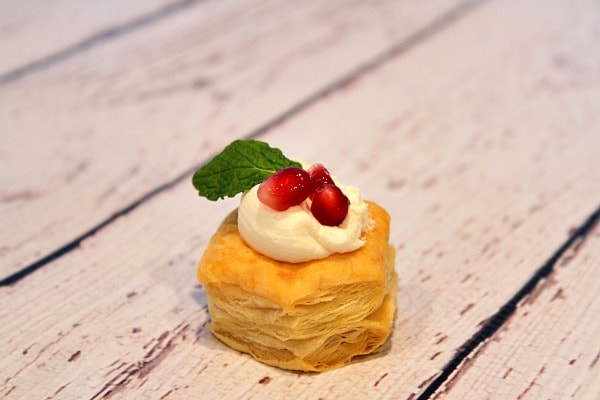 To complete the holiday look, finish with a small mint leaf.  They're perfectly safe to eat.
And there they are- all festive and pretty and Christmassy and stuff.  Easy, right?  I think they're a pretty impressive dessert for the holidays, and they will look gorgeous on a platter.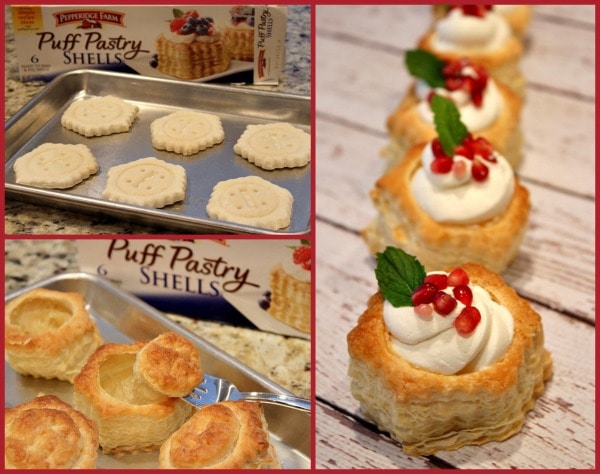 If you prefer to make a larger-sized dessert for a dinner party, buy the Puff Pastry Shells instead (there are 6 in a package).  When they come out of the oven, use a fork to gently remove the centers, then fill with the cheesecake filling and garnish.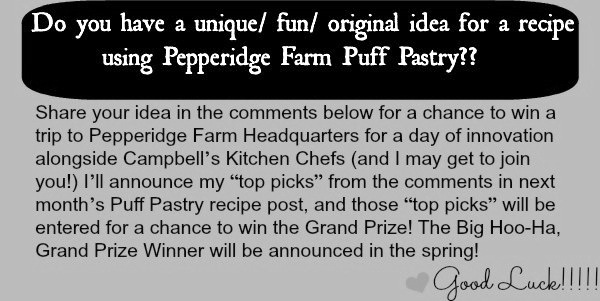 My TOP PICK winner from the last Puff Pastry recipe I shared is:


Congrats to Erin!  Now it's your turn >> In the comments below- share YOUR  own original Puff Pastry recipe/idea and/or twist on an existing dish using Pepperidge Farm® Puff Pastry for a chance to win a trip to the Pepperidge Farm Headquarters!
Holiday Cheesecake Bites
Yield:
24 bite-sized desserts
Prep Time: 15 min
Cook Time: 20 min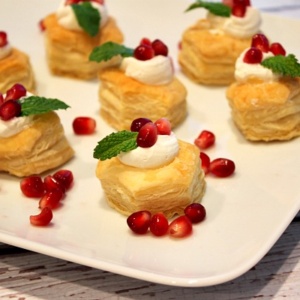 Ingredients:

One 9.5-ounce box Pepperidge Farm Puff Pastry Cups (24 count)
4 ounces cream cheese, softened
2 tablespoons granulated white sugar
1/2 teaspoon vanilla extract
1/2 cup heavy whipping cream
pomegranate arils
24 small mint leaves

Instructions:

1. Bake the Puff Pastry Cups according to package directions. Use the rounded end of a wooden spoon to poke down the hole in the middle of each pastry immediately after baking. Let cool.

2. In a medium bowl, use an electric mixer to whip the cream cheese. Then mix in the sugar and vanilla. Add the whipping cream and mix until thick. Transfer the mixture to a plastic baggie. Snip off the corner of the baggie and squeeze the filling into each of the Puff Pastry Cups. Garnish with POM arils and a mint leaf. Keep refrigerated until ready to serve.

TIPS: Bake the cups up to 24 hours ahead. Assemble the desserts up to several hours ahead of serving time. They'll keep just fine in the refrigerator.

Tips:

*If you prefer, you can make these in larger- one serving- dessert form. Use a box of Pepperidge Farm Puff Pastry Shells (6-count) instead.
*This recipe can be easily doubled- just double all of the ingredients listed.
Disclosure:  I am working with Pepperidge Farm over the next few months to create recipes using their Puff Pastry products as part of their "Puff is the Spark" panel.  This is a product that I use in my kitchen regularly.  All opinions shared are my own.