Sundried Tomato Polenta Bites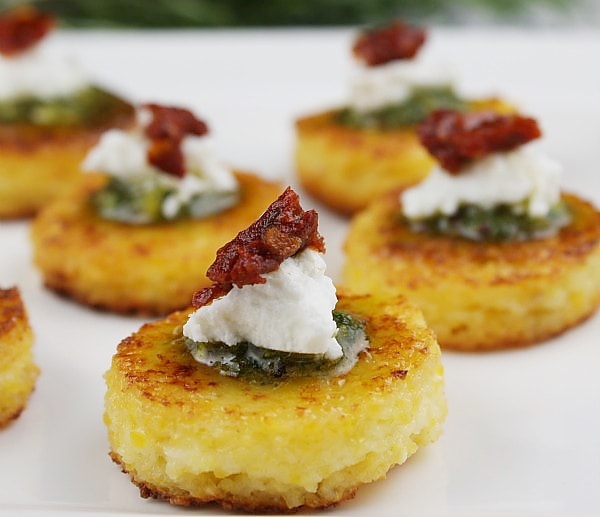 Yield: 24 to 30 appetizers
Prep Time: 40 minutes
Cook Time: 10 minutes
Sundried Tomato Polenta Bites
This elegant appetizer is wonderful for the holidays- a little red, a little green... very festive and delicious too!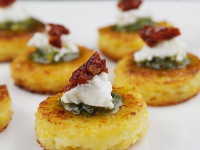 Ingredients:
BITES:
2 2/3 cups whole milk
1 sprig fresh rosemary
1 sprig fresh thyme
1 clove garlic, peeled and crushed
1 cup yellow cornmeal or polenta
1/3 cup olive oil (more or less), for frying
PESTO:
1/2 cup (packed) fresh basil leaves, rinsed and dried
1/4 cup shelled pistachios
2 Tablespoons freshly grated Parmesan cheese
1/3 cup extra-virgin olive oil
salt and freshly ground pepper, to taste
TOPPING:
2 ounces goat cheese, cut into small chunks
1/3 cup sundried tomatoes packed in oil, drained & cut into smaller pieces
chopped pistachio, optional
sea salt
Directions:
1. Prepare polenta bites: Lightly oil 13x9-inch baking pan. Bring first 4 ingredients to simmer in a large saucepan over medium heat; simmer 5 minutes. Using a slotted spoon, remove herbs and garlic. Whisk in cornmeal in a slow steady stream; return to boil. Reduce heat to low. Simmer until the polenta is very thick, whisking often, about 10 minutes. Turn polenta out into prepared pan; spread to 1/2-inch thick layer- don't worry about making it perfect- just spread it out as even as you can. Let it cool completely. When the polenta is cool, use a 1 to a 1 1/2-inch round cutter to cut out 24 to 30 polenta rounds (as many as you can).
2. Prepare pesto: Place basil, pistachios and cheese in a mini processor Blend to create a coarse puree. Add olive oil and blend until pesto is smooth. Season with salt and pepper.
3. Pour about 1/3 cup olive oil into a large nonstick skillet to coat the bottom; heat over medium-high heat. Saute polenta rounds until they are lightly browned, about 1 minute on each side; transfer to paper towels to drain.
4. Assemble: Top each polenta round with a small amount of pesto, a chunk of goat cheese and sundried tomato. Add a few chopped pistachios too, if you'd like. Finish them with a sprinkle of sea salt.
Tips:
*I like to use Bob's Red Mill brand Corn Grits (Polenta).
*Make-ahead tip: Prepare the polenta rounds as described in step 1 up to two days ahead; cover and chill.
*Make ahead tip: Prepare the pesto up to 1 day ahead; cover and chill. For a quick & easy sub- use store bought pesto in place of the homemade.
*Make ahead tip: Fry the polenta rounds up to 4 hours ahead. Let stand at room temperature, then re-warm in 375 degree oven for 5 minutes before adding toppings and serving.
*Serve this warmed, but they're still good when they come to room temperature too.
Source: RecipeGirl.com (Loosely adapted from Bon Appetit)
Comments