This recipe has been featured in a step by step how-to post on The Recipe Girl blog: Margarita Shrimp Bites with Southwestern Sauce.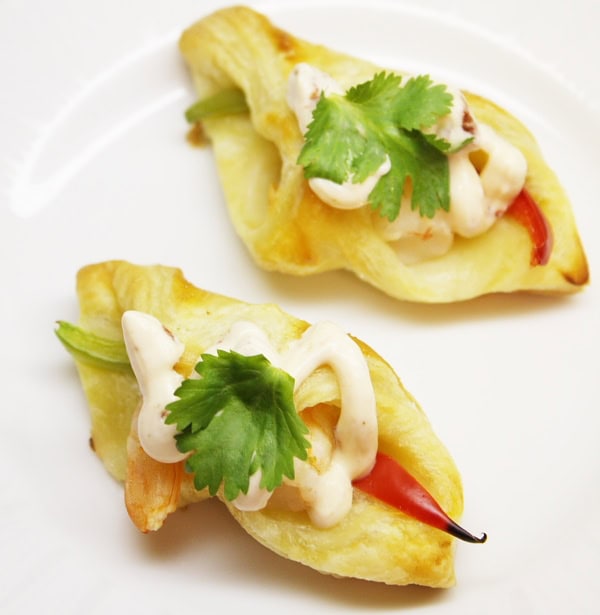 Margarita Shrimp Bites
I made this recipe for a very big birthday party... had them all prepared and in the fridge & then threw them into the oven every 20 minutes. They *flew* off the platter quicker than I could bake them!
Yield:
32 appetizers
Prep Time: 30 minutes + marinating time
Cook Time: 20 minutes
Ingredients:

SHRIMP & MARINADE:
32 large, frozen shrimp, peeled & de-veined
zest of one lime
juice of two limes
1 Tablespoon tequila
1/2 Tablespoon granulated sugar

SAUCE:
1 cup sour cream
1 large canned chipotle chile in adobo sauce (seeded & chopped)
1 teaspoon adobo sauce (from the can)
1/2 teaspoon ground cumin
1/2 Tablespoon lime juice
1/8 teaspoon salt

REMAINING INGREDIENTS:
1 red bell pepper, cut into thin 2-inch strips
1 green bell pepper, cut into thin 2-inch strips
1 box Puff Pastry
1 large egg mixed with 1 Tablespoon water
32 cilantro leaves (picked off of their stems)

Instructions:

1. Place shrimp and marinade ingredients in large zip bag, and let defrost in refrigerator overnight.

2. Mix sauce ingredients; transfer to a plastic, covered container and refrigerate until ready to use.

3. Prepare appetizers: On a lightly floured surface, unfold one sheet of Puff Pastry and roll out to eliminate fold marks and to get a nice, even square. With a sharp knife, cut down the center both vertically and horizontally to create four equal squares. Then cut each square both vertically and horizontally to create four small squares. You should be able to create 16 small squares from each sheet of Puff Pastry.

4. Drain thawed shrimp and pull off tails.

5. Remove a small square to a cutting board work surface. Place one piece of red bell pepper and one piece of green bell pepper diagonally onto the square. Make sure that a little green is peeking out of one side and a little red is peeking out of the other side. Lay one shrimp on top of the peppers. Fold Puff Pastry corner to corner over the peppers and shrimp. Use a little water to stick the corners together and use a fork to seal the corners completely. Wrap the corner up and over the top of the appetizer (you won't see the fork marks at all when you do this). Seal again with a tiny amount of water, if necessary. Place appetizer on parchment-lined (or greased) baking sheet. Repeat with remaining squares of Puff Pastry, shrimp and peppers. Cover with plastic wrap and refrigerate until ready to bake.

6. When ready to serve, take off plastic wrap and brush each appetizer with egg wash. Bake in preheated 400 degree F. oven for 15 to 20 minutes, or until golden brown.

7. To serve, move appetizers to a platter. Scoop southwestern sauce into a zip baggie. Snip a small piece off of the corner and drizzle onto each Puff Pastry bite. Place a cilantro leaf onto the top of each appetizer; serve immediately.

Tips:

*Leave out the tequila if you prefer to cook without alcohol.
*Try adding zest and juice from an orange as well, making this more of a citrus margarita shrimp.
*This appetizer may be assembled ahead of time and placed onto cookie sheets- just wrap and refrigerate for up to 24 hours, and then bake as directed.