Grab the strawberries and dip, dip, dip! >> Margarita Fruit Dip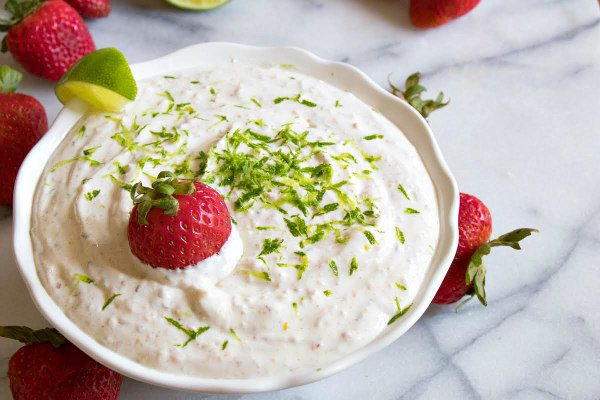 This is a delicious, sweetened citrus-tequila fruit dip. With a little bit of tequila in this one, it's best not to serve this at a party with kids (or place it well out of reach of the kiddos). Leave the tequila out if you'd just like the flavors but no alcohol.
Thanks to Serene from the HouseOfYumm blog for these beautiful photos.  Serene is one of the photographers for RecipeGirl.com, and she captured the deliciousness of this fruit dip perfectly!
Yield: 2 1/2 cups
Prep Time: 15 minutes + chill time
Margarita Fruit Dip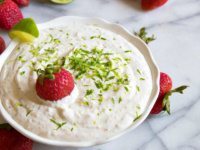 Ingredients:
2 cups sour cream (light is just fine)
3 tablespoons granulated white sugar
3 tablespoons tequila
1 tablespoon freshly grated lime zest
1 tablespoon freshly grated orange zest
1/4 teaspoon ground cinnamon
3 tablespoons ground roasted almonds
Directions:
In medium bowl, combine all ingredients and whisk well until blended.
Cover and chill several hours.
When ready to serve, garnish with small lime slices or zest.
Serve with fresh fruit.
Tips:
This is great to prepare the evening before your event and let it chill overnight.
Using a better tequila will give this dip a better flavor.
SOURCE: RecipeGirl.com
Here are a few more fruit dip recipes you might enjoy:
Leave a Comment