This amazing Beer and Bacon Dip recipe is easy to prepare and everyone will love it!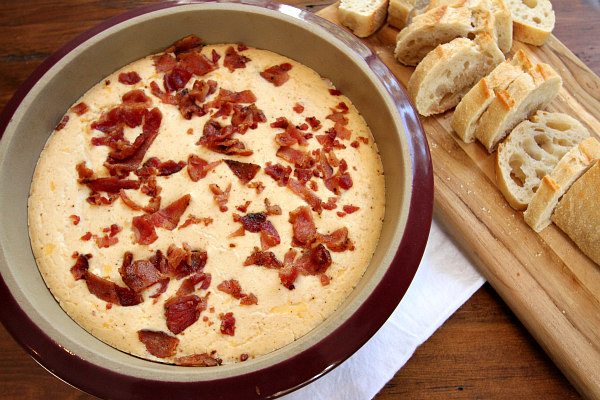 The Super Bowl is just a couple of weeks away… and whether or not your team is playing (mine isn't… Patriots 🙁 ), it's still a fun day to turn on the TV, watch the festivities and prepare some game day food to enjoy!  This dip is perfect for that.  Beer and bacon are delicious additions to a cheesy dip!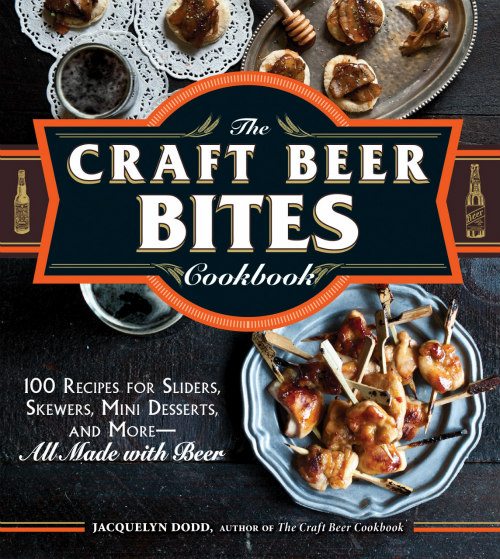 This recipe comes from my friend Jackie Dodd's newest cookbook:  The Craft Beer Bites Cookbook.  Jackie is the author of the blog, The Beeroness.  She's a craft beer expert, and she knows how to create recipes that are enhanced by the flavors of craft beer.  This cookbook is an awesome one for beer lovers!  Here are a few recipes from the book that I'm looking forward to making:  Beer-Poached Lobster Sliders, Maple Porter-Glazed Bacon-Wrapped Dates, Beer-Braised Carnitas Crostini, Triple-Chili Beer Cheese Dip, IPA Smoked Salmon Lettuce Wraps, Salted Beer Caramel Corn, Grilled Barbecue Chicken and Peach Mini Pizzas, Garlic Chili Beer Butter Shrimp, Beer-Battered Mini Corn Dogs and IPA Lemon Bars.  There are so many things that sound so good, and my husband will be happy to handle the beer leftovers 🙂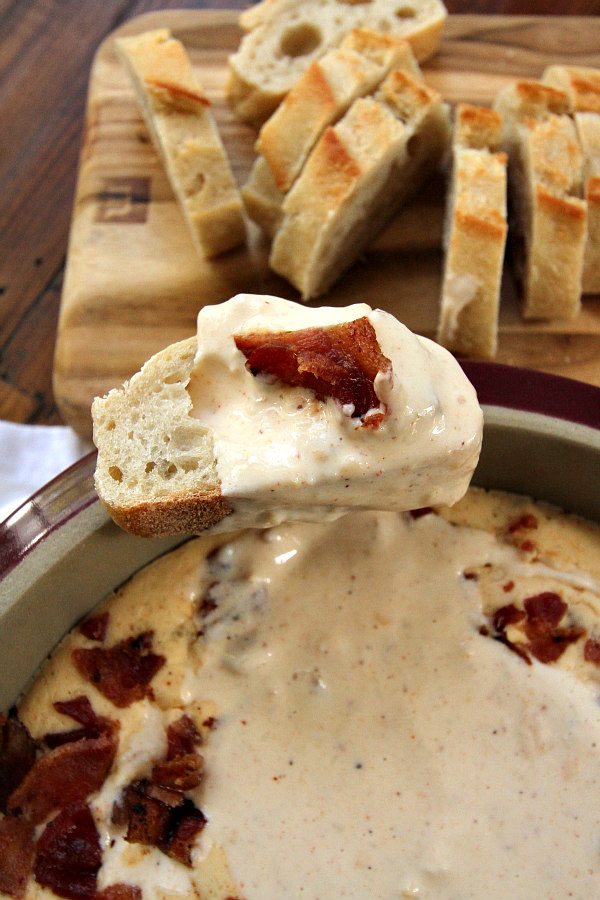 There's bacon mixed into the dip, and there's bacon sprinkled on top too.  I could dunk and eat this all day long.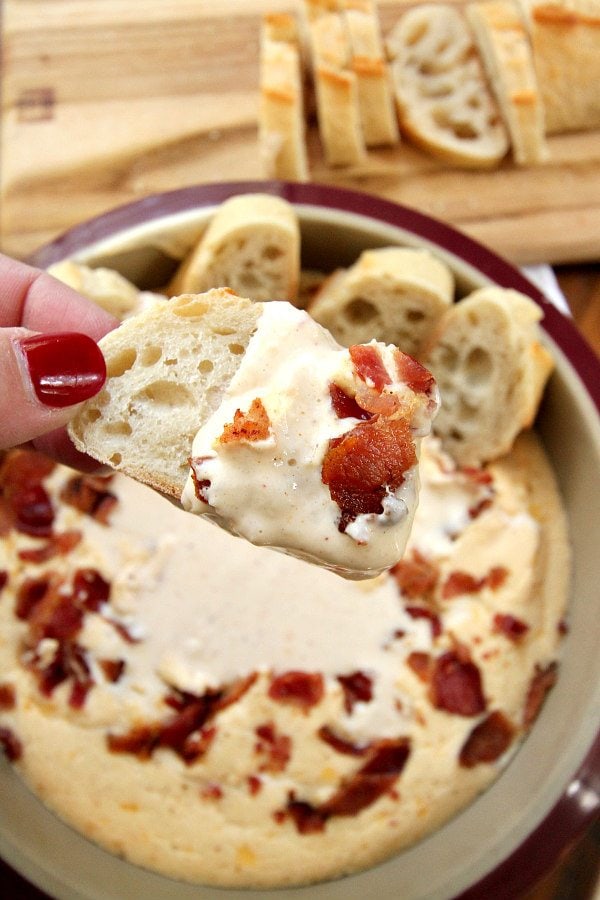 The IPA used for the recipe gives it a distinctive flavor- you can definitely taste it.  So use an IPA that you enjoy… you'll want to enjoy the IPA leftovers too!
Yield: 3 cups
Prep Time: 15 minutes
Cook Time: 20 minutes
Beer and Bacon Dip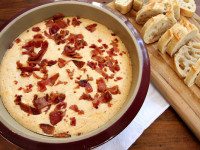 Ingredients:
16 ounces cream cheese
1/2 cup sour cream
1 2/3 cups shredded mozzarella cheese
3/4 cup IPA
1/2 cup shredded cheddar cheese
2 tablespoons cornstarch
1 teaspoon garlic powder
1/2 teaspoon smoked paprika
1/2 teaspoon chili powder
1/2 teaspoon salt
8 slices bacon, cooked and chopped (save some for topping)
crackers or baguette slices, for dipping
Directions:
Preheat the oven to 350 degrees F.  Spray an oven-safe dish (one that will fit 3 cups) with nonstick spray... or rub with butter.
Add the cream cheese, sour cream, mozzarella, IPA, cheddar, cornstarch, garlic powder, paprika, chili powder and salt to a food processor or blender.
Process on high until smooth and well-combined, about 2 minutes.  Stir in most of the chopped bacon- reserving about 2 tablespoons.
Scrape the dip into the prepared dish and top with the reserved bacon.  Baked until warmed through, 15 to 20 minutes.  Serve warm with crackers or baguette slices.
Here are a few more beer dip recipes you might enjoy:
Comments