For those who enjoy their steak and beer! >  Steak and Beer Chili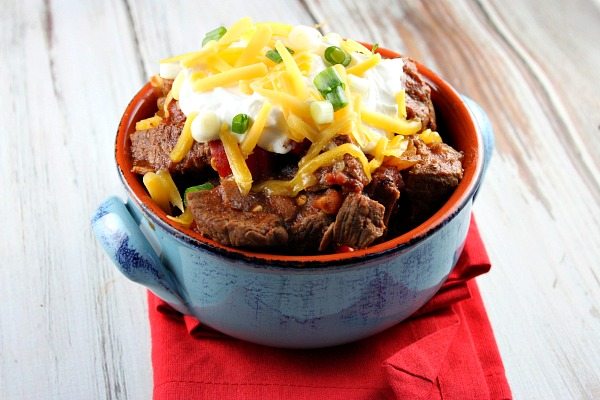 It's pretty crazy how your tastes change as you get older.  I didn't touch much red meat for such a long time, but I crave beef now like ALL THE TIME.  It's too bad… since it can mess with your cholesterol levels and stuff like that.  But I feels like there is nothing better than a really good steak, or a really good burger, or a tender roast beef sandwich.  It's all such a major draw for me.  Beef chili has always been my favorite, but it's even better when you use steak in place of good 'ol ground beef.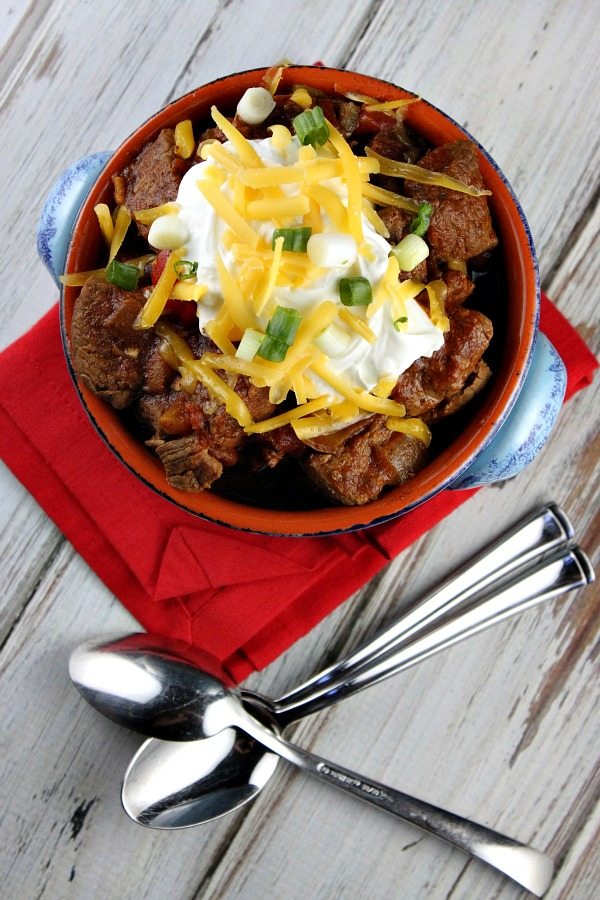 The steak is simmered to tender in the slow cooker with a slew of hearty ingredients and a bottle of beer.  Use a beer you like to drink since that's the flavor that will be imparted into the dish.  If you buy a 6-pack, you'll have 5 to enjoy, or share with friends 🙂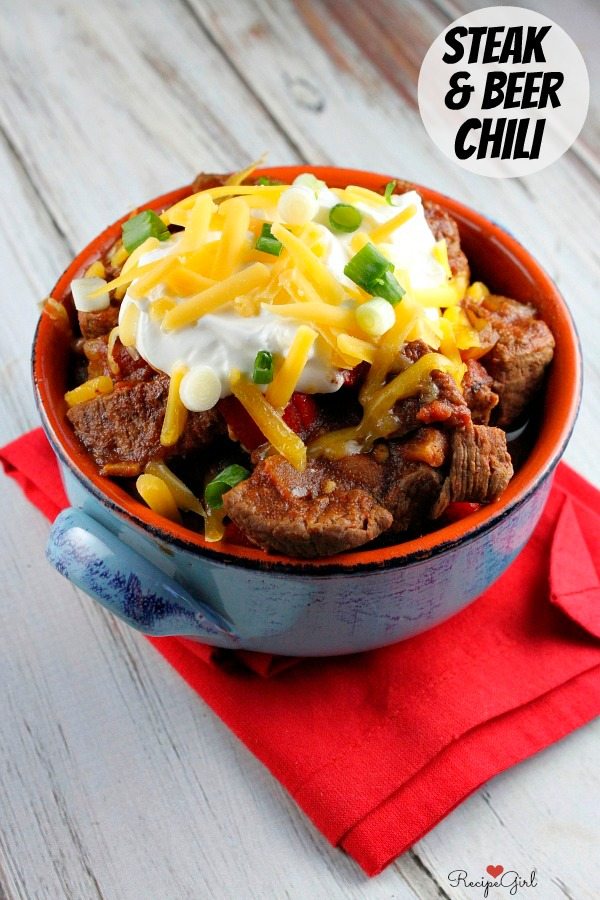 This is such a guy recipe, right?  Steak and beer!  What kind of dude would object to that?  I'm going to go ahead and recommend this one for SuperBowl Sunday… or Father's Day… or just a day where you are craving red meat as much as I am!
Steak and Beer Chili
Yield:
8 servings
Prep Time: 25 min
Cook Time: 4 hour 5 min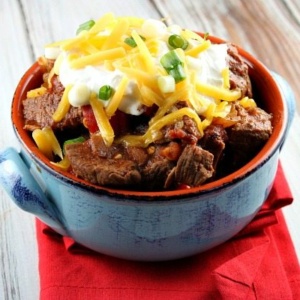 Ingredients:

1 tablespoon extra-virgin olive oil
3 pounds sirloin steak, trimmed of fat and cut into 1-inch cubes
1 cup chopped yellow onions
2 tablespoons minced garlic
One 15-ounce can black beans, drained and rinsed
One 15-ounce can pinto beans, drained and rinsed
One 15-ounce can kidney beans, drained and rinsed
One 15-ounce can diced tomatoes, undrained
One 6-ounce can tomato paste
1 large green bell pepper, seeded and chopped
1 large red bell pepper, seeded and chopped
One 4.5-ounce can chopped mile green chiles, squeezed dry
One 12-ounce bottle of beer (something you enjoy- a darker ale is good!)
1/2 cup beef broth
3 tablespoons chili powder
1 teaspoon cayenne pepper
1 teaspoon ground cumin
1 teaspoon dried oregano
1 tablespoon molasses
for serving, as desired: sour cream, shredded cheese, green onions etc.

Instructions:

1. Heat the oil in a large nonstick skillet over medium heat. Add the steak, onions and garlic, and saute for 5 minutes, stirring often, until the meat is lightly browned and the onions are just tender. Do not overcook.

2. Scrape the contents of the skillet into your slow cooker. Add the rest of the chili ingredients (except serving ingredients, of course), and stir to combine. Cover and cook on LOW for 4 to 6 hours.

3. Scoop into bowls and serve with desired fixings.

SOURCE: RecipeGirl.com (adapted from Fan Fare)
More steak chili recipes you may enjoy:
Spicy 5-Bean Chili with Steak and Sausage by Barefeet in the Kitchen
Two-Bean Steak Chili by Dine & Dish
Slow Cooker Leftover Flank Steak Chili by Mother Rimmy's Cooking Light Done Right
Hearty Steak and Red Bean Chili by Poor Girl Eats Well
Steak and Poblano Chili by The Wicked Noodle