This is the best recipe for a chilly day: Chicken Butternut Squash Chili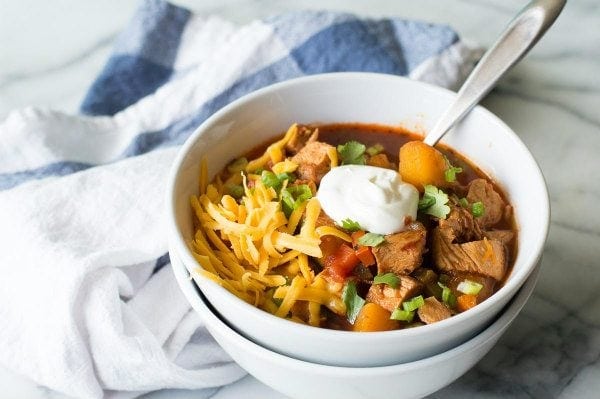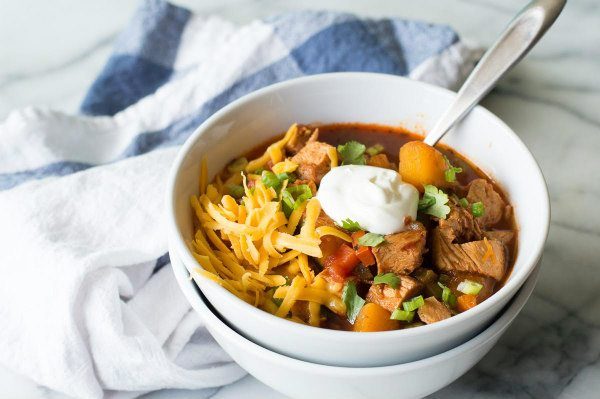 I remember making this recipe for the first time when I was visiting my big sister in Tacoma, Washington.  When my sister and I are together, we tend to like to make soups and chili… and I had this recipe ready to go so I brought it with me and we made it and enjoyed it on a chilly autumn day.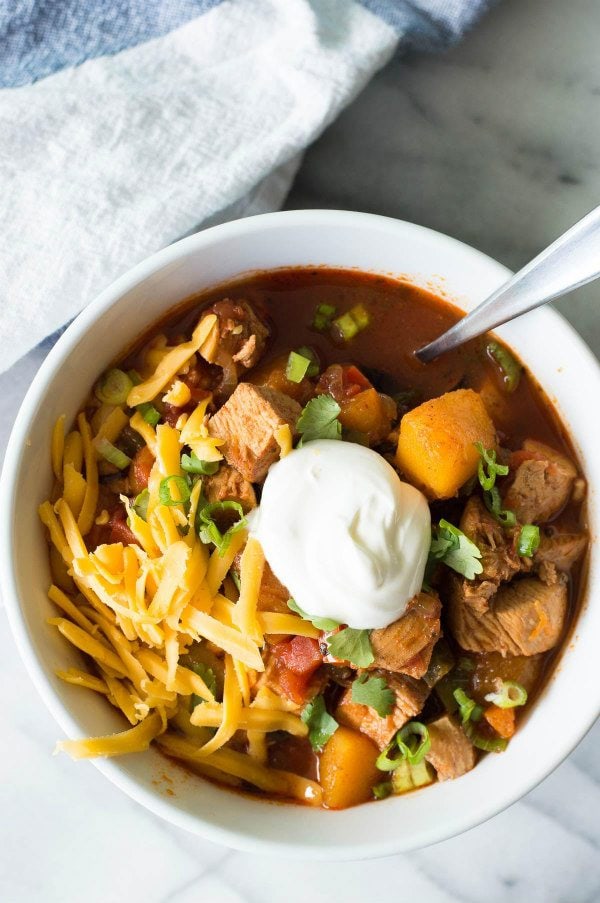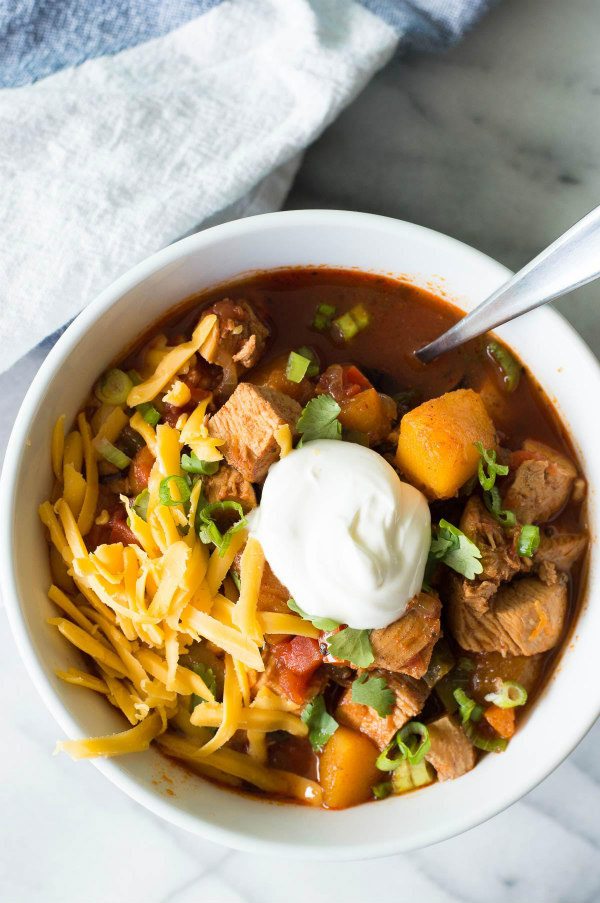 You can use frozen butternut squash, if you'd like, for a shortcut to make the recipe a little easier.
And if there is anything in the recipe that you don't like– such as olives or beans– you can certainly leave those things out.  This is a great chili recipe!
Chicken Butternut Squash Chili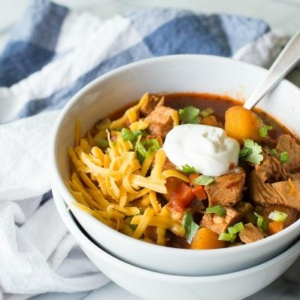 This chili has all the flavors of a traditional chili, but with the added bonus of butternut squash.
Yield:
6 servings
Prep Time: 25 minutes
Cook Time: 35 minutes
Ingredients:
2 tablespoons olive oil
2 cups chopped sweet onion
2 cups chopped red bell pepper
2 cups chopped green bell pepper
3 tablespoons minced jalapeño (seeds removed)
1 clove garlic, minced
1 cup beer
1 cup low-sodium, fat-free chicken broth
1/4 cup sliced black olives
3 tablespoons chili powder
1 teaspoon ground coriander seed
1/2 teaspoon salt
1 (28 ounce) can chopped tomatoes, with juice
1 pound boneless skinless chicken breasts, cut into cubes
2 cups cooked butternut squash, peeled & cubed
2 tablespoons chopped fresh cilantro
1 tablespoon cocoa powder
1 (15.75 ounce) can pinto beans, rinsed & drained
sliced scallions, cheddar cheese & sour cream, for topping (optional)
Directions:
Heat the oil in a Dutch oven or large pot over medium heat. Sauté the onions until lightly browned- about 8 minutes.
Add the bell peppers, jalapeño and garlic. Sauté for an additional 5 minutes.
Add the beer, broth, olives, chili powder, coriander, salt, tomatoes and chicken. Bring the mixture to a boil, reduce the heat, cover partially and simmer for 15 minutes.
Stir in the squash, cilantro, cocoa and beans. Simmer for 5 minutes.
Serve in individual bowls, topped with cheese, sour cream and scallions.
Tips:
Try using cooked pumpkin in place of the butternut squash.
Try using double quantities of jalapeno, garlic, coriander and cilantro for more spice!
Nutrition:
Nutritional Information per serving (Serving size:

1/6th of the chili) 

Calories:

321, 

Fat:

8.25g, 

Saturated Fat:

1.5g, 

Sugar:

8.75g, 

Fiber:

9.5g, 

Protein:

26g, 

Cholesterol:

44mg, 

Carbohydrates:

39.5g

WW POINTS per serving: SmartPoints: 5,  Points Plus: 8, Old Points: 9
SOURCE: RecipeGirl.com