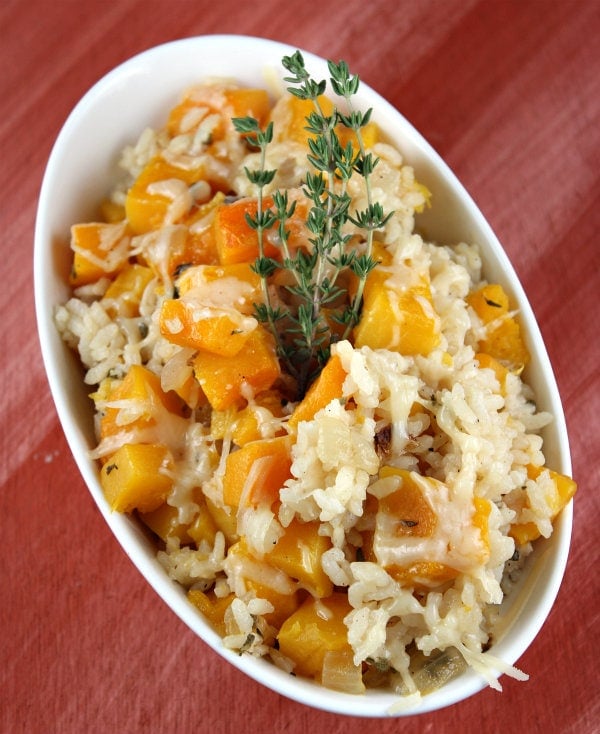 Baked Rice with Butternut Squash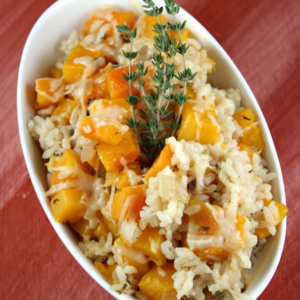 Great side dish recipe reminiscent of butternut squash risotto...
Yield:
6 servings
Prep Time: 30 min
Cook Time: 1 hour 20 min
Ingredients:
3 cups chopped butternut squash (about 1/2 large squash)
2 cups fat-free, less sodium chicken broth
1 cup water
1 Tablespoon chopped fresh sage (or 1 tsp. dried rubbed sage)
1 teaspoon olive oil
1 cup diced onion
2 cloves garlic, minced
1 cup uncooked Arborio rice (or other short-grain rice)
1/4 cup dry white wine
1 teaspoon chopped fresh thyme (or 1/4 teaspoon dried thyme)
1/2 teaspoon salt
1/4 teaspoon black pepper
cooking spray
1/4 cup grated fresh Parmesan cheese (1 ounce)
fresh thyme sprigs (optional)
Directions:
1. Preheat oven to 350°F.
2. Place squash on baking sheet and bake for 15 minutes or until slightly tender; cool. Increase oven temperature to 400°.
3. Bring broth, water and sage to a simmer in a medium saucepan (do not boil). Heat oil in a large nonstick skillet over medium-high heat. Add onion; sauté 6 minutes. Add garlic; sauté 2 minutes. Add rice; sauté 1 minute. Stir in squash, broth mixture, wine, chopped thyme, salt and pepper; cook 5 minutes, stirring occasionally.
4. Place rice mixture in 13x9-inch baking dish coated with cooking spray. Bake for 30 minutes. Stir mixture gently. Sprinkle with cheese; bake an additional 5 minutes or until cheese melts. Garnish with thyme sprigs, if desired.
Tips:
*If preparing this as a gluten free recipe, be sure to purchase a brand of chicken broth that is designated as GF.
*Sometimes you can find the squash peeled and cubed in ready-to-cook bags at grocery stores or Trader Joes.
*I prefer this recipe with additional cheese and salt, but that affects the nutritional information included below.
Nutrition:
Nutritional Information per serving:
Serving size: recipe divided into 6 equal servings
Calories per serving: 209
Fat per serving: 2g
Saturated Fat per serving: 1g
Sugar per serving: 3.75g
Fiber per serving: 3g
Protein per serving: 5.5g
Cholesterol per serving: 3.5mg
Carbohydrates per serving: 41g
WW POINTS per serving:
Points Plus Program: 5 Old Points Program: 5