Easy, delicious recipe for Butternut Squash Risotto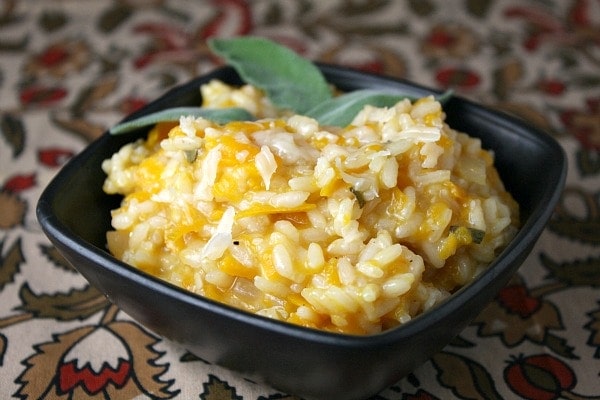 Butternut Squash Risotto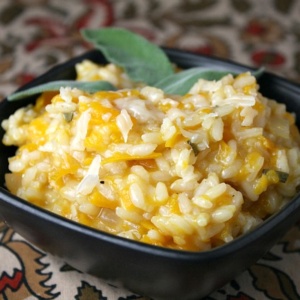 Yield:
4 servings
Prep Time: 25 minutes
Cook Time: 40 minutes
Ingredients:
4 cups low-sodium chicken broth (use vegetable for vegetarian)
2 tablespoons extra-virgin olive oil
1 large yellow onion, finely chopped
1/2 teaspoon kosher salt
1/4 teaspoon black pepper
2 tablespoons finely chopped fresh sage
1 small butternut squash- peeled, seeded, and grated (about 4 cups)
1 large clove garlic, finely chopped
1 1/2 cups Arborio rice
1 cup dry white wine
1/2 cup (2 ounces) freshly grated Parmesan cheese
Directions:
Warm the broth in a small saucepan over low heat.
Meanwhile, heat the oil in a large saucepan over medium heat. Add the onion, salt and pepper and cook for 4 minutes. Add the sage and cook for 1 minute. Add squash and garlic and cook until the squash begins to soften, about 3 minutes. Add rice and cook, stirring constantly, for 3 minutes. Add the wine and cook, stirring frequently, until the liquid is absorbed, about 3 minutes. Add the broth, 1/2 cup at a time, stirring occasionally and waiting until it is absorbed before adding more. It should take about 30 minutes for all of the broth to be absorbed.
Remove from heat and stir in the Parmesan. Spoon into individual bowls.
Tips:
If you are preparing this recipe as GLUTEN FREE, just be sure to use a brand of chicken broth that is known to be GF.
To grate butternut squash, rub peeled squash against the large holes of a box grater, or roughly chop it, then pulse it in a food processor.
SOURCE: RecipeGirl.com