Here's a fall salad for you that is perfect for the holidays:  Kale Salad with Butternut Squash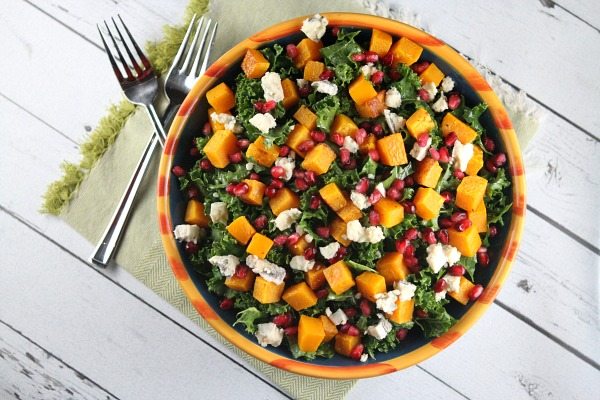 In this salad recipe, chopped kale is tossed with roasted butternut squash, blue cheese (sub feta if you'd like), pomegranate seeds and a honey-cider vinaigrette.  It's such a simple salad, but it's so good that I could eat the entire thing!  And it's so pretty and colorful that I will definitely be serving it over the upcoming holidays.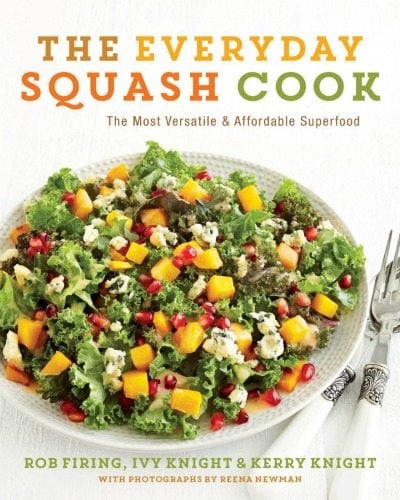 This recipe comes from The Every Day Squash Cook by Rob Firing, Ivy Knight and Kerry Knight.  I'm completely enamored with this cookbook!  It's full of recipes that utilize all kinds of varieties of squash.
Here are a few of the pages I have tagged to make very soon:  Butternut "Bacon," Grilled Cheese Sandwiches with Pumpkin and Brie, Spaghetti Squash Soup with Coconut Milk and Ginger, Roast Chicken Stuffed with Squash and Wild Rice, Spinach Salad with Acorn Rings and Warm Bacon Vinaigrette, Creamy Acorn Squash Polenta, Zucchini Refrigerator Pickles, Squashsicles, Butternut Brownies, and Zucchini- Walnut Loaf with Lemon Glaze.  Doesn't it all sound AMAZING??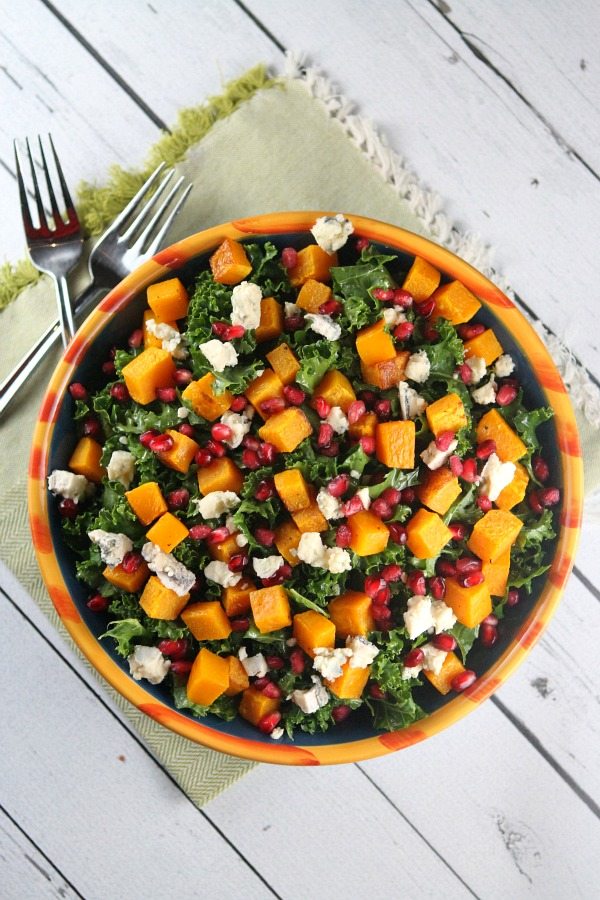 If you're kind-of afraid of kale or if you think you don't like it… give kale a chance!  If you're not happy with the texture of raw kale, toss the salad with the dressing and give it some time to "marinate."  The dressing will soften the kale, and you can then taste the salad and declare, "I love kale!"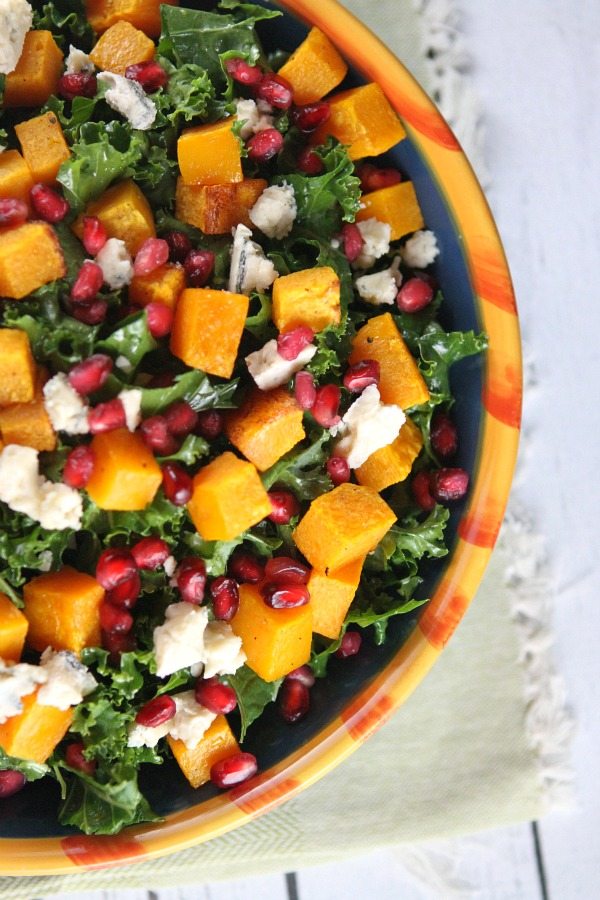 The roasted squash and the sweet and tangy dressing are a perfect pairing with the kale.  The strong, wonderful flavor of blue cheese and the sweet pomegranate seeds round it all out.  Have I told you how much I love this salad?!
I'm going to add chicken to this and call it a main dish salad for dinner tonight.  I'll make it again next week for Thanksgiving, and I'll make it again for Christmas because its extreme festive-nature.
Kale Salad with Butternut Squash, Blue Cheese and Honey-Cider Vinaigrette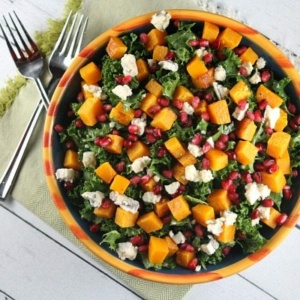 You can toss this salad with the vinaigrette and serve it right away, or refrigerate it overnight to allow the flavors to meld and the kale to soften.
Yield:
4 servings
Prep Time: 15 minutes
Ingredients:
VINAIGRETTE:
2 tablespoons olive oil
1 1/2 tablespoons apple cider vinegar
2 teaspoons red wine vinegar
1 teaspoon Dijon mustard
1 teaspoon honey
SALAD:
3 cups trimmed and thinly sliced kale (ribs removed)
1 cup roasted cubed butternut squash (see *Tips below)
1/4 cup crumbled blue cheese
1/4 cup pomegranate seeds
Directions:
 Make the vinaigrette: Combine all of the vinaigrette ingredients in a jar, seal with a lid and shake to combine. Set aside.
Make the salad: In a large bowl, toss together the kale, squash and blue cheese. Toss with the vinaigrette. Divide the salad among serving bowls and sprinkle with pomegranate seeds before serving.
Tips:
If you are preparing this recipe as GLUTEN-FREE, I'd sub feta cheese for the blue cheese unless you're sure that your blue cheese is gluten-free. Be sure to use a brand of Dijon mustard that is know to be GF too.
To roast the squash: Preheat the oven to 400 degrees F. Cut, seed and peel your butternut squash. Carefully cut the squash crosswise into 3/4-inch slices, and then cut those slices into cubes. Lightly coat the squash with olive oil and a big pinch of salt. Spread squash evenly on a baking sheet lined with parchment paper. Roast for 10 to 15 minutes, then turn cubes over and roast or an additional 10 to 15 minutes or until tender.
Nutrition:
4 WEIGHT WATCHERS Freestyle SmartPoints per serving (4 servings)
SOURCE: RecipeGirl.com (adapted from The Everyday Squash Cook)
Here are a few more kale salad recipes you might enjoy:
Disclosure:  There are Amazon affiliate links included within this post.