Here's a comforting recipe to warm you up on chilly fall and winter days:  Butternut Squash Soup with Kale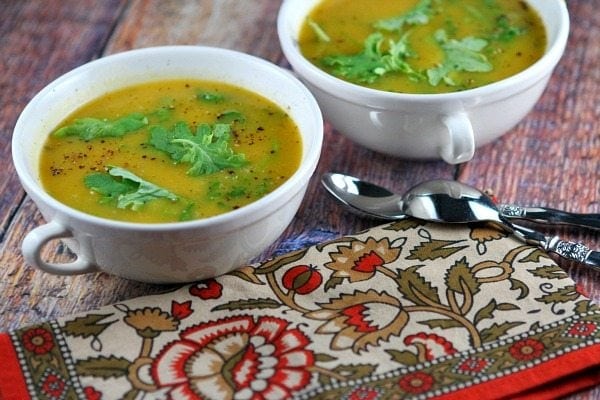 This recipe comes from the book I shared with you yesterday:  FutureChefs: Recipes by Tomorrow's Cooks Across the Nation and the World.  I mentioned that my own son is featured in the book.  As I was reading through the book last weekend, I discovered that there is another teenage boy in our town who is ALSO featured in the book.  How totally random and coincidental is that?!  He's 15-year old Karthik Rohatgi, and this is the recipe that he shares in the book.  It's a beautifully silky, smooth butternut squash soup with plenty of fresh kale added in.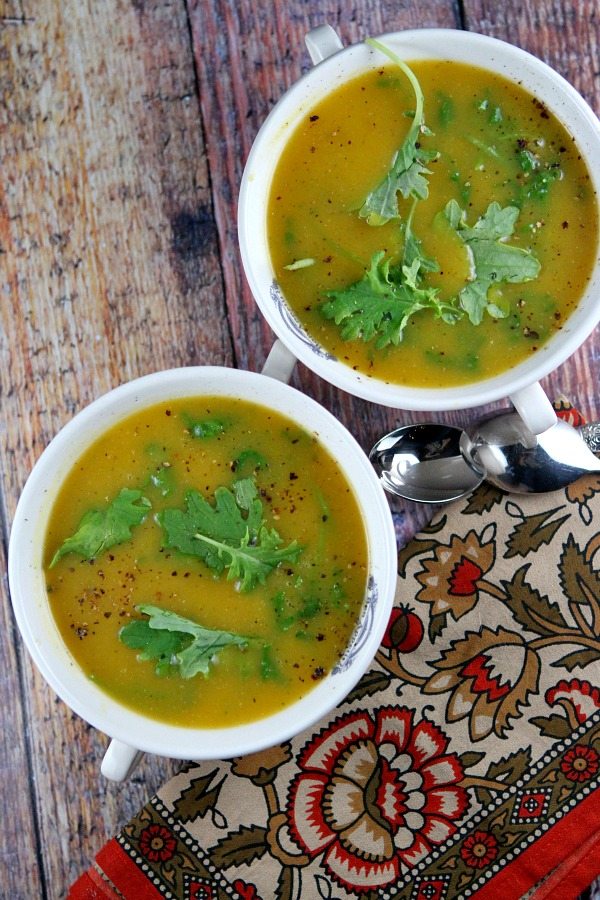 In the book, each child sharing a recipe has a profile highlighting what they've been doing in the world of food.  Karthik Rohatgi launched Farm Fresh For Kids (FFFK) in Reno, NV.  Farm Fresh for Kids aims to combat obesity by helping economically disadvantaged families consume more fresh fruits and vegetables, while also supporting local farmers.  Isn't it refreshing to learn that there are youth in our cities who care about what they see, recognize need and are willing to take the time and do something about it?  There are many stories just like this behind the kids who are featured in this book.  It's a great book to share with your children… giving them examples of what they can do in their own communities.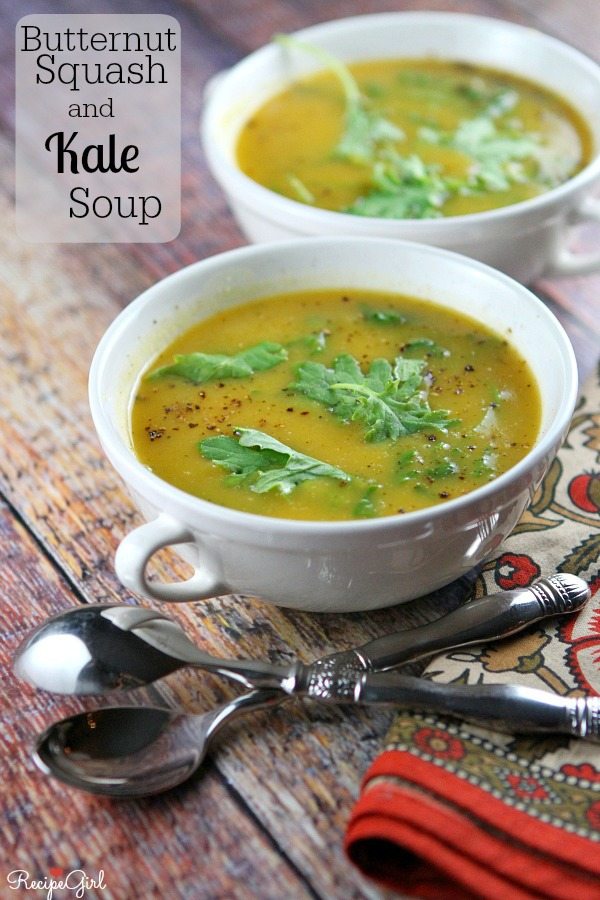 Butternut squash soup is one of those soups that I absolutely love to have for dinner in the chilly season.  Of course, it warms you up, but it also acts as a very filling but light meal.  I'm crazy about kale, so the addition of several handfuls of kale in this soup works for me.
My son isn't as into vegetables as I'd like him to be, but he happily gave this soup a try and he gobbled up every bite (even the kale!)
*Note:  the photos show some fresh kale floating in the soup as "garnish," but there is plenty of well-cooked kale included within the soup itself!
Butternut Squash and Kale Soup
Yield:
6 servings
Prep Time: 30 minutes
Cook Time: 2 hours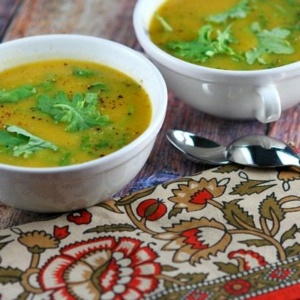 Ingredients:

1 medium butternut squash (about 5 cups)
1 tablespoon unsalted butter, softened
2 tablespoons extra-virgin olive oil
1 large onion, finely chopped
5 or 6 cloves garlic, minced
1 tablespoon fresh thyme leaves
1 tablespoon chopped fresh parsley
2 tablespoons all-purpose flour
6 cups vegetable stock
12 cups baby kale, chopped
1 teaspoon salt
1/2 teaspoon freshly ground black pepper
2 teaspoons dark brown sugar

Instructions:

Preheat the oven to 400 degrees F. Line a baking sheet with foil.
Halve the butternut squash lengthwise and scoop out the seeds and any loose fiber. Lightly coat the cut faces with the softened butter. Place cut-side-down on the baking sheet and bake until a knife goes through the skin easily, 1 hour to 1 hour, 30 minutes. Let the squash cool completely, then scoop out the flesh and set aside. Discard the skin.
In a large, deep saucepan, heat the olive oil over medium heat. Add the onion and cook until translucent, 3 to 4 minutes. Add the garlic, thyme and parsley and cook for 1 minute more.
Add the flour and cook, stirring, for 1 minute. Slowly add 2 cups of the stock, stirring constantly. Add the baked butternut squash and stir well. Stir in the remaining stock and simmer for 10 minutes. Remove from the heat.
Use a hand blender to puree the soup in the pan until it's smooth. (Alternatively, in batches, puree the soup in a blender or food processor and then return to the pan.)
Return the soup to medium heat and bring to a boil. Add the kale, salt, pepper, and sugar. Simmer until the kale is tender, 5 o 10 minutes. Serve hot.

Tips:

If you are preparing this recipe as GLUTEN-FREE, just be sure to use a brand of vegetable stock that is known to be GF. Also, use your favorite thickening replacement for the all-purpose flour- use tapioca flour or something similar.
Add a little more sugar if you'd like to sweeten it up a bit more.

Nutrition:

Nutritional Information per serving (Serving size:

1/6th of the soup): 

Calories:

184, 

Fat:

6.9g, 

Saturated Fat:

1.9g, 

Sugar:

5.4g, 

Sodium:

922mg, 

Fiber:

7.1g, 

Protein:

3.7g, 

Cholesterol:

5.2mg, 

Carbohydrates:

28g

Weight Watchers POINTS:  Freestyle SmartPoints: 4, SmartPoints:  4, Points Plus Program: 5 Old Points Program: 3
Here are a few more Butternut Squash Soup recipes you might enjoy:
Disclosure:  There are Amazon affiliate links included within this post.