Roasted Butternut Squash Soup with Apples and Garam Masala
This recipe has been featured in a post on The Recipe Girl blog: Roasted Butternut Squash Soup with Apples and Garam Masala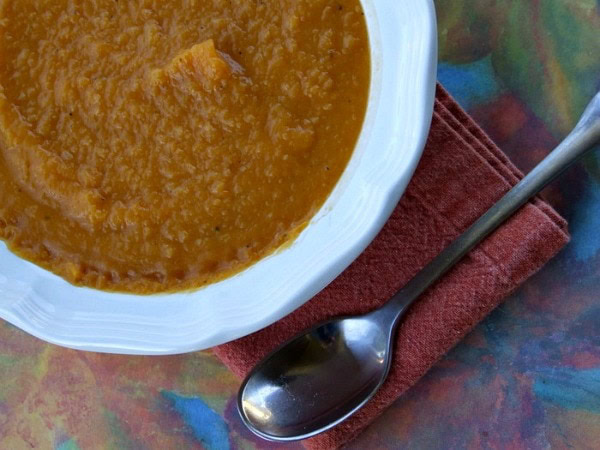 Yield: 8 servings (1 cup)
Prep Time: 30 min
Cook Time: 55 min
Roasted Butternut Squash Soup w/ Apples and Garam Masala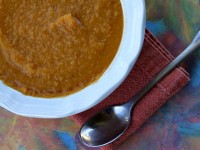 Ingredients:
8 cups 1-inch-cubed, peeled butternut squash (about 2 medium)
3 Tablespoons extra-virgin olive oil
2 Tablespoons maple syrup
1 teaspoon kosher salt
1 1/4 teaspoons garam masala (see *Tips below)
1/8 teaspoon freshly ground black pepper
1/4 cup finely chopped shallots
4 cups chopped, peeled Braeburn apples (about 1 pound)
1/4 cup sweet white wine
3 cups water
One 14-ounce can fat-free, less-sodium chicken broth (or vegetable broth)
2 Tablespoons 2% milk
Directions:
1. Preheat oven to 400°F.
2. Combine squash, 2 Tablespoons oil, syrup, salt, garam masala, and pepper in large bowl. Arrange squash in a single layer on a rimmed sheet pan coated with cooking spray. Bake for 45 minutes or until soft.
3. Heat remaining 1 Tablespoon oil in a large skillet over medium-high heat. Add shallots; sauté 2 minutes or until tender. Stir in apple; sauté 2 minutes or until tender. Stir in wine; cook 1 minute. Stir in squash, water, and broth. Bring to a simmer; cook 3 minutes. Place half of soup in a blender or food processor; process until smooth. Strain mixture through a sieve into a bowl; discard solids. Repeat procedure with remaining half of soup. Stir in milk.
Tips:
*If you do not have the spice Garam Masala on hand, you can make your own from a blend of spices: Mix 1/2 tablespoon ground cumin, 3/4 teaspoon ground coriander, 3/4 teaspoon ground cardamom, 3/4 teaspoon ground pepper, 1/2 teaspoon ground cinnamon, 1/4 teaspoon ground cloves, 1/4 teaspoon ground nutmeg. This makes about 2 tablespoons of garam masala, so you'll have some to keep for later.
*When you process the soup, if you're processing it while it's hot... be careful. Keep the hole off the top of the blender or food processor open so steam has a chance to escape.
Nutritional Information per serving:
Serving size: 1 cup
Calories per serving: 166
Fat per serving: 5.66g
Saturated Fat per serving: .86g
Sugar per serving: 12g
Fiber per serving: 3.5g
Protein per serving: 2.8g
Cholesterol per serving: .31mg
Carbohydrates per serving: 28g
WW POINTS per serving:
Points Plus Program: 4 Old Points Program: 4.5
Leave a Comment