This Roasted Butternut Squash Soup with Apples and Garam Masala is the perfect comfort food meal for cooler weather.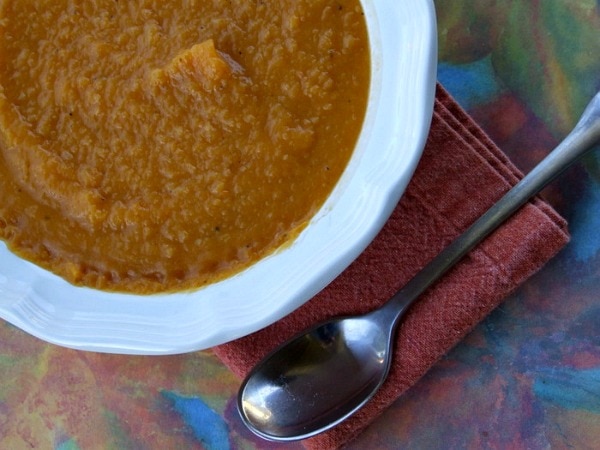 I quietly celebrated my birthday recently with a trip to visit my sister in Washington. I always so enjoy traveling to the Northwest in the fall. It reminds me of the East Coast with all of its colorful trees and other seasonal sights like pumpkins on doorsteps and endless piles of leaves.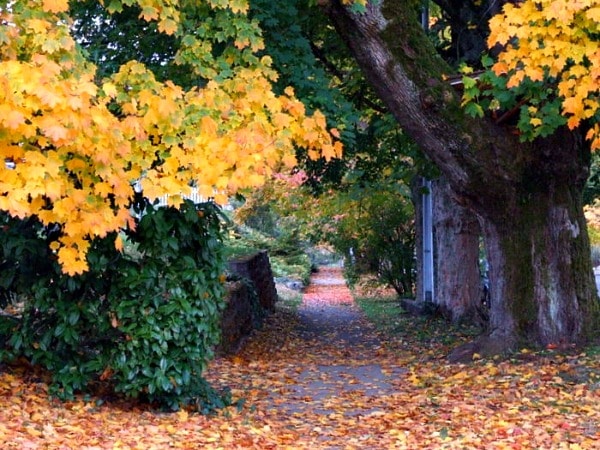 On a morning walk through my sister's neighborhood, I was able to capture a snapshot of the local autumnal color. We just don't see this sort of thing in Southern California!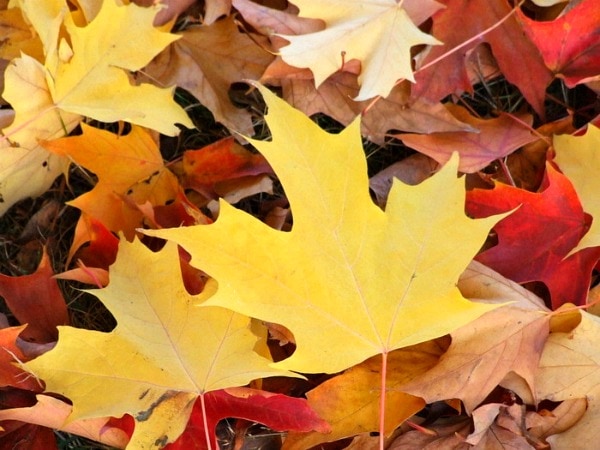 The leaves in my yard at home eventually fall off the trees, but they never manage to turn beautiful shades of yellow and reds before they do so. They're just dead.
Since we were all wrapped up in the beauty of the season, we decided to choose a recipe that would embrace it.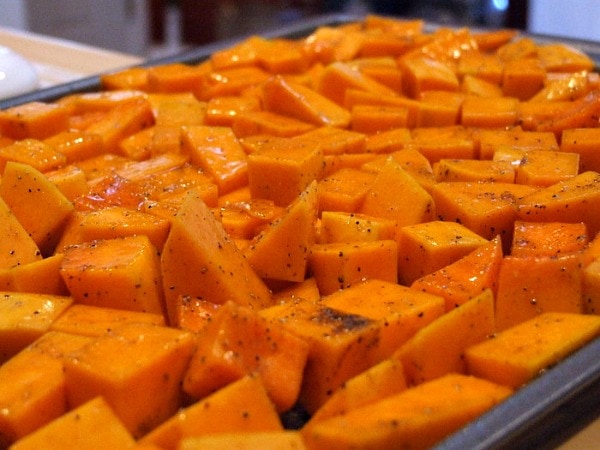 Butternut squash is abundant these days. I've been seeing it on the blogs in muffins, pasta and even pizza. There are a lot of variations on butternut squash soup too… but this one had some nice twists to it.
The butternut squash is tossed with olive oil, maple syrup and garam masala (a spice with amazing scents and flavor), and then it's roasted until soft and caramelized.
Apples are sauteed with wine, shallots and broth. As soon as everything is all softened up, it's blended together until pureed. The original recipe calls for straining the solids. We gave the soup a taste after blending and were perfectly happy with the texture, so we didn't bother straining.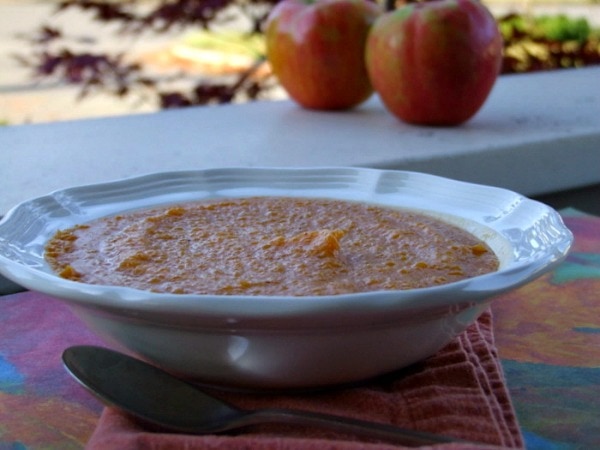 A perfect blend of spice, sweetness and earthiness, we enjoyed our fall soup very much. Thickness of the soup can easily be adjusted by using more or less broth (and straining/not straining).
Thanks for a great birthday weekend Sis! Say what you want about all of that rain you get up there… it sure is a beautiful place to live (and play). I'd happily stomp through puddles and trudge through a little bit of snow to be able to experience the seasons like you do.
Roasted Butternut Squash Soup with Apples and Garam Masala
Yield:
8 servings (1 cup)
Prep Time: 30 minutes
Cook Time: 55 minutes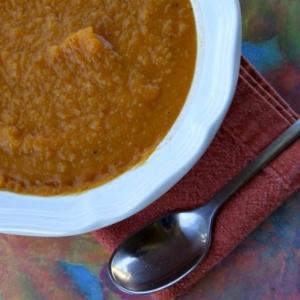 Ingredients:

8 cups 1-inch-cubed, peeled butternut squash (about 2 medium)
3 tablespoons extra-virgin olive oil
2 tablespoons maple syrup
1 teaspoon kosher salt
1 1/4 teaspoons garam masala (see *Tips below)
1/8 teaspoon freshly ground black pepper
1/4 cup finely chopped shallots
4 cups chopped, peeled Braeburn apples (about 1 pound)
1/4 cup sweet white wine
3 cups water
One 14-ounce can fat-free, less-sodium chicken broth (or vegetable broth)
2 tablespoons 2% milk

Instructions:

Preheat oven to 400°F.
Combine squash, 2 tablespoons oil, syrup, salt, garam masala, and pepper in large bowl. Arrange squash in a single layer on a rimmed sheet pan coated with cooking spray. Bake for 45 minutes or until soft.
Heat remaining 1 tablespoon oil in a large skillet over medium-high heat. Add shallots; sauté 2 minutes or until tender. Stir in apple; sauté 2 minutes or until tender. Stir in wine; cook 1 minute. Stir in squash, water, and broth. Bring to a simmer; cook 3 minutes. Place half of soup in a blender or food processor; process until smooth. Strain mixture through a sieve into a bowl; discard solids. Repeat procedure with remaining half of soup. Stir in milk.

Tips:

If you do not have the spice Garam Masala on hand, you can make your own from a blend of spices: Mix 1/2 tablespoon ground cumin, 3/4 teaspoon ground coriander, 3/4 teaspoon ground cardamom, 3/4 teaspoon ground pepper, 1/2 teaspoon ground cinnamon, 1/4 teaspoon ground cloves, 1/4 teaspoon ground nutmeg. This makes about 2 tablespoons of garam masala, so you'll have some to keep for later.
When you process the soup, if you're processing it while it's hot... be careful. Keep the hole off the top of the blender or food processor open so steam has a chance to escape.

Nutrition:

Nutritional Information per serving (Serving size:

1 cup) 

Calories:

166, 

Fat:

5.66g, 

Saturated Fat:

.86g, 

Sugar:

12g, 

Fiber:

3.5g, 

Protein:

2.8g, 

Cholesterol:

.31mg, 

Carbohydrates:

28g

Weight Watchers POINTS per 1 cup:  Freestyle SmartPoints: 3, Points Plus Program: 4, Old Points Program: 4.5
Here are a few more butternut squash soup recipes you might enjoy: