This soup is gluten-free adaptable– please see tips below the recipe…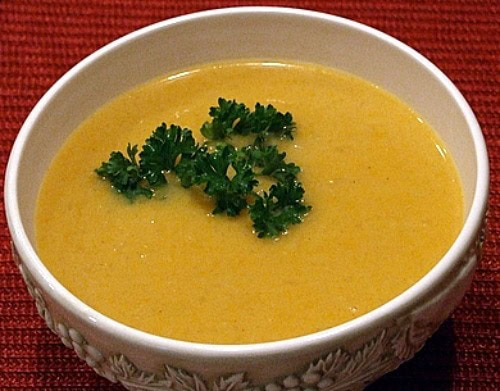 Butternut Squash Soup
This soup is so great that even the kids will gobble it down.
Yield:
6 Servings
Prep Time: 20 min
Cook Time: 40 min
Ingredients:
3 Tablespoons butter
2 medium onions, chopped
2 cups diced butternut squash
1 large Granny Smith apple, peeled & chopped
2 cloves garlic, minced
3 Tablespoons all-purpose flour
1 to 2 teaspoons curry powder (as desired)
pinch of nutmeg
3 cups chicken or vegetable broth
1 1/2 cups milk
grated rind & juice of 1 orange
salt & pepper to taste
chopped parsley
Directions:
1. In a large frying pan melt butter and sauté onions over medium heat until soft. Add squash, apple and garlic. Sauté for 3 to 5 minutes, stirring occasionally.
2. Add flour, curry powder and nutmeg, stirring constantly to blend. Slowly add broth, milk and orange rind/juice, stirring constantly to combine. Simmer 20-30 minutes until vegetables are very soft.
3. Purée in batches in blender or food processor. Season with salt and pepper.
4. Serve hot and garnish with parsley, if desired.
Tips:
*Add extra garlic for more flavor.
*Try topping this soup with a dollop of plain yogurt.
*If you're preparing this recipe as GLUTEN FREE, just make sure that the brand of broth that you use is branded as Gluten Free, and use GF flour in place of all-purpose.
Nutrition:
Nutritional Information per serving:
Serving size: recipe divided into 6 equal portions
Calories per serving: 171
Fat per serving: 8g
Saturated Fat per serving: 4.5g
Sugar per serving: 9g
Fiber per serving: 2g
Protein per serving: 6g
Cholesterol per serving: 20mg
Carbohydrates per serving: 20g
WW POINTS per serving:
Points Plus Program: 5 Old Points Program: 4.5