A simple weeknight dinner idea: Sun Dried Tomato Tortellini Soup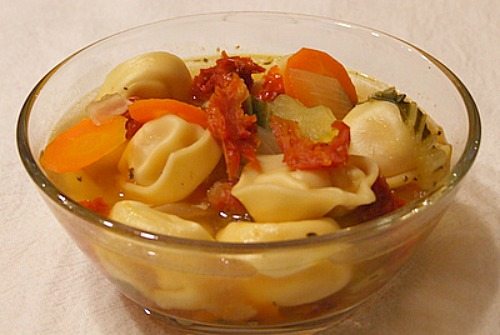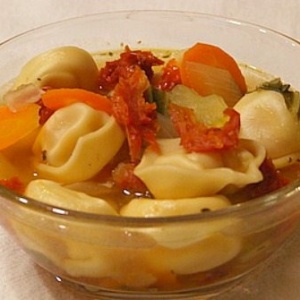 Yield:
6 servings (1 1/2 cups per serving)
Prep Time:15 min
Cook Time:20 min
Ingredients:
1 1/2 teaspoons olive oil
1 cup chopped onion
1 cup 1/4-inch-thick slices carrot
2/3 cup chopped celery
2 cloves garlic, minced
6 cups fat-free, less-sodium chicken (or vegetable) broth
2 cups water
1 1/4 cups sun-dried tomato halves, packed without oil, chopped (about 3 ounces)
1/2 teaspoon dried basil
1/4 teaspoon freshly ground black pepper
1 whole bay leaf
9 ounce package fresh cheese tortellini
1 cup chopped bok choy
Directions:
Heat oil in a large Dutch oven over medium-high heat. Add onion, carrot, celery and garlic. Sauté 5 minutes. Add broth and next 5 ingredients (through bay leaf); bring to a boil. Reduce heat; simmer 2 minutes. Add pasta and bok choy; simmer 7 minutes or until pasta is done. Discard bay leaf.
Nutrition:
Nutritional Information per serving:
Serving size: 1 1/2 cups
Calories per serving: 212
Fat per serving: 5g
Saturated Fat per serving: 2g
Sugar per serving: 0g
Sodium per serving: 808mg
Fiber per serving: 5g
Protein per serving: 10.5g
Cholesterol per serving: 18mg
Carbohydrates per serving: 33g
WW POINTS per serving:
Points Plus Program:  5   Old Points Program:  4
Recipe Source: Adapted from Cooking Light