Split Pea Soup with Rosemary
I love to make this Split Pea Soup with Rosemary on chilly days for lunch!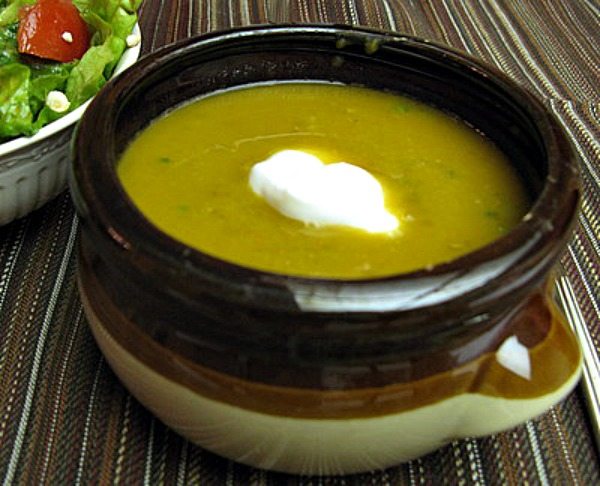 Yield: 6 servings (1 cup soup + 2 teaspoons sour cream)
Prep Time: 30 min
Cook Time: 1 hour 20 min
Split Pea Soup with Rosemary
Ingredients:
1 1/2 cups green split peas
2 teaspoons extra-virgin olive oil, divided
2 cups chopped onion
1 cup diced carrot
1 whole bay leaf
1 tablespoon minced garlic
1 tablespoon minced fresh rosemary, divided
1 teaspoon paprika
1/4 teaspoon black pepper
1 tablespoon tomato paste
1 tablespoon low-sodium soy sauce
4 cups water
One 14.5-ounce can vegetable broth
1/4 cup chopped fresh parsley
1/4 cup low fat sour cream
Directions:
1. Sort and wash peas; cover with water to 2 inches above peas, and set aside. Heat 1 teaspoon oil in a Dutch oven over medium-high heat. Add onion, carrot, and bay leaf; sauté 5 minutes, stirring frequently. Add 2 teaspoons garlic, 1 teaspoon rosemary, paprika, and pepper; cook 3 minutes. Add tomato paste and soy sauce; cook until liquid evaporates, scraping pan to loosen browned bits.
2. Drain peas. Add peas, 4 cups water, and vegetable broth to onion mixture; bring to a boil. Cover, reduce heat to medium-low, and simmer 1 hour, stirring often. Discard bay leaf. Place half of soup in blender or food processor; process until smooth. Pour pureéd soup into a bowl. Repeat procedure with remaining soup.
3. Combine 1 teaspoon oil, 1 teaspoon garlic, 2 teaspoons rosemary, and parsley. Stir parsley mixture into soup. Spoon soup into bowls; top each with sour cream.
Tips:
*If you are preparing this recipe as GLUTEN-FREE, just be sure to use brands of vegetable broth and soy sauce that are known to be GF.
*Add cubed ham if desired.
Nutritional Information per serving:
Serving size: 1 cup + 2 teaspoon sour cream
Calories per serving: 145
Fat per serving: 4g
Saturated Fat per serving: 1.25g
Sugar per serving: 5.75g
Sodium per serving: 643mg
Fiber per serving: 4.75g
Protein per serving: 5.3g
Cholesterol per serving: 4.25mg
Carbohydrates per serving: 23g
WW POINTS per serving:
Points Plus Program: 4 Old Points Program: 2
Leave a Comment