I was tweeting along one day (as I usually do), when I saw a tweet from Fine Cooking asking Twitterers to check out their recipe for Roasted Shrimp with Rosemary & Thyme. Roasted Shrimp sounded good to me, as I usually only see it sauteed or fried. Roasted vegetables are amazing when combined with fresh herbs, so why not shrimp? I tried out their recipe 🙂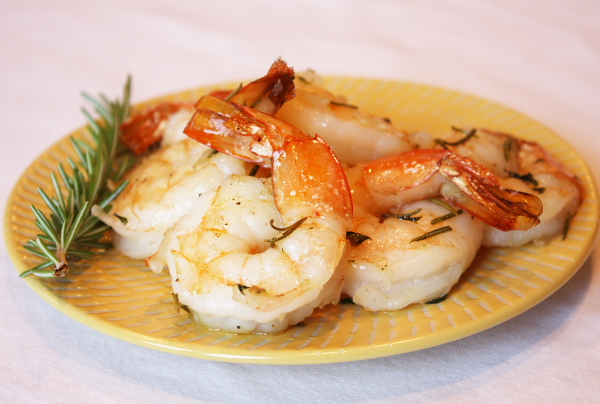 I splurged and picked up some Jumbo Shrimp. And here's what I ended up with. The how to: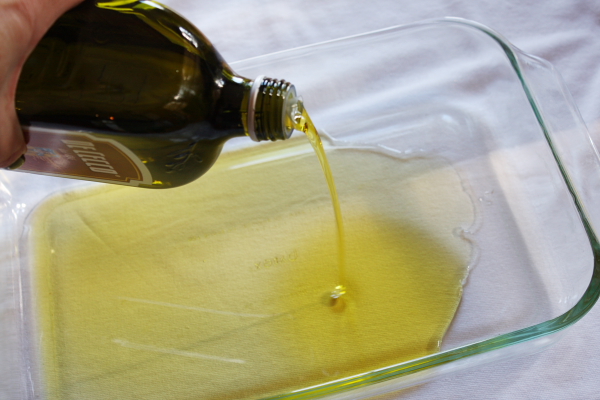 Pour olive oil in a 9×13-inch pan.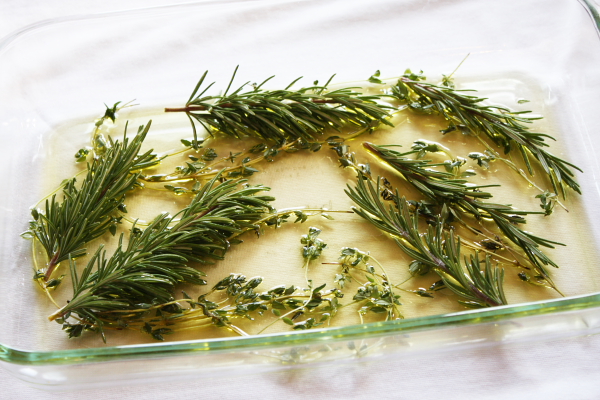 Add FRESH rosemary and thyme. Fresh is a *must* for this one. Trust me.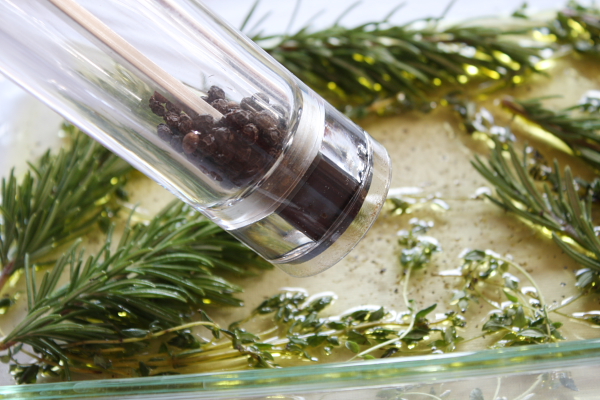 Add a little freshly ground pepper.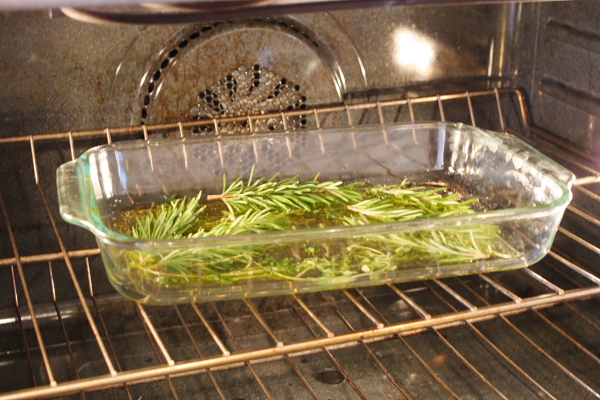 Here's the really different part- you're going to roast the herbs in olive oil. Just the herbs. Get them to release their scent and flavor before you add the shrimp.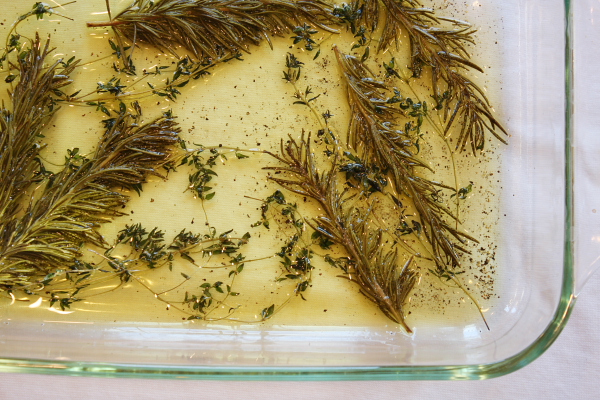 Here they are… all roasted and yummy. At this point, your kitchen smells fantastic.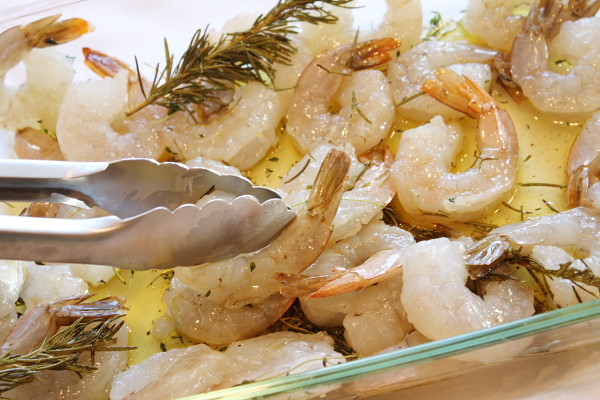 Add the shrimp to the hot, deliciously, flavored oil.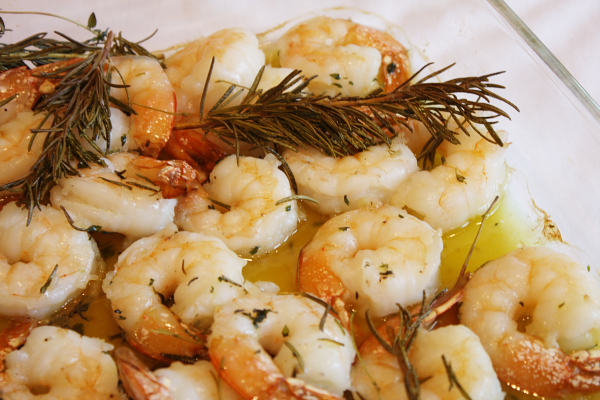 It will roast up quickly and take-on the wonderful flavors of rosemary and thyme. After it's roasted, you'll toss it briefly with a little bit of white wine vinegar, and those fresh herbs will have naturally attached a little bit of their flavor and herb pieces to the shrimp itself.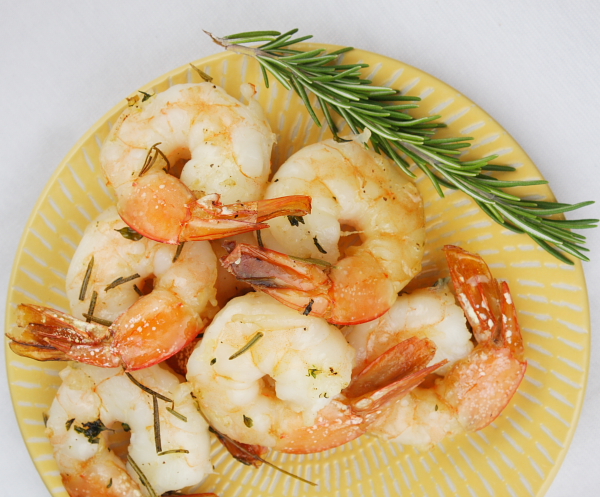 And here it is… the roasted shrimp. This was a fabulous family-friendly dinner for us. My little one loved the roasted shrimp. I served it simply with some lemon & chive roasted potatoes and vegetables. The shrimp takes on the flavor of those fresh herbs and the white wine vinegar adds a welcome bit of tang. It turned out to be a lovely Sunday Night Dinner. I must say that it would also make a tasty little Happy Hour appetizer too.
Roasted Shrimp with Rosemary and Thyme
This shrimp is so delicious and smells amazing while baking in your oven.
Recipe Details
Ingredients
6

tablespoons

extra-virgin olive oil

(I just gave the pan about 3 good swirls)

6

sprigs

fresh thyme

3

large sprigs

fresh rosemary,

halved

freshly ground black pepper

1½

pounds

extra large or jumbo shrimp

(26 to 30 per pound), peeled and deveined

½

teaspoon

kosher salt

2

tablespoons

white wine vinegar
Instructions
Place rack in the center position, and preheat oven to 400 degrees F.

Pour oil into 9x13 inch glass baking dish. Add fresh herbs and a few grinds of freshly ground black pepper. Bake until the herbs become fragrant, about 10 minutes.

Add the shrimp to the dish. Use tongs to turn the shrimp and coat in the scented oil. Bake shrimp until pink and firm, 10 to 12 minutes.

Remove shrimp to a bowl, leaving herbs and oil behind. Sprinkle with salt and white wine vinegar. Toss until flavors are combined.

Serve with rice or pasta. Drizzle with the flavored olive oil, if desired.
Notes
Use crusty bread to soak up that delicious, flavored oil!
Nutrition
Serving:
1
serving
,
Calories:
218
kcal
,
Carbohydrates:
2
g
,
Protein:
23
g
,
Fat:
12
g
,
Saturated Fat:
2
g
,
Polyunsaturated Fat:
1
g
,
Monounsaturated Fat:
8
g
,
Trans Fat:
0.01
g
,
Cholesterol:
214
mg
,
Sodium:
1255
mg
,
Potassium:
213
mg
,
Fiber:
0.4
g
,
Sugar:
0.003
g
,
Vitamin A:
401
IU
,
Vitamin C:
3
mg
,
Calcium:
102
mg
,
Iron:
1
mg