This recipe has been featured in a menu on the site: Beach House Barbecue.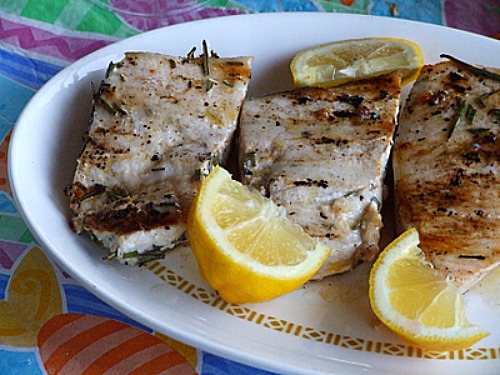 Grilled Swordfish w/ Rosemary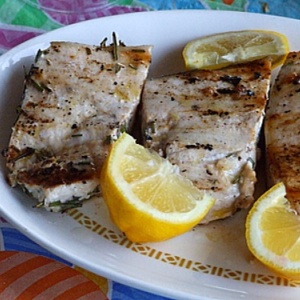 GREAT light recipe for summer. So easy to throw the marinade together quickly and toss on the grill.
Yield:
4 servings
Prep Time:20 min + marinating time
Cook Time:10 min
Ingredients:
1/2 cup dry white wine
5 cloves garlic, minced
2 teaspoons chopped fresh rosemary, divided
4 (4-ounce) swordfish steaks
1/4 teaspoon salt
1/4 teaspoon pepper
2 Tablespoons fresh lemon juice
1 Tablespoon extra-virgin olive oil
lemon wedges (optional)
fresh rosemary sprigs for garnish
Directions:
1. Combine wine, garlic, and 1 teaspoon rosemary in an 8-inch square baking dish. Sprinkle fish with salt and pepper; place fish in baking dish, turning to coat. Cover and chill at least 1 hour. Remove fish from marinade, discarding marinade.
2. Coat grill grate with vegetable cooking spray; place grate on grill over high heat (400 to 500°F). Grill fish, covered with grill lid, over high heat 4 to 5 minutes on each side.
3. Combine remaining 1 teaspoon rosemary, lemon juice, and olive oil. Spoon over fish, and serve immediately with lemon wedges, if desired. Garnish with rosemary sprigs.