I've come to realize that I haven't shared too many side dish recipes on this 'ol blog here. There are many side dish options here on RecipeGirl… but to be featured in the coveted blog spotlight is a tough gig to get. And truthfully, side dishes just aren't usually all that droolworthy. Here's one you can drool over though: Israeli Couscous with Pine Nuts and Parsley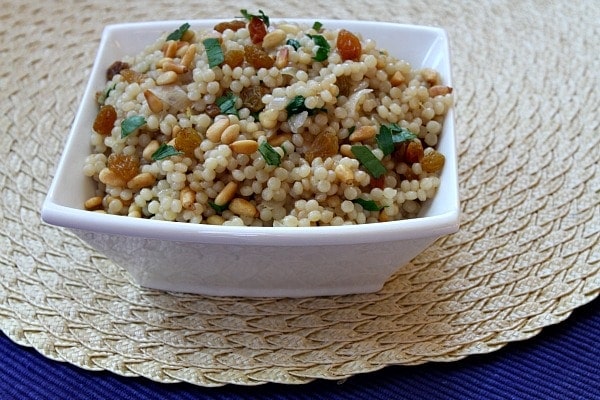 There are a few other things tucked in there that you may be able to spot: golden raisins (trust me… that little sweetness added in there is a very good thing, indeed!), shallots, and a little bit of lemon zest.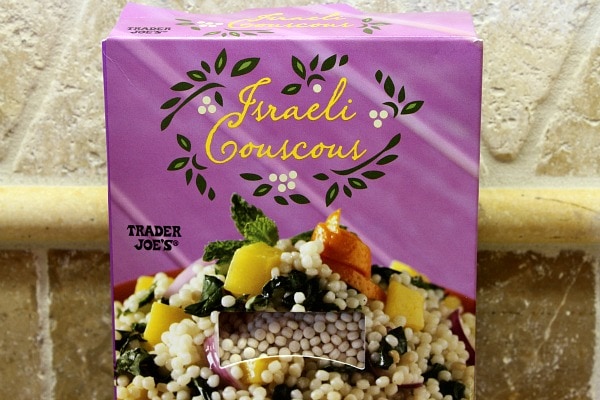 Are you familiar with Israeli (pearl) couscous?  It's larger than traditional couscous, it's round, and it cooks up quickly to a wonderfully chewy consistency.  I messed with the recipe on the back of the box of Israeli couscous from Trader Joe's.  It looked good enough to me, so why not?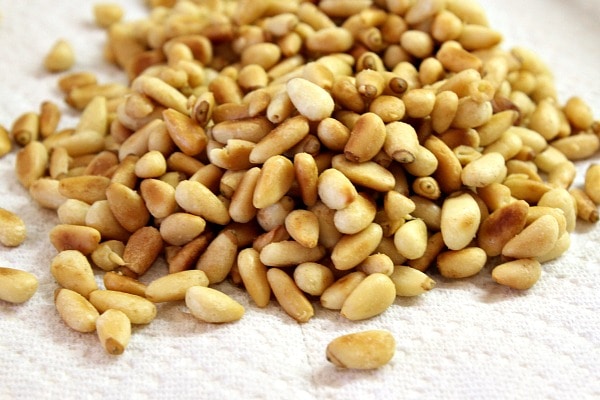 Toasted pine nuts are one of the things that make this planet a nice place to live.  Try and eat just one.  Try and eat five.  It's impossible.  When they're toasted, they're just sooooo good.  They tend to be expensive, so I splurge on a large bag at Costco and store them in the freezer so they'll last a long time.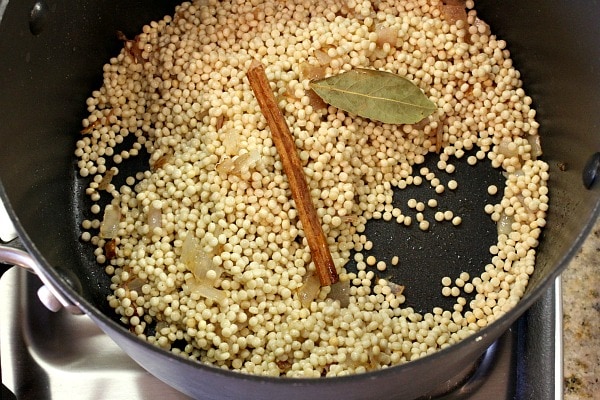 Step 1:  Saute the shallots in a smidge of butter until they are golden-brown, then add the dry couscous, a bay leaf and a cinnamon stick.  Push around the couscous for a while until it gets a little bit toasted.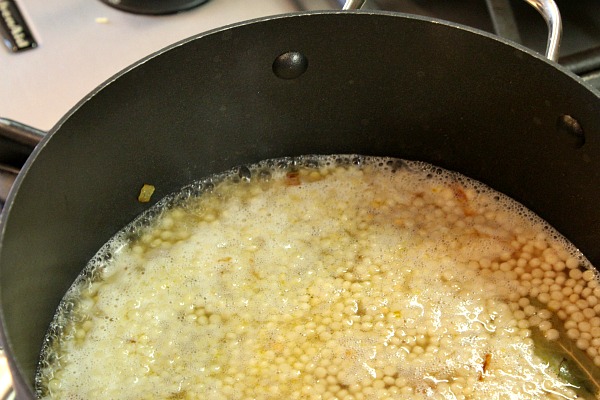 Step 2:  Add chicken broth and salt and bring this pot to a boil.  Then reduce heat, place a lid on top, and simmer until the couscous has absorbed all of the water (just like you make rice).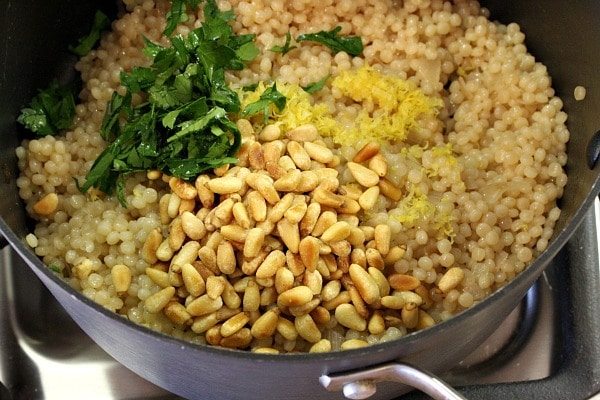 Step 3:  Stir in parsley, pine nuts and lemon zest.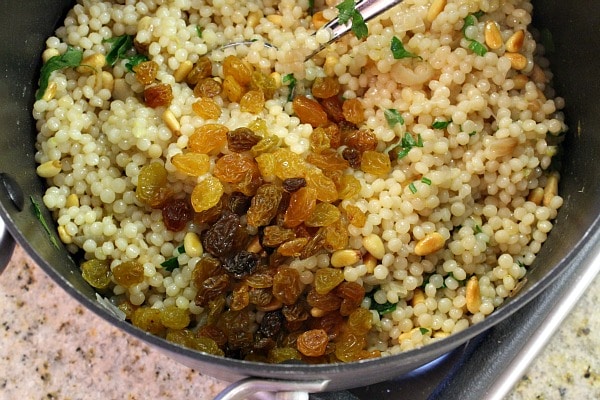 Step 4:  The brave souls who trust me will add in the golden raisins.  Seriously, that's what makes this side dish unique and delicious!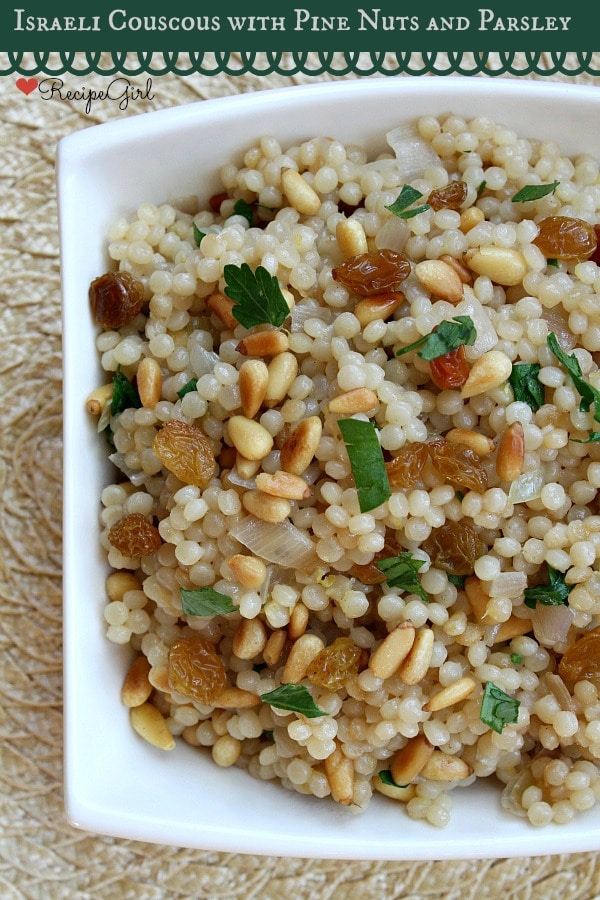 I guess the dramatic close-up photo did turn out a pretty impressive-looking dish, wouldn't you agree?  We served this for dinner last night alongside smoked sausage and steamed asparagus.  It would also be a great side to chicken or fish.  My kiddo told me to nix the pine nuts next time, but I told him NO WAY (my husband and I enjoyed all of the little bits and pieces that made up this dish).  Kids are too darn picky!
Israeli Couscous with Pine Nuts and Parsley
Yield:
4 servings
Prep Time: 10 min
Cook Time: 10 min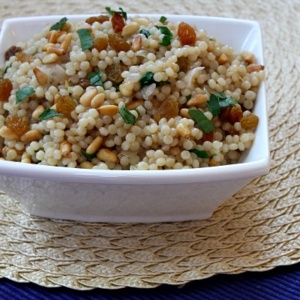 Ingredients:

1 tablespoon butter
1/2 cup chopped shallots
1 1/2 cups Israeli couscous
1 cinnamon stick
1 bay leaf
1 3/4 cups chicken broth
1/2 teaspoon salt
2 tablespoons freshly chopped parsley
1/3 cup pine nuts, toasted (see *Tips below)
zest of 1/2 lemon
1/4 to 1/3 cup golden raisins

Instructions:

1. Melt the butter in a medium saucepan over medium heat. Add the shallots and saute until golden. Add couscous, cinnamon stick and bay leaf, and stir often until the couscous browns slightly. Add the broth and the salt, and bring to a boil. Reduce the heat to low, cover and simmer until the liquid is absorbed and couscous is tender (about 10 minutes or so).

2. Remove the pan from heat and stir in parsley, pine nuts, lemon zest and raisins.

Tips:

*To toast the pine nuts, heat a skillet to medium. Add the pine nuts to the pan and stir often until they begin to turn golden. Remove the pine nuts to a bowl or a paper towel to cool.

Source:  RecipeGirl.com (adapted from the back of Trader Joe's Israeli Couscous box)