We love this low fat Swordfish recipe. The Roasted Onion Vinaigrette gives it great flavor!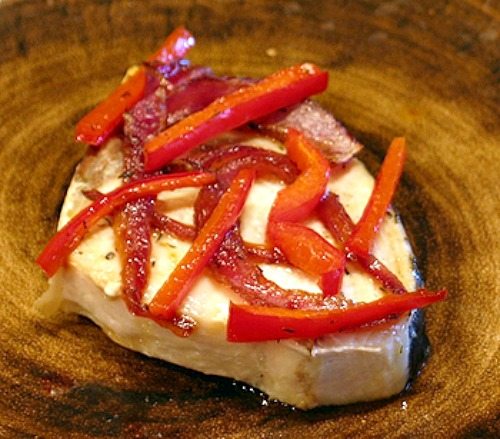 Swordfish with Roasted Onion Vinaigrette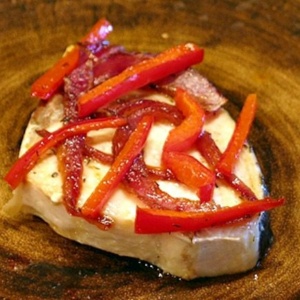 Yield:
4 servings
Prep Time:25 min
Cook Time:50 min
Ingredients:
3 cups sliced red onions
1 tablespoon extra-virgin olive oil
1 tablespoon fresh thyme leaves (or 1 teaspoon dried)
1/2 cup sliced red bell pepper
1 tablespoon cider vinegar
salt and pepper to taste
Two 12-ounce pieces swordfish (about 1-inch thick), halved
Directions:
1. Preheat oven to 400 degrees F.
2. Combine onions, oil and 1 tablespoon thyme in large baking dish. Bake until onions are golden and tender, stirring occasionally, about 40 minutes.
3. Stir bell pepper and vinegar into onions. Season with salt and pepper and push to one side of dish. Season fish with salt and pepper and arrange alongside the vegetables.
4. Bake until fish is opaque, about 10 minutes. Transfer fish to platter and arrange vegetables over.
Nutrition:
Nutritional Information per serving:
Serving size: 1 piece of swordfish + 1/4 vinaigrette
Calories per serving: 267
Fat per serving: 8.75g
Saturated Fat per serving: 2g
Sugar per serving: .78g
Sodium per serving: 157mg
Fiber per serving: 2.29g
Protein per serving: 35g
Cholesterol per serving: 66mg
Carbohydrates per serving: 10.6g
WW POINTS per serving:
Points Plus Program:  6   Old Points Program:  6