The first recipe made on our new grill > Swordfish with Mustard- Basil Butter! It's delicious with a nice, easy butter sauce.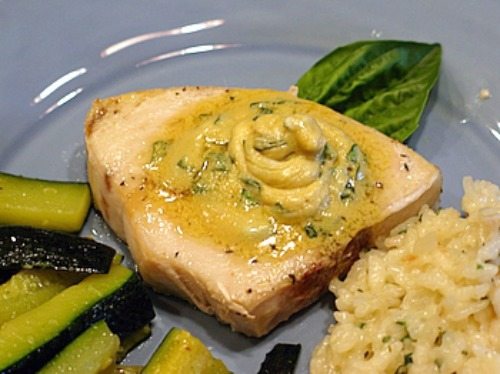 Swordfish with Mustard- Basil Butter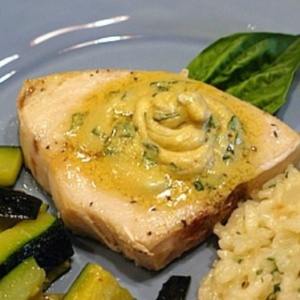 Yield:
4 servings
Prep Time: 15 min
Cook Time: 6 min
Ingredients:
1/4 cup (1/2 stick) unsalted butter, at room temperature
2 tablespoons Dijon mustard
2 tablespoons finely chopped fresh basil
vegetable oil
Four 8-ounce swordfish steaks, 3/4-inch thick
fresh basil sprigs
Directions:
1. Mix butter, Dijon and fresh basil in a small bowl.
2. Preheat barbeque or broiler. Brush grill with vegetable oil. Season fish with salt and pepper. Grill fish just until cooked through, 3 to 4 minutes per side.
3. Transfer to plates. Top each with a spoonful of mustard- basil butter. Garnish with basil sprigs.
Tips:
*If you are preparing this recipe as GLUTEN-FREE, just be sure to use a brand of Dijon that is known to be GF.
*Reduce fat and calories by reducing how much sauce you choose to put on your swordfish.
Nutrition:
Nutritional Information per serving:
Serving size: 1 piece of swordfish + 1/4 of the butter
Calories per serving: 365
Fat per serving: 20g
Saturated Fat per serving: 9.5g
Sugar per serving: .01g
Sodium per serving: 287mg
Fiber per serving: .25g
Protein per serving: 43g
Cholesterol per serving: 113mg
Carbohydrates per serving: .55g
WW POINTS per serving:
Points Plus Program: 9 Old Points Program: 9