This Italian Wedding Soup is chock-full of meatballs and pasta and vegetables- adapted from Ina Garten's Back to Basics Cookbook.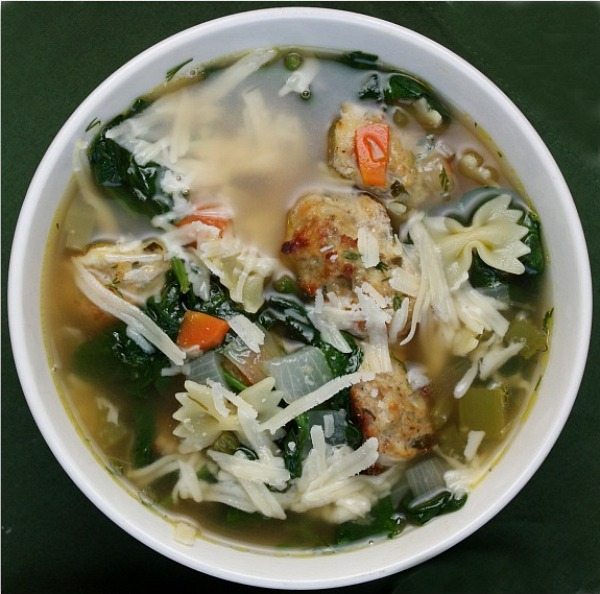 There are some days when it's so chilly outside that you feel like you might not make it from the car to your front door without obtaining a bit of frostbite. These are the days that soup feels entirely perfect and comforting for dinner. But can soup be considered a main dish? My husband doesn't think so. When soup is placed in front of him for his evening meal, he looks at me, smiles and says, "What's for dinner?" My loving response is, "Sweetheart… some soups are meant to be main dishes. This Italian Wedding Soup is one of them." And it is!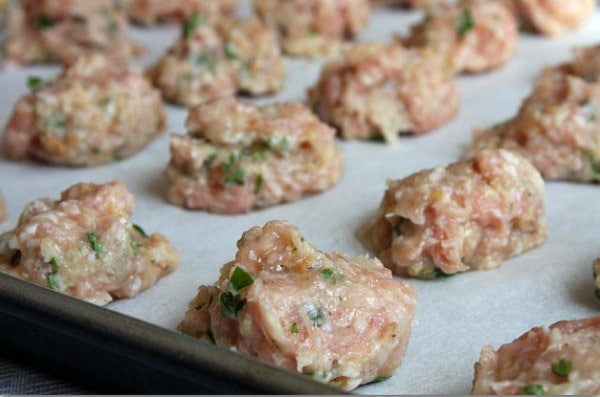 How to make Italian Wedding Soup:
Prep for this soup first involves making the meatballs. Mix the (turkey & sausage) meatball ingredients and spoon the mixture onto a baking sheet. You'll need fresh white bread crumbs for the meatballs.
How to make fresh white bread crumbs:
Don't be tempted to use those yucky dry breadcrumbs sold in a can. You can make fresh breadcrumbs quickly and easily in a food processor or in a coffee or spice grinder with whatever bread you have on hand (even English muffins and pita bread will work!)
You'll get the best results if your bread is slightly stale. Tear the slices into pieces (remove the crusts first) and fill your processor or grinder about half full. Pulse until you get bread crumbs. If you don't have a processor or a grinder, you can rub slices of stale bread on a box grater instead.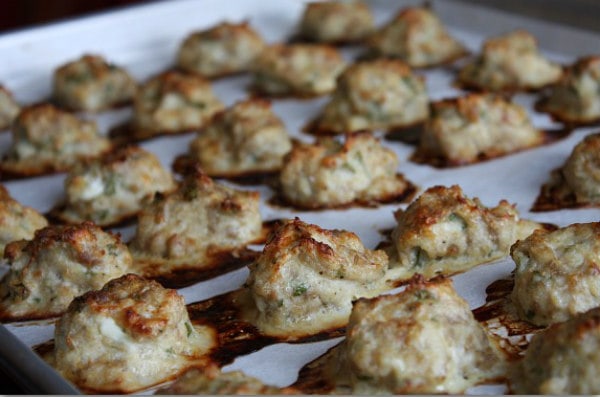 Baking the meatballs in the oven makes this entire process so much simpler than trying to saute 40 meatballs in a skillet. They're done cooking after about 30 minutes. Then you can set them aside until you're ready to add them to your Italian Wedding Soup.
Be careful!
Funny side note: I set my meatballs on the counter once when I was preparing for a dinner party. Then I went into my bedroom to get ready, and when I returned to my kitchen I found that my dog had helped herself to all forty meatballs. I guess she thought they were good too! An emergency call was made to one of my guests to ask her to stop and get some frozen meatballs at the store. They weren't nearly as good as these though!!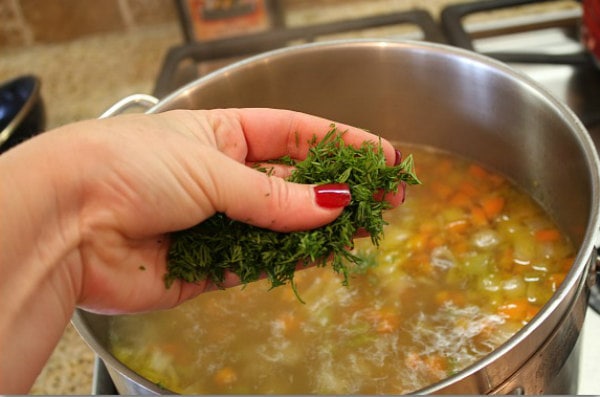 While the meatballs are cooking, you can prep the soup…chopped onion, carrot, and celery with chicken broth and wine. Pasta and fresh dill are added in toward the end.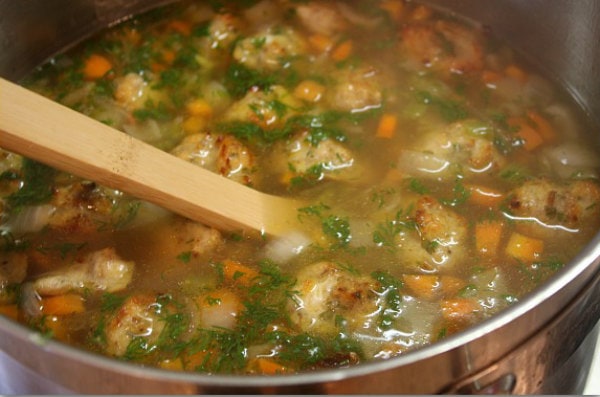 Your cooked meatballs are then slipped in. It's set to simmer for a bit before adding in fresh spinach, giving it a taste and adding in any needed salt and pepper.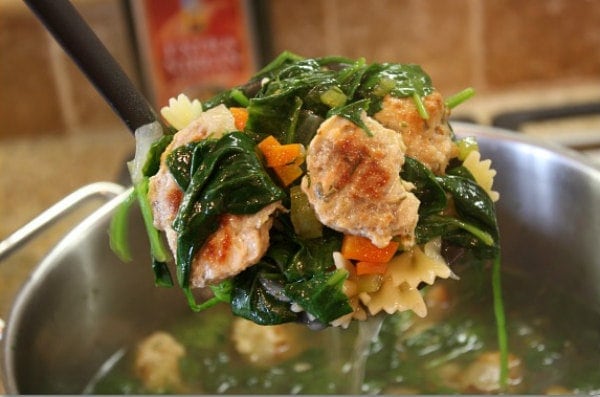 Now, if this soup isn't a meal in itself… I don't know what is.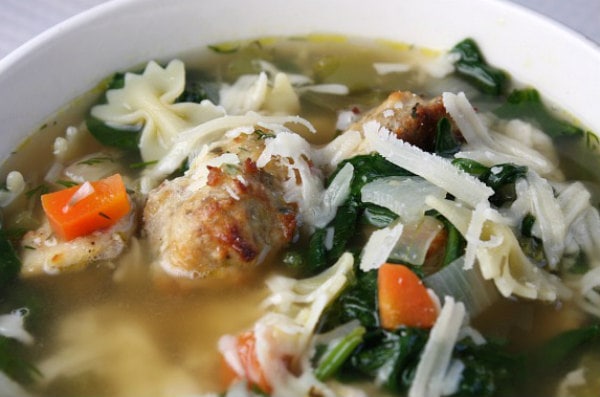 Warm, comforting, colorful, healthy and delicious. Serve this Italian Wedding Soup to your family knowing that it will fill their tummies and warm their souls in the chilly days of winter. And fyi, my husband is a good guy… a great guy. He just never had homemade soup growing up, and he is actually very happy about having this one for dinner!
Note about leftovers of Italian Wedding Soup:
This soup is excellent when eaten the next day. I find that soups with pasta tend to lose a lot of their broth when sitting overnight in the refrigerator. For this reason, I always buy an extra can of chicken broth to add to the soup the next day. This will ensure you'll still be eating soup and not just soaked up noodles!
Here are a few more hearty soup recipes you might enjoy:
Italian Wedding Soup
Absolutely my favorite soup recipe to make for chilly days!
Recipe Details
Ingredients
MEATBALLS:
12

ounces

ground turkey

8

ounces

turkey sausage

(casings removed)

⅔

cup

fresh white bread crumbs

½

cup

freshly grated Parmesan cheese

¼

cup

chopped fresh Italian parsley

2

teaspoons

minced garlic

3

tablespoons

milk

1

large

egg,

lightly beaten

kosher salt and freshly ground black pepper
SOUP:
2

tablespoons

olive oil

1

cup

minced yellow onion

1

cup

diced carrots

(about 3 medium)

1

cup

diced celery

(about 2 large stalks)

12

cups

chicken broth

½

cup

dry white wine

1

cup

small pasta

(any will do, but I like to use mini bow ties)

¼

cup

minced fresh dill

8

ounces

fresh baby spinach

(trimmed, washed & patted dry)

grated Parmesan cheese,

for serving (optional)
Instructions
Preheat the oven to 350 degrees F.
PREPARE THE MEATBALLS:
Place the ground meats, bread crumbs, Parmesan, parsley, garlic, milk, egg, 1 teaspoon salt and ½ teaspoon pepper in a bowl and combine gently with a fork. With a teaspoon, drop 1-inch meatballs onto a sheet pan lined with parchment paper (you'll make somewhere around 40 meatballs). Bake for 30 minutes, until cooked through and lightly browned. Set aside.
PREPARE THE SOUP:
Heat the olive oil over medium-low heat in a large stock pot. Add the onion, carrots, and celery and saute until softened, 5 to 6 minutes, stirring occasionally. Add the chicken broth and wine and bring to a boil. Add the pasta to the simmering broth and cook an additional 6 to 8 minutes, until the pasta is tender. Add the fresh dill and then the meatballs to the soup and simmer for 1 minute. Taste for salt and pepper. Stir in the spinach and cook for 1 minute, until the spinach is just wilted. Ladle into soup bowls and sprinkle each serving with extra grated Parmesan cheese.
Notes
Make sure you have some extra broth on hand. When leftovers are stored, the pasta tends to soak up the broth and you'll want to add some more later.
Nutrition
Serving:
1
serving
,
Calories:
316
kcal
,
Carbohydrates:
24
g
,
Protein:
23
g
,
Fat:
13
g
,
Saturated Fat:
4
g
,
Trans Fat:
1
g
,
Cholesterol:
82
mg
,
Sodium:
1708
mg
,
Potassium:
825
mg
,
Fiber:
3
g
,
Sugar:
3
g
,
Vitamin A:
5818
IU
,
Vitamin C:
40
mg
,
Calcium:
186
mg
,
Iron:
3
mg