A delicious and hearty soup recipe: Mexican Meatball and Salsa Soup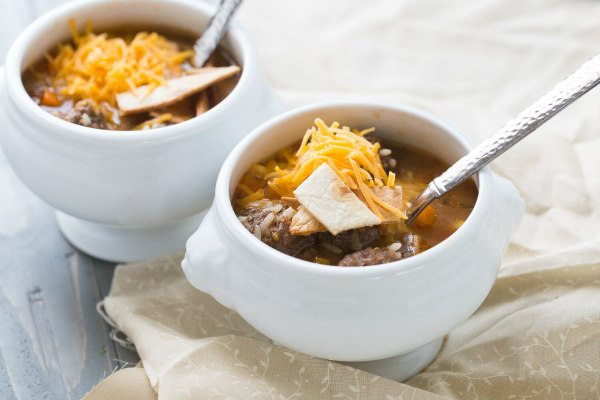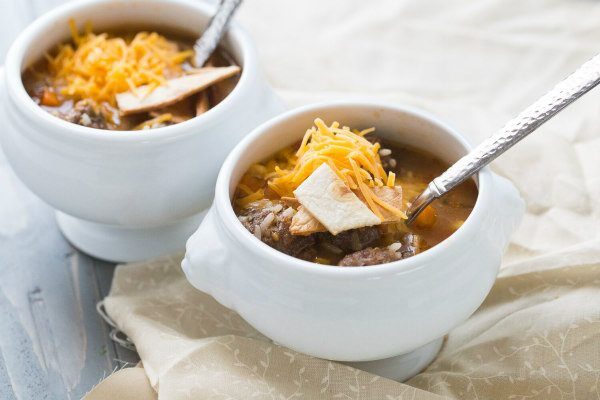 It's time to try a different kind of soup– one that is unique in flavor– and one that you'd find as an option on a restaurant menu.  Toss aside your chicken noodles and your clam chowders.  It's time to try this recipe for Mexican Meatball and Salsa soup!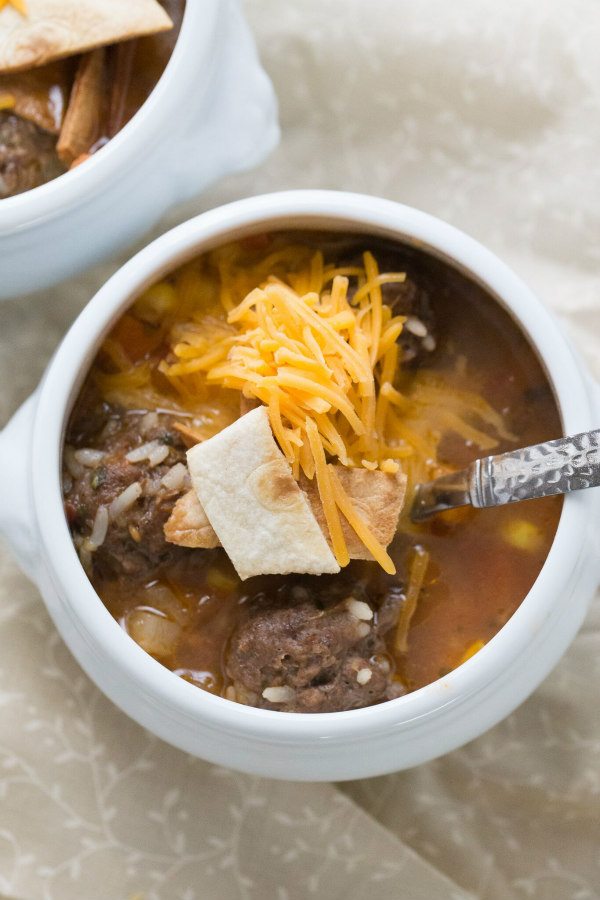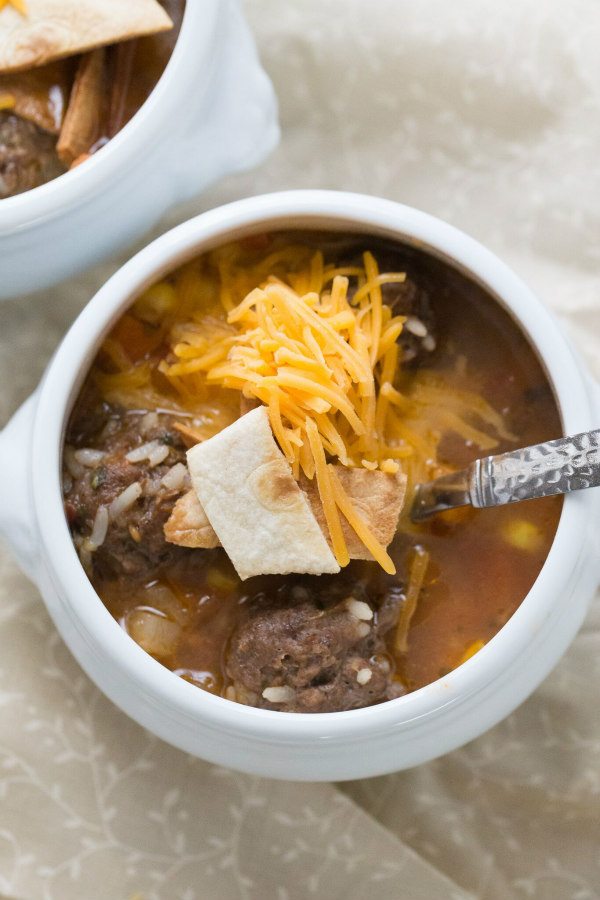 You'll appreciate the simple, hearty flavors in this soup– with plenty of protein and a little tortilla crunch garnish.  This soup can be considered a meal, not a side-dish or starter.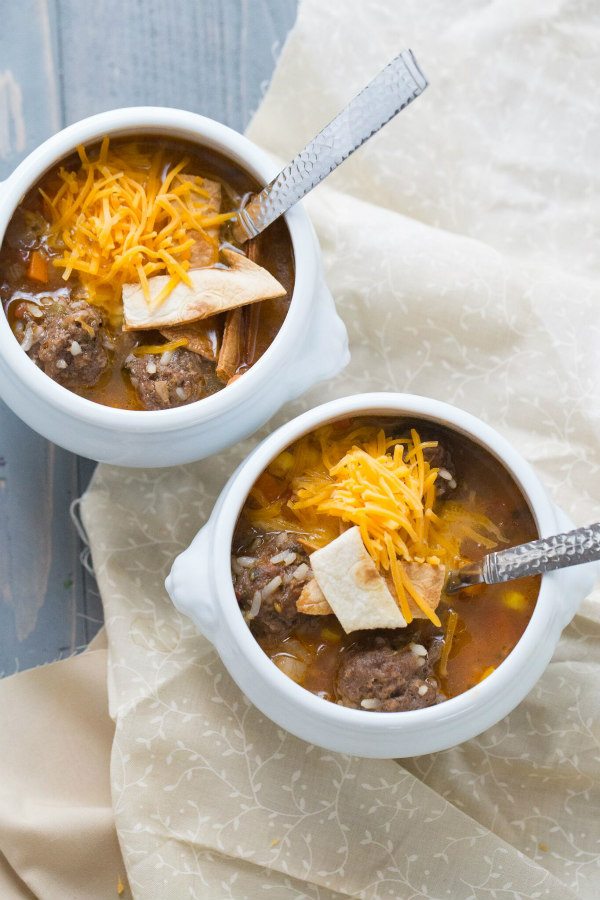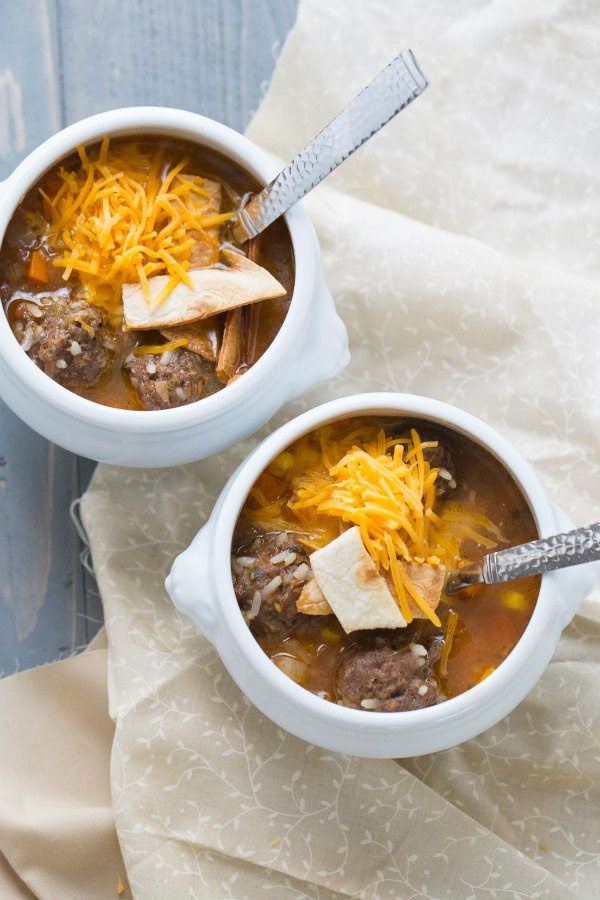 Mexican Meatball and Salsa Soup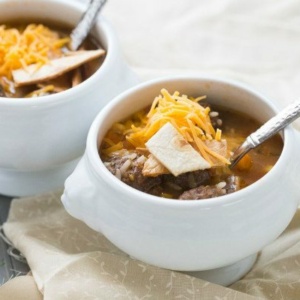 Yield:
4 Servings
Prep Time: 35 minutes
Cook Time: 46 minutes
Ingredients:
Two 6-inch corn tortillas, cut into 20 (1/4-inch wide) strips
1/2 teaspoon vegetable or canola oil
1/2 cup uncooked long-grain rice, divided
1 pound lean ground beef
1 tablespoon dried parsley
1/2 teaspoon chili powder
1/2 teaspoon dried oregano
1/4 teaspoon salt
1/4 teaspoon pepper
1/2 cup chopped onion
1/2 cup thinly sliced celery
1/4 cup thinly sliced carrot
1 clove garlic, minced
2/3 cup salsa
1/2 cup water
Two 10.5-ounce cans low-salt chicken broth
1/2 cup frozen whole-kernel corn
1/2 cup (2 ounces) shredded reduced-fat Monterey Jack cheese
Directions:
Preheat oven to 400°F.
Combine tortilla strips and oil; toss well to coat. Arrange in a single layer on a jelly-roll pan; bake for 10 minutes, or until crisp and brown, stirring once. Set aside.
Combine 1/4 cup rice, ground beef and next 5 ingredients in a bowl; shape mixture into 24 (1-inch) meatballs. Place on a broiler pan; bake at 400° for 10 minutes.
Place a Dutch oven coated with cooking spray over medium-high heat. Add onion, celery, and carrot; sauté 4 minutes. Add garlic; sauté 1 minute. Add salsa, water and broth; bring to a boil. Add 1/4 cup rice and meatballs; cover, reduce heat, and simmer 20 minutes or until rice is tender and meatballs are done. Stir in corn; cook 1 minute or until thoroughly heated.
Spoon into bowls; sprinkle with cheese and tortilla strips.
SOURCE:  RecipeGirl.com (recipe given to me)