Creamy Chicken and Rice Soup is a great bowl of comfort on a chilly day.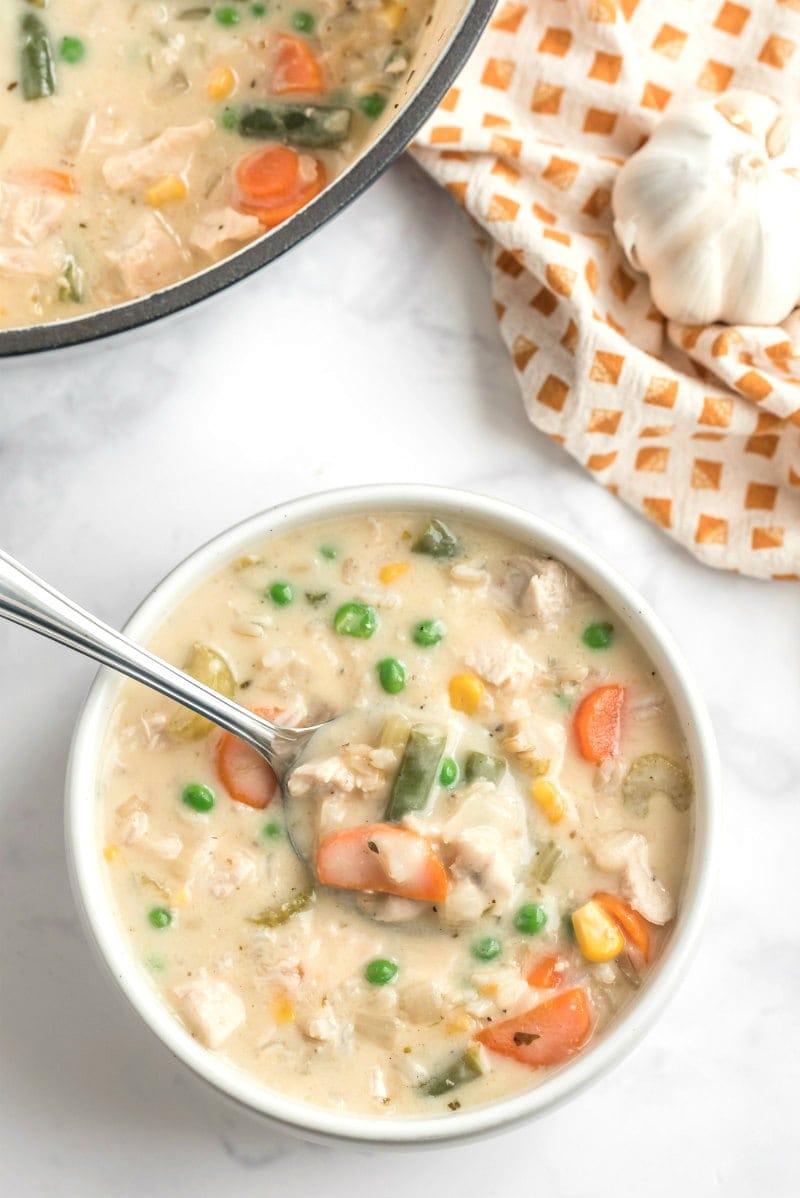 Everyone loves a good bowl of soup on a cold winter day. This Chicken and Rice Soup is thick and creamy, and it's full of vegetables and plenty of chicken. The rice is added in to make it a complete meal. It'll fill you up and keep you satisfied!
Random Story:
I grew up near Lake Tahoe for the 2nd half of my childhood life, and I lived there for 4 years of my adult life too. If you've never visited Lake Tahoe, you're totally missing out. It's perfectly lovely in the summer… gorgeous lake, unbelievable sunsets, mountain hikes, fresh mountain air, and cute cabins to rent all around the lake. In the winter it's covered in a thick layer of snow. Skiers take over the towns and inhabit the many world-class ski resorts that Tahoe has to offer. It was fun living close to Tahoe. As a kid I rode the ski bus every Saturday in the winter for lessons at the nearest resort. In high school, I talked my way onto the ski team, where we had the privilege of leaving school at 11am every Wed for a half-day on the slopes, and then I skied on Saturdays and Sundays too. Skiing makes you tired- exhausted, in fact-and it makes you ravenously hungry. After a full day of skiing, you really want to down a bowl of hot soup like this Creamy Chicken and Rice Soup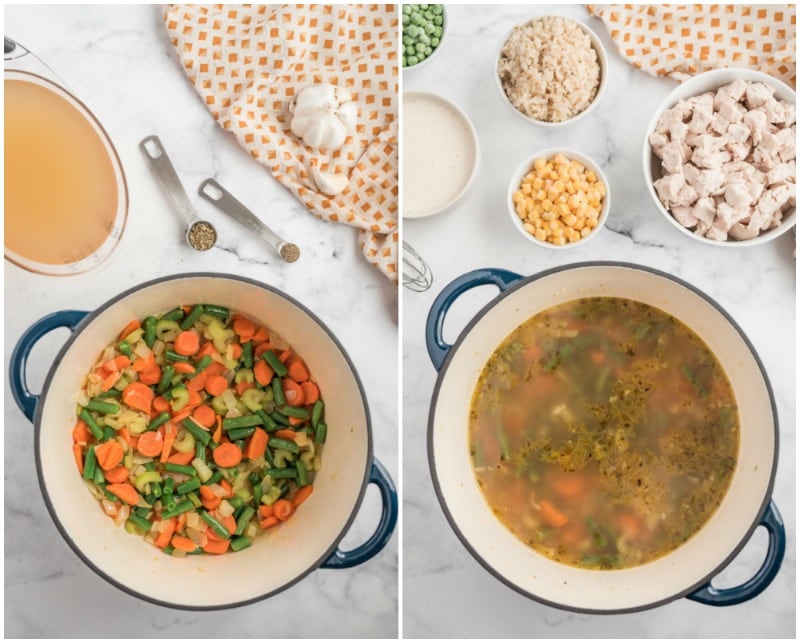 How to make Creamy Chicken and Rice Soup:
In a soup pot, veggies and garlic are sautéed in a little bit of olive oil. Broth and seasonings are added in, and all is simmered for about 15 minutes. Flour is mixed with evaporated milk, and that's mixed into the soup with corn and peas. Chicken and rice are added in last.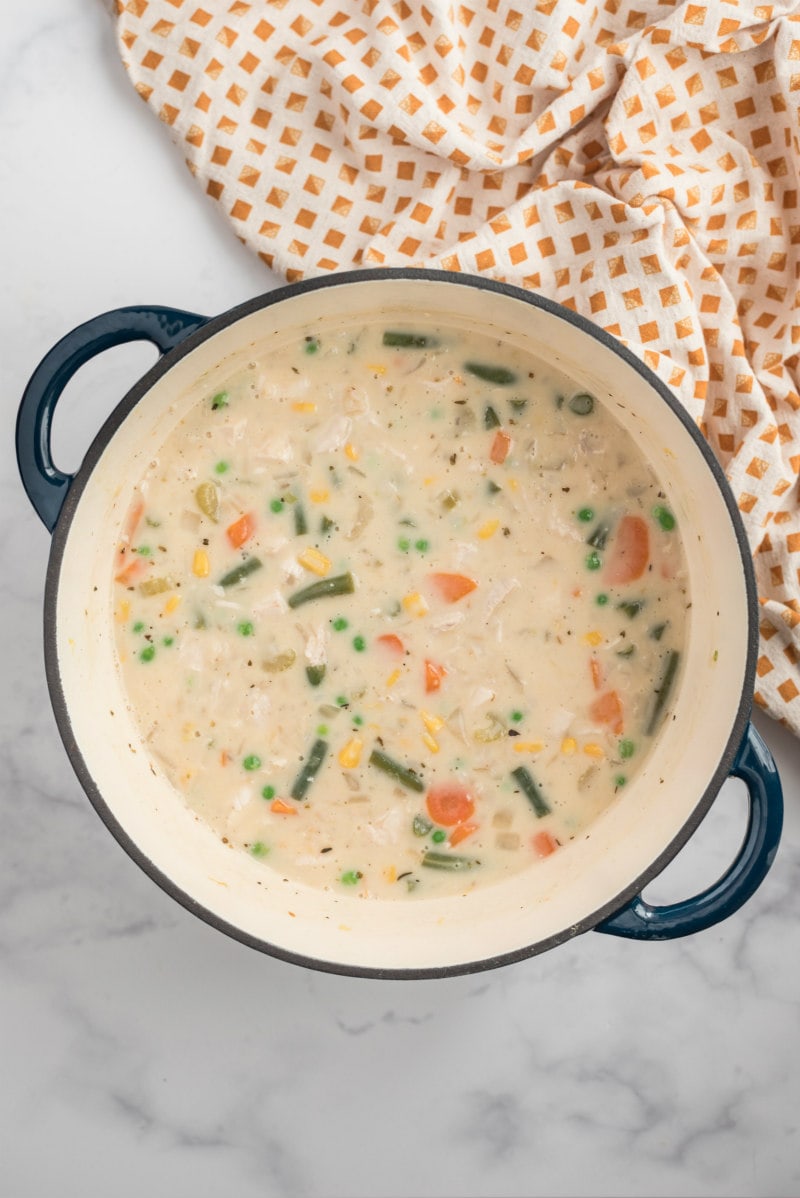 And then you'll have a pot of super creamy chicken and rice soup!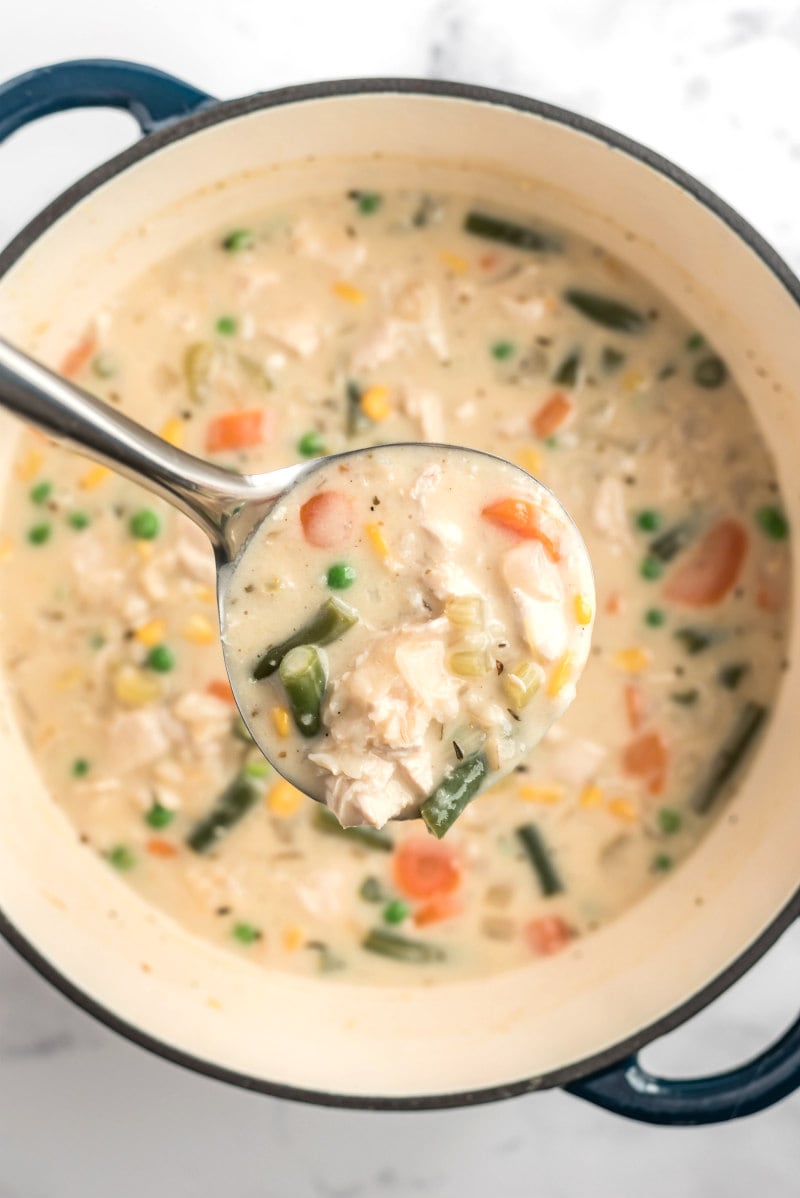 About evaporated milk:
People always ask if they can add in regular milk in place of evaporated milk. My answer is, "Why would you want to?!" Evaporated milk is wonderful when added to soup. It's a more concentrated form of milk that gives it a creamy texture without adding too much fat. If you have to replace it with anything else, I recommend using half and half or heavy cream.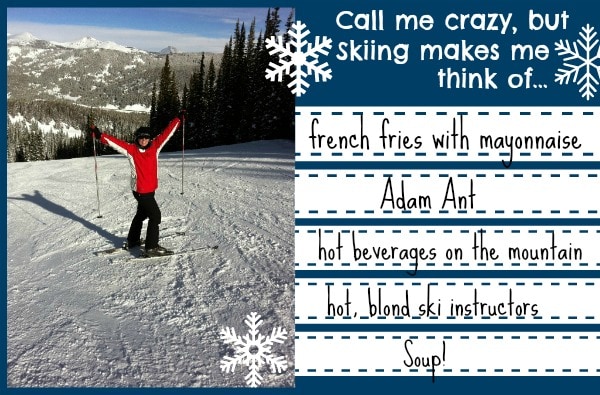 Back to my random story… of enjoying soup after a day of skiing:
Here's what all of this crazy stuff means:
French fries with mayonnaise:

When I was in high school, I often skied with my friend Carrie. Every time we went to the lodge for lunch, she ordered french fries with mayonnaise. I never quite understood the appeal, but eating in a ski lodge always reminds me of that.

Adam Ant:

Back in high school, walkmans were popular (anyone remember what those were?!) My friend Pattie and I listened to Adam Ant on the slopes, often plugging our headphones into the same walkman as we were skiing down the mountain together. Crazy kids!

Hot beverages on the mountain:

There is absolutely nothing like drinking a hot chocolate with Baileys after you've skied the moguls all day long. Best thing ever.

Hot blond, ski instructors:

When I was younger (not now… of course!) my friends and I were always on the lookout for hot, blond ski instructors. There were always at least a few to chase down the mountain.

Soup:

The best-ever meal while spending a day on the slopes (or after) is soup. Warmth floating into your belly is just what you need when you're defrosting.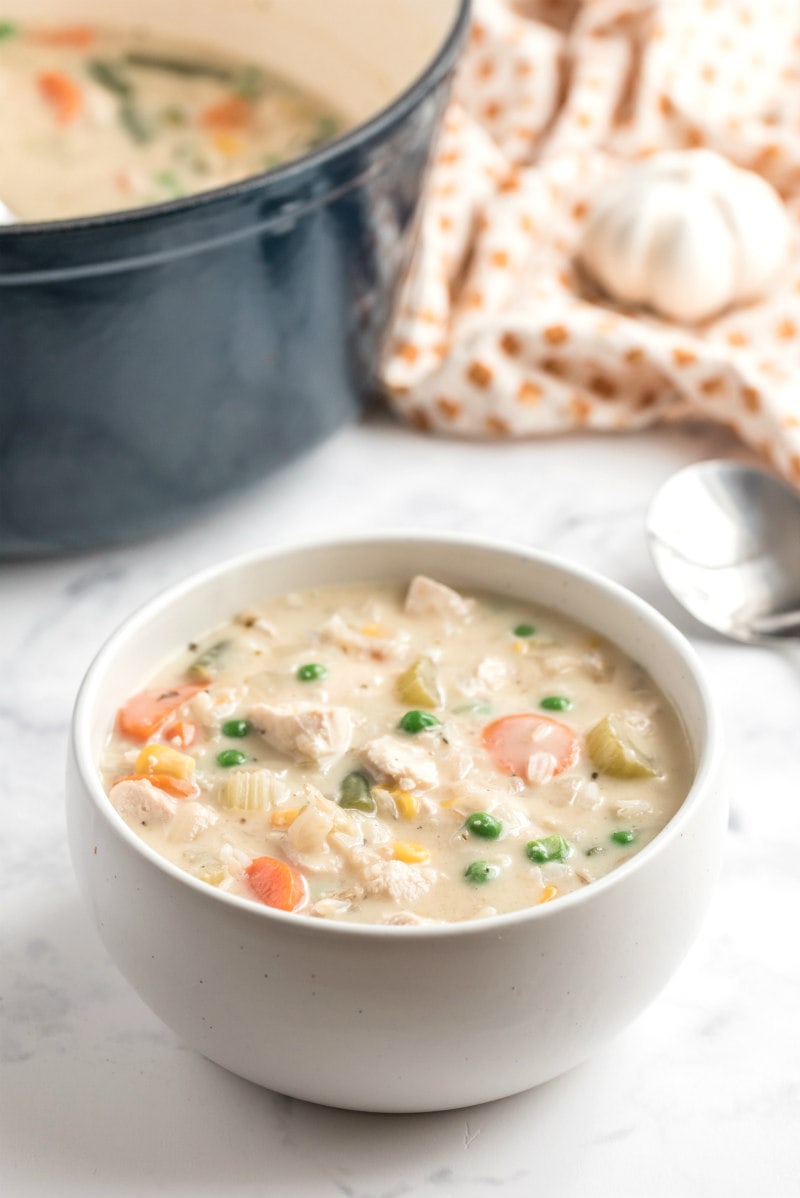 This Creamy Chicken and Rice Soup is creamy, but not in a "heavy cream" sort of way. It's completely hearty enough to fill a freezing belly in the winter. And it's a healthy choice, so if you happen to be following the Weight Watchers WW plan, you'll find a link to the WW Points on the recipe card at the end of this post. Enjoy!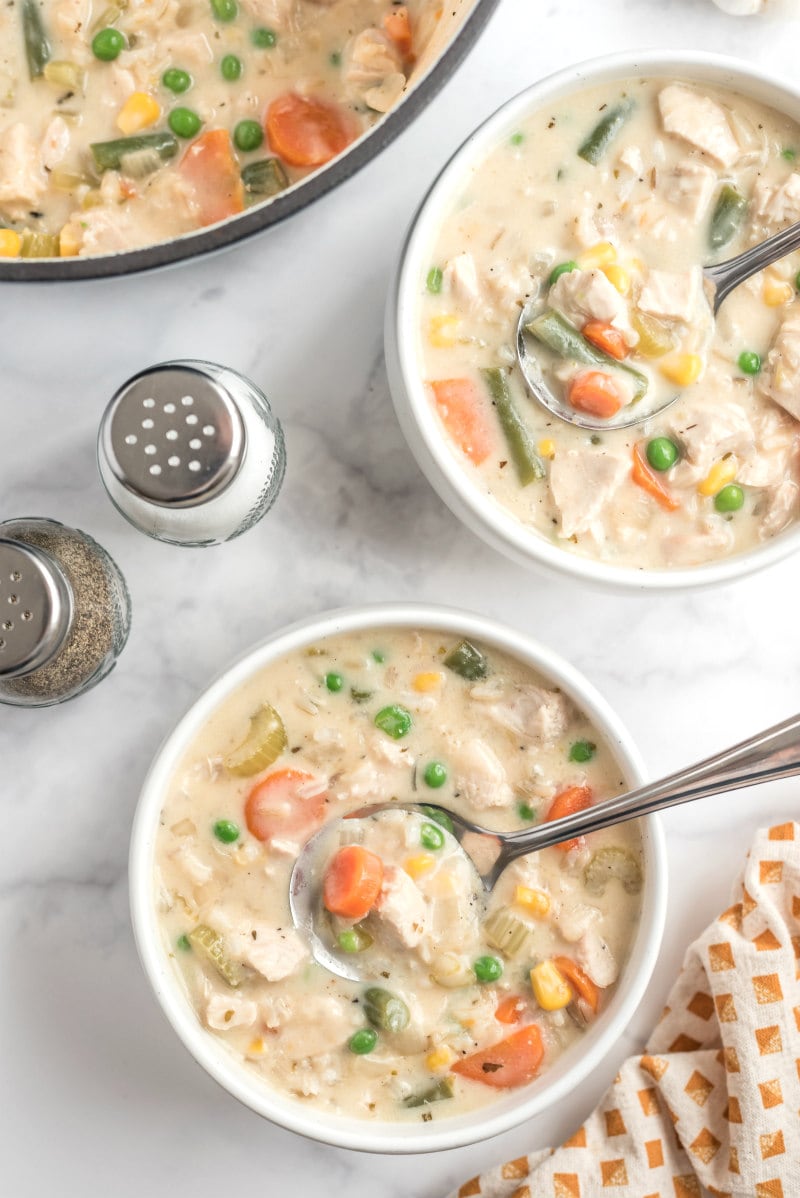 Here are a few more soup recipes you might like to try:
Creamy Chicken and Rice Soup
An absolutely delicious and comforting soup to make on a chilly day!
Recipe Details
Ingredients
1

tablespoon

canola or vegetable oil

½

cup

chopped onion

1

medium

carrot,

peeled and chopped

1

rib

celery,

chopped

1

cup

chopped fresh green beans

½

teaspoon

minced garlic

Two

14.5-ounce cans

chicken broth

¾

teaspoon

dried Italian seasoning

¼

teaspoon

freshly ground black pepper

3

tablespoons

all purpose flour

One

5-ounce can

evaporated milk

½

cup

frozen peas

½

cup

frozen corn

2

cups

chopped cooked chicken

1

cup

cooked white or brown rice
Instructions
Heat the oil in a large saucepan. Add the onion, carrot, celery, and green beans. Stir and cook for 4 to 5 minutes, until slightly tender. Stir in the garlic and cook 1 minute longer. Stir in the broth, seasoning, and pepper. Bring to a boil, reduce heat to low, and simmer for 15 minutes.

In a small bowl, whisk together the flour and milk until smooth. Stir it into the soup along with the peas and corn. Bring to a boil; cook and stir for 3 to 4 minutes, until thickened. Stir in the chicken and rice and heat through until the soup is creamy. If the soup thickens too much upon cooking or standing, it's okay to stir in a little extra chicken broth.
Notes
If you're counting WW Points be sure to use 2% evaporated milk.
Nutrition
Serving:
1
serving
,
Calories:
341
kcal
,
Carbohydrates:
34
g
,
Protein:
29
g
,
Fat:
10
g
,
Saturated Fat:
3
g
,
Cholesterol:
70
mg
,
Sodium:
865
mg
,
Potassium:
756
mg
,
Fiber:
4
g
,
Sugar:
7
g
,
Vitamin A:
3020
IU
,
Vitamin C:
30
mg
,
Calcium:
155
mg
,
Iron:
3
mg