Here's a comforting meal for you:  Easy Lentil Soup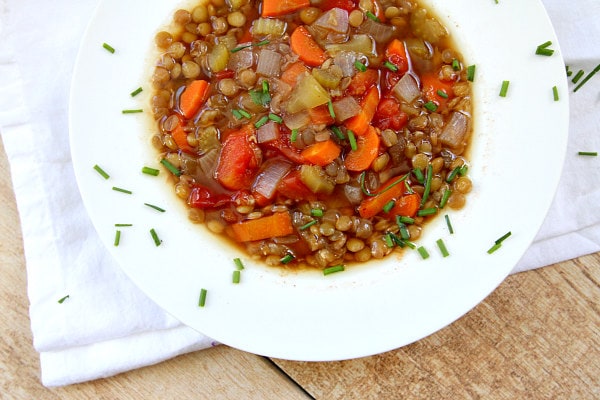 Of the zillion soup recipes I've been trying this winter, this easy lentil soup recipe is my favorite.  I'm pretty sure I've said that about every soup recipe I've made, but I seriously love this one. The lentils are healthy and filling.  It's the perfect soup to make on a Sunday afternoon, and store in the refrigerator for the week to scoop out a cup for lunch each day.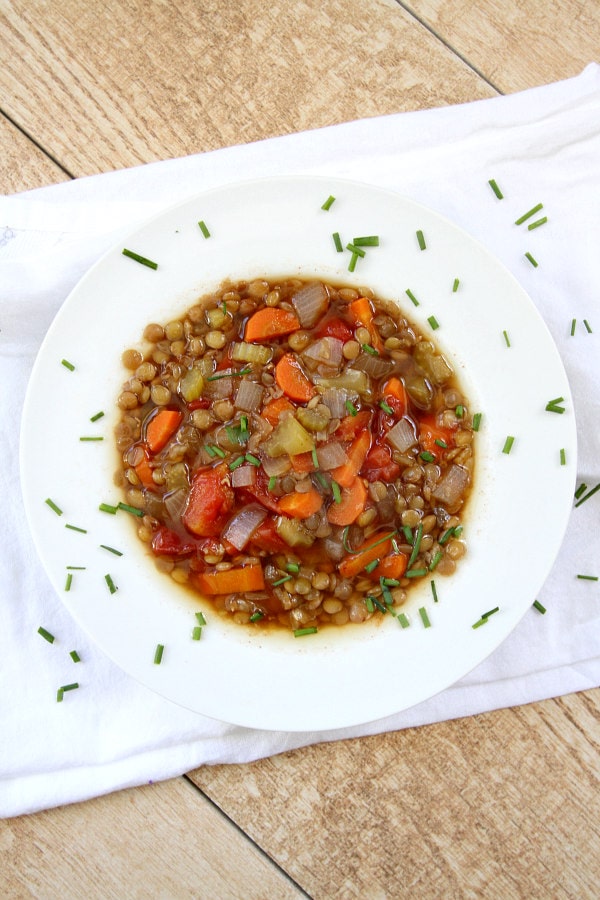 This soup is Weight Watchers friendly too.  One serving is almost 2 cups- 261 calories and ZERO Weight Watchers Freestyle SmartPoints.  I'll be making this one again and again!
Easy Lentil Soup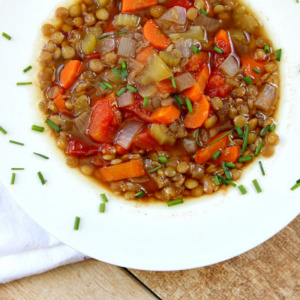 Yield:
8 servings (1 3/4 cups per serving)
Prep Time:20 minutes
Cook Time:45 minutes
Ingredients:
10 cups reduced-sodium beef broth
1 pound dried lentils, picked over, rinsed & drained
4 large carrots, peeled and finely chopped
1 large onion, peeled and finely chopped
2 large celery stalks, finely chopped
2 bay leaves
One 14.5-ounce can diced tomatoes, with juice
1 tablespoon red wine vinegar
freshly ground black pepper
1 to 2 cups hot water
chopped chives for garnish, optional
Directions:
In a large pot, combine the broth, lentils, carrots, onions, celery, and bay leaves; bring to a boil.  Reduce the heat, and simmer, covered, stirring occasionally, until the lentils and vegetables are tender (about 30 minutes).
Add the tomatoes (with juice), vinegar and pepper.  Add the water (amount depending on how much soupy broth you desire).  Cover and cook, stirring occasionally, until the flavors have blended, 10 minutes.
Sprinkle individual servings with chives, if desired.
Tips:
If you are preparing this recipe as GLUTEN FREE, just be sure to use a brand of beef broth that is known to be GF.
You can actually add all of the tomatoes from the can, if you'd like... since tomatoes are zero points on the Weight Watchers SmartPoints program.
Nutrition:
Nutritional Information per Serving (serving size 1 3/4 cups) Calories: 261, Fat: 2g, Saturated Fat: 0, Cholesterol: 0, Sodium: 364mg, Carbohydrates: 44g, Fiber 15g, Protein: 19g, Calcium: 72mg
Weight Watchers POINTS:  Freestyle SmartPoints: 0, Original SmartPoints: 6, PointsPlus: 6, Old Points Program: 5
Here are a few more lentil soup recipes you might enjoy: