Lovely way to use up lentils! > French Lentil Salad with Roasted Beets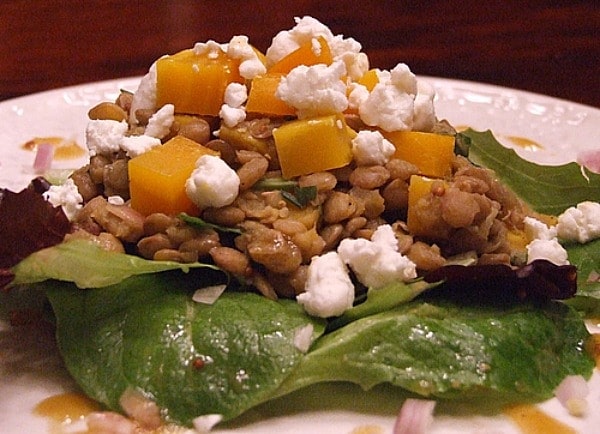 French Lentil & Roasted Beet Salad
Fabulous! A really unique salad. Feels like it has a bit of a Mediterranean flare to it.
Yield:
6 servings
Prep Time: 45 min
Cook Time: 1 hr, 25 min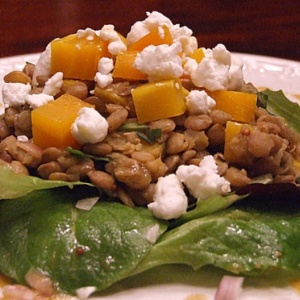 Ingredients:

SALAD:
1 pound beets (about 3 medium), red, gold, striped, or a mixture
1 Tablespoon extra-virgin olive oil
1 cup de Puy lentils (small, slate-green lentils from France)
2 teaspoons chopped fresh rosemary, divided
1 whole bay leaf (dried or fresh)
2 large cloves of garlic, peeled & smashed
1/2 medium onion, studded with a whole clove
1/2 teaspoon kosher salt, plus additional for seasoning to taste
1/4 cup minced fresh flat-leaf parsley
freshly ground black pepper to taste
6 cups mixed baby greens
6 ounces crumbled goat cheese

DRESSING (makes 1/2 cup):
3 Tablespoons sherry vinegar
2 Tablespoons whole-grain mustard
1 tsp kosher salt
freshly ground black pepper to taste
1/3 cup extra-virgin olive oil
2 medium shallots, minced

Instructions:

1. Preheat oven to 400°F. Trim all but 1 inch of the beet stems. Put the beets on a large piece of aluminum foil, drizzle with olive oil, and seal the foil to make a tight package. Put the package in a small roasting pan. Roast the beets until easily pierced with a knife, about 1 hour. When the beets are cool enough to handle, peel them- the skins should slide right off with a bit of pressure from your fingers. If they don't, use a paring knife to scrape off any bits that stick. Dice the beets and set aside.

2. While you roast the beets, spread the lentils on a pan and pick out any pebbles or other foreign matter; rinse and drain. Put the lentils in a saucepan with cold water to cover by about 2 inches. Add 1 teaspoon chopped rosemary and the bay leaf to the pan, along with the smashed garlic, onion, and 1/2 teaspoon salt. Bring to a boil over high heat; reduce the heat and simmer, uncovered, until the lentils are tender, about 25 minutes. Strain the lentils and discard garlic and onion.

3. While lentils are simmering, prepare the salad dressing: Whisk vinegar with mustard, salt and pepper in a small bowl. Gradually whisk in the olive oil, starting with a few drops and then adding the rest in a steady stream to make a smooth, slightly thick vinaigrette. Stir in the shallots. Use immediately or refrigerate in a tightly sealed container for up to 3 days.

4. Put the warm lentils in a bowl and stir in half of the dressing. Cool the lentils completely, then add the beets, parsley, and remaining 1 teaspoon chopped rosemary. Season to taste with salt and pepper. Lightly dress the greens with a bit of the dressing and divide among 6 plates. Spoon some of the lentil salad onto the greens, crumble goat cheese over each serving, and drizzle with some of the remaining vinaigrette.

Tips:

*It's ok to use regular lentils if you're not able to find the French lentils.