Roasted Beet Salad with Blue Cheese and Easy Maple-Balsamic Reduction is a perfect pairing of sweet and savory flavors.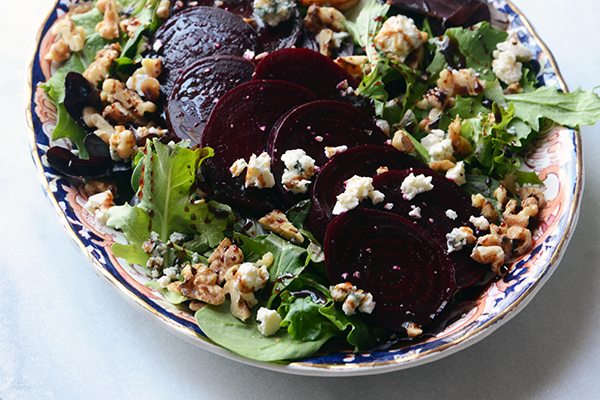 Beets are just one of those things that there's no middle ground with: you either love their earthy sweetness, or it's totally not your thing. For those of you who adore beets, this easy salad is for you!
I grew up on beets; my mom would boil, peel, and cube them, and then let a generous pat of butter melt down into them. They didn't need anything except salt and pepper to be perfection. In my opinion, anyway…my sister absolutely hated them. (She and I had a system that worked for us though! Double beets for me, double pork chops for her, lol.)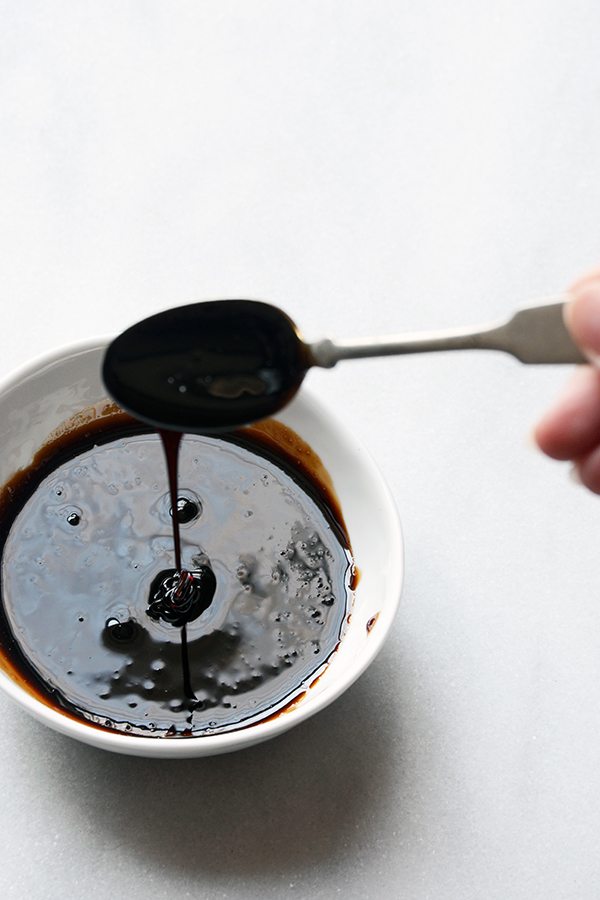 I'll take beets any way I can get them, but I'm slightly partial to the depth of flavor that roasting brings out. And bonus, I think it's actually the least hands-on method of cooking beets.
In this salad I paired roasted beets with creamy-textured blue cheese. Walnuts add nutty crunch, and a super easy maple-balsamic reduction is a fun, unique way to dress the salad.
Heads up, the reduction is also fabulous drizzled on grilled chicken, which I think goes really nicely with this salad. If served with grilled chicken and some crusty bread or a grain pilaf, this makes an elegant and easy dinner; or serve it as-is for a healthy and impressive-looking lunch for two.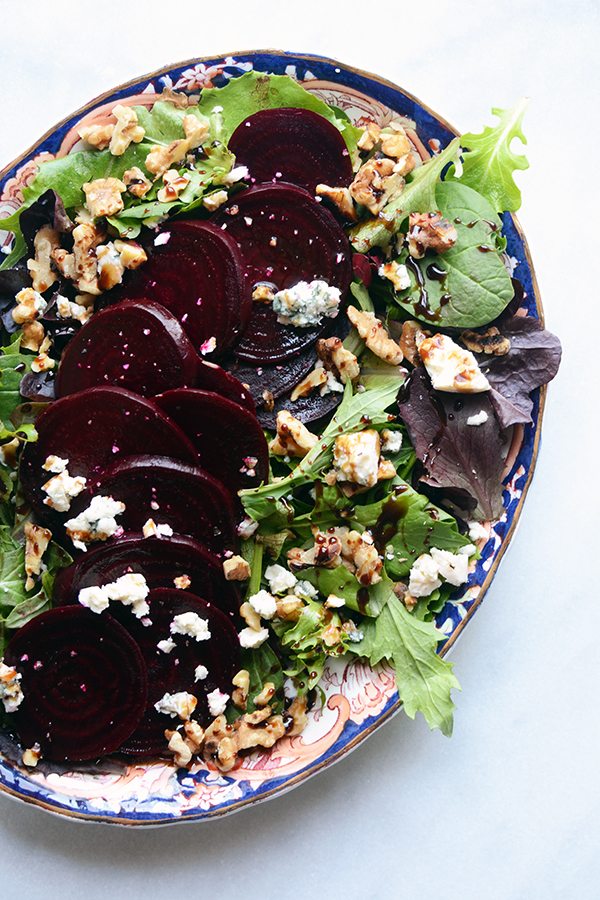 Roasted Beet Salad with Blue Cheese and Easy Maple-Balsamic Reduction
Yield:
2 to 4 servings
Prep Time: 10 minutes
Cook Time: 45 minutes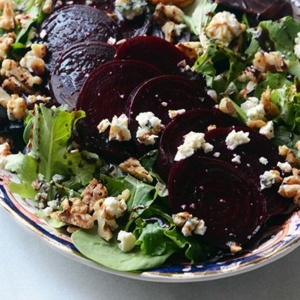 Ingredients:

Roasted Beets (see Note):

3 medium-sized beets, scrubbed and leaves and stems trimmed off
1/2 cup water

Maple-Balsamic Reduction:

1/2 cup good-quality balsamic vinegar
1 tablespoon pure maple syrup

Salad:

6 cups mixed salad greens
4 tablespoons walnuts, toasted and chopped
4 tablespoons crumbled blue cheese

Instructions:

For the roasted beets, preheat the oven to 425F. Place the beets and water in an 8 by 8-inch oven-safe dish and cover with foil. Roast until a paring knife inserted in the center slides out, about 45 minutes. Cool the beets completely, and then rub off the skin with your fingers (if the beets are fully cooked, the skins should slide right off; to make it even easier, you can do this under running water or in a bowl of cool water). Dry and then thinly slice the beets.
While the beets cook, make the vinegar reduction. To do so, add the vinegar and maple syrup to a small saucepan over medium-high heat; bring to a boil, and then turn the heat down to medium-low and simmer until reduced by about 1/3. Cool completely (the syrup will thicken more as it cools).
To serve, arrange the salad greens on a large platter. Top with the sliced beets, walnuts, and blue cheese. Drizzle on the reduction to taste and serve immediately.

Nutrition:

5 Weight Watchers Freestyle SmartPoints per serving, if served as 4 servings.
Beets: If you're short on time, instead of roasting the beets yourself you can use the pre-cooked ones in the produce section of the grocery store. Good-quality canned or jarred beets will also work.
SOURCE:  RecipeGirl.com
Here are a few more beet salad recipes you might enjoy: