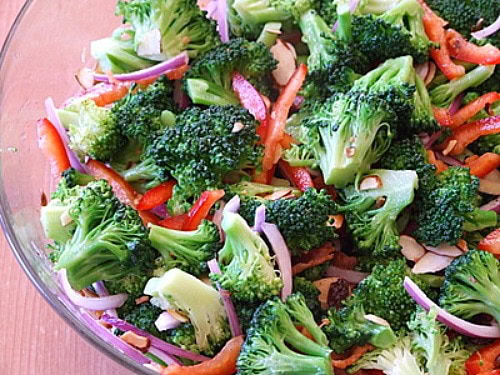 Broccoli Salad with Vinaigrette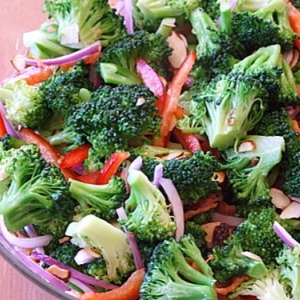 This is a really nice salad recipe. I used to make a creamy broccoli salad and this one is a nice diversion from that. Fewer calories!
Yield:
6 Servings (about 3/4 cup per serving)
Prep Time: 15 minutes
Ingredients:
4 cups small broccoli florets, sliced in half if too big
1/4 cup thinly vertically sliced red onion
1/4 cup thinly sliced red bell pepper
1/4 cup raisins (golden or regular)
2 1/2 Tablespoons sliced almonds, toasted
salt & pepper to taste
1 slice bacon, cooked, drained & crumbled
2 Tablespoons white wine vinegar
2 Tablespoons granulated sugar
1 1/2 teaspoons olive oil
Directions:
Combine first 7 ingredients (through bacon) in a large bowl. Whisk together vinegar, sugar and oil in a small bowl. Pour over broccoli; toss gently to coat.
Nutrition:
Nutritional Information Per Serving of 3/4 cup:
Calories 115, Calories from Fat 53, Total Fat 6g, Sat Fat 1.25g, Cholesterol 4.3mg, Sodium 67g, Potassium 264mg, Carbohydrates 14g, Dietary Fiber 1g, Sugar 9g, Net Carbs 13g, Protein 3.25g
WW POINTS per serving of 3/4 cup:
Points Plus Program: 3 Old Points Program: 3