Broccoli with Two-Cheese Sauce
This dish is gluten-free adaptable- please see tips below the recipe.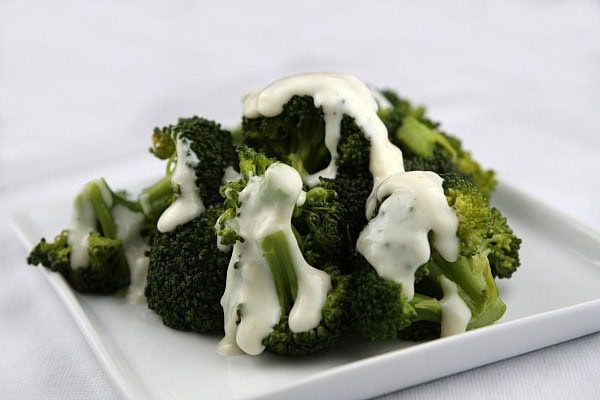 Yield: 8 Servings (Serving Size: 3/4 cup broccoli + 2 1/2 Tbsp. sauce)
Prep Time: 15 minutes
Cook Time: 15 minutes + standing time
Broccoli w/ 2-Cheese Sauce
Here's one way to get the kids to eat their broccoli... douse it with this yummy cheese sauce!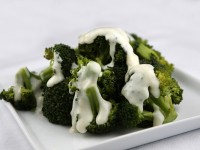 Ingredients:
1 cup fat-free milk
1/2 cup sliced onion
2 cloves garlic, crushed
dash of ground nutmeg
2 Tablespoons all-purpose flour
1/3 cup (about 1 1/2 ounces) grated fresh Parmigiano- Reggiano cheese
1/3 cup (about 1 1/2 ounces) shredded reduced-fat Jarlsberg (Swiss) cheese
1/4 teaspoon salt
dash of ground red pepper
6 cups broccoli
Directions:
1. Combine milk, onion, garlic and nutmeg in a small, heavy saucepan over medium-heat. Heat to 180°F. or until tiny bubbles form around edge (do not boil). Remove from heat; let stand 15 minutes. Strain milk mixture through a sieve into a bowl, reserving milk. Discard solids. Wipe pan clean with paper towels; add strained milk and flour to pan, stirring with a whisk. Return pan to medium heat; cook 2 minutes or until thick, stirring constantly with a whisk. Remove from heat. Add cheeses, salt, and pepper, stirring with a whisk until smooth. Keep warm.
2. Cook broccoli in boiling water 3 minutes or until crisp-tender; drain. Top with cheese sauce; serve immediately.
Tips:
*If you wish to prepare this recipe as GLUTEN FREE, sub GF flour for the all-purpose.
Nutritional Information per serving:
Serving size: 3/4 cup + 2 1/2 Tablespoons sauce
Calories per serving: 64
Fat per serving: 1.69g
Saturated Fat per serving: .94g
Sugar per serving: 2.04g
Fiber per serving: .21g
Protein per serving: 5.83g
Cholesterol per serving: 5.81g
Carbohydrates per serving: 7.36g
WW POINTS per serving:
Points Plus Program: 2 Old Points Program: 1.5
Leave a Comment