Good grub for eating light…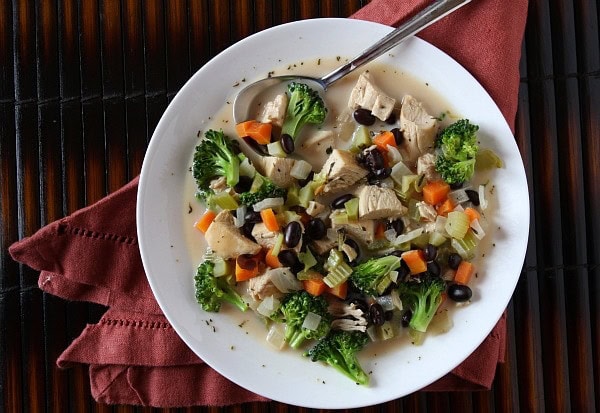 Chicken- Broccoli Soup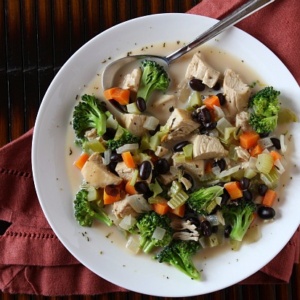 Yield:
6 servings
Prep Time: 25 min
Cook Time: 35 min
Ingredients:
1/2 cup finely chopped carrots
1/2 cup finely chopped onion
1/2 cup finely chopped celery
1 cup finely chopped broccoli stems
1/2 teaspoon dried thyme
1/2 teaspoon dried oregano
1/2 teaspoon dried basil
1/2 cup dry white wine
1 pound chicken breasts, cooked & cubed
4 cups chicken broth
1 (15 ounce) can black beans, rinsed & drained
1 (12 ounce) can evaporated skim milk
1 1/2 cups broccoli florets
1 Tablespoon worcestershire sauce
1 teaspoon Tabasco sauce
Directions:
1. Spray the bottom of a stockpot with nonstick spray. Add carrots, onion, celery and broccoli stems. Sauté over medium heat for 5 minutes. Stir in thyme, oregano, basil and wine. Simmer for 15 minutes or until liquid is reduced by half.
2. Add cubed chicken, broth and beans to the mixture in the stockpot. Cook over low heat for 3-5 minutes or until heated through. Stir in evaporated milk and broccoli florets. Cook for 5 minutes, stirring constantly to prevent the soup from boiling. Stir in worcestershire sauce and Tabasco and cook for 2 minutes.
3. Serve immediately.
Nutrition:
Nutritional Information per serving:
Serving size: 1/6th of the recipe
Calories per serving: 260
Fat per serving: 2.5g
Saturated Fat per serving: .75g
Sugar per serving: 8.5g
Fiber per serving: 6g
Protein per serving: 31g
Cholesterol per serving: 46.5mg
Carbohydrates per serving: 25g
WW POINTS per serving:
Points Plus Program: 6 Old Points Program: 6