My new favorite soup recipe:  Sweet Potato Soup with Bacon and Crispy Sage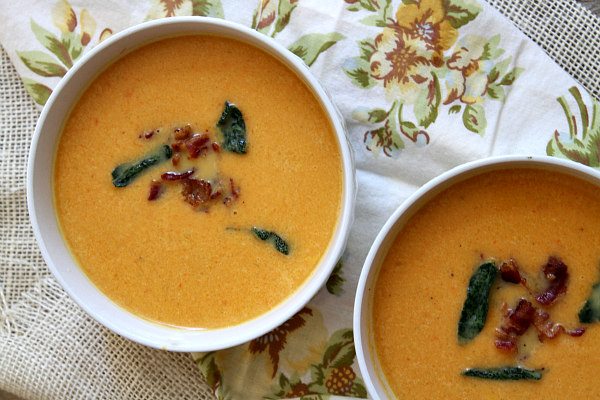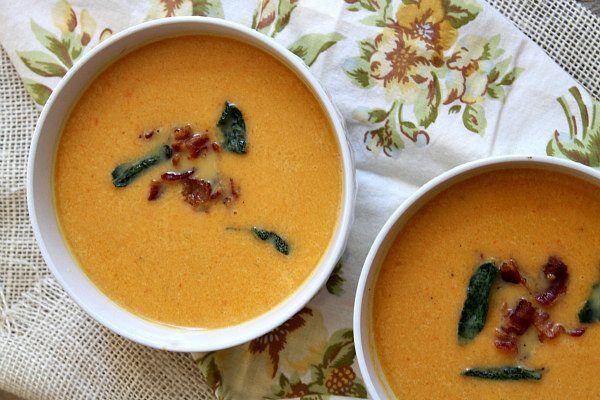 This beautiful soup has a velvety texture.  It's filling and warm and comforting.  And the crunch of the bacon and crispy sage is a huge bonus.  To print the complete recipe, scroll to the bottom of this post.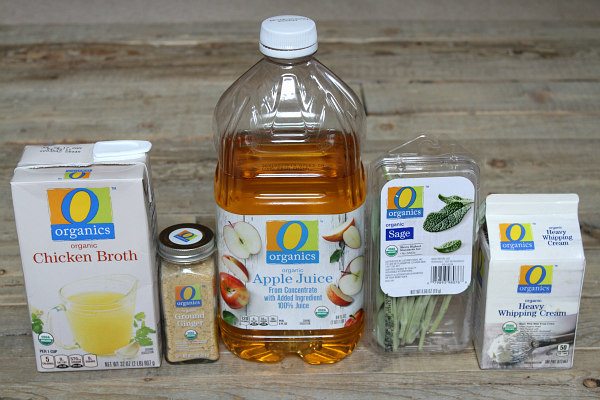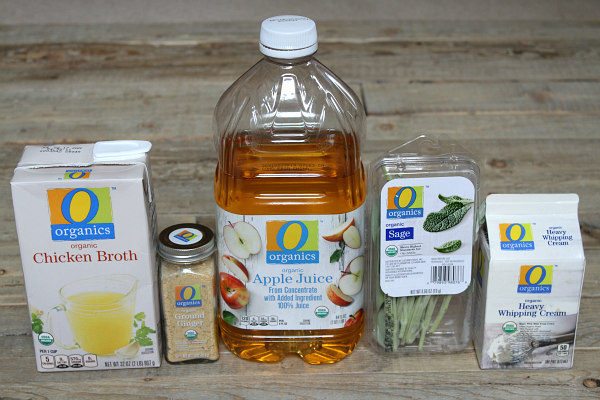 I've partnered with my local market- Safeway– and their O Organics® products to create today's recipe. I get my O Organics products at Safeway, but if you are outside of the Lake Tahoe area, O Organics products are available at Albertsons Companies stores across the country, including Albertsons, Star Market, Pavilions, Acme, Randalls, Tom Thumb, Jewel-Osco, Shaws, and Vons.  The O Organics brand features more than 300 USDA Certified (non GMO) items throughout the store.  Pictured above are the products I'm featuring in my soup recipe.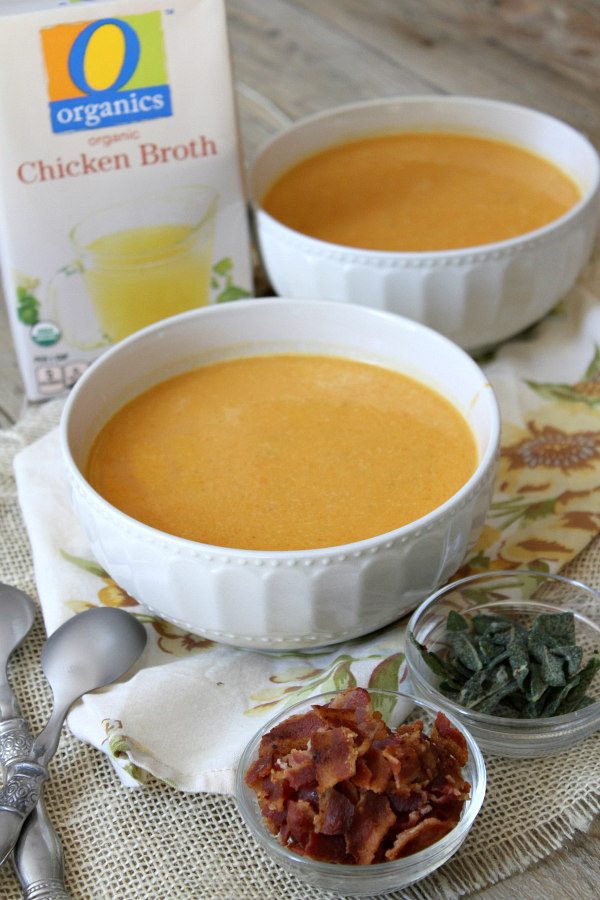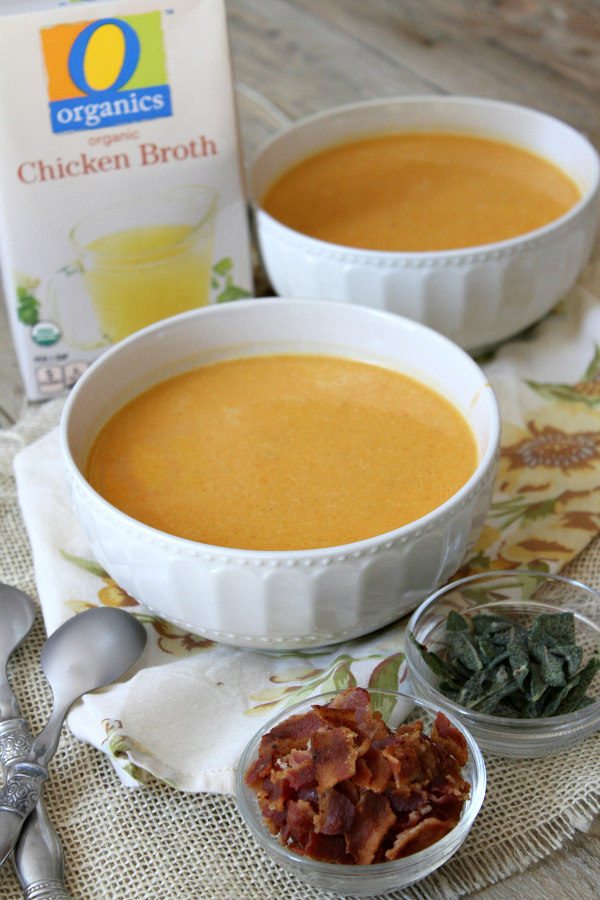 I'm very pleased with the way this soup turned out. The texture is wonderful and velvety.  The flavor is slightly sweet from the addition of apple juice.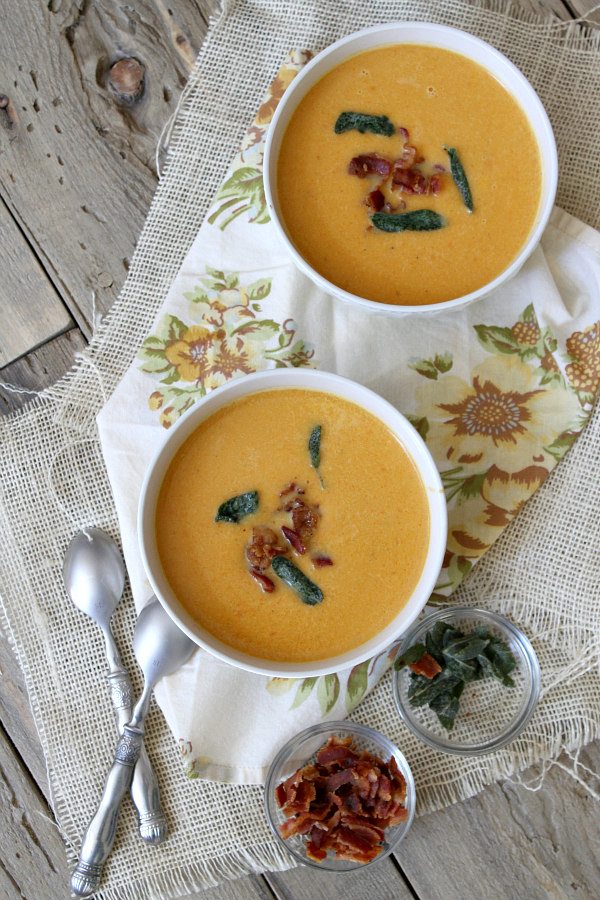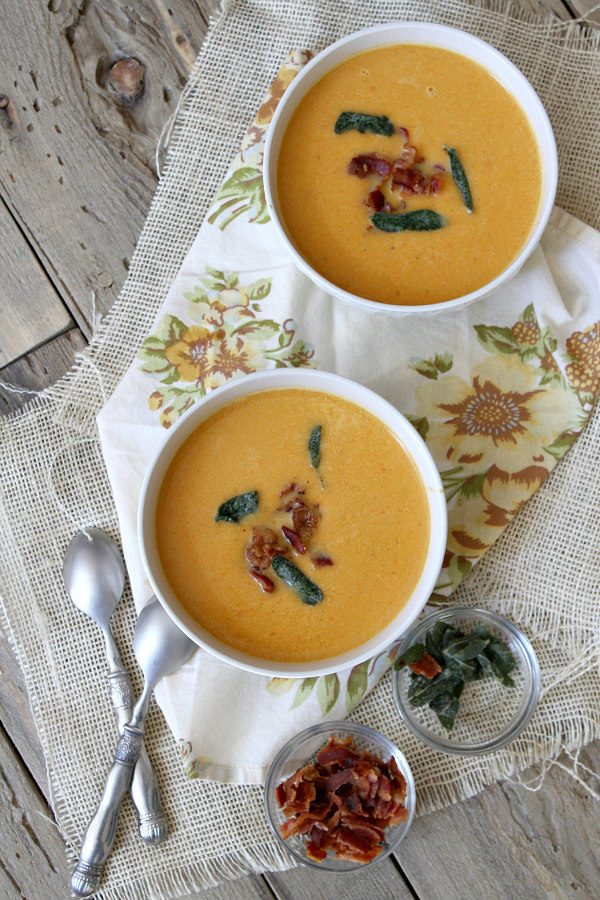 And my family all loved the addition of bacon and sage in the soup too.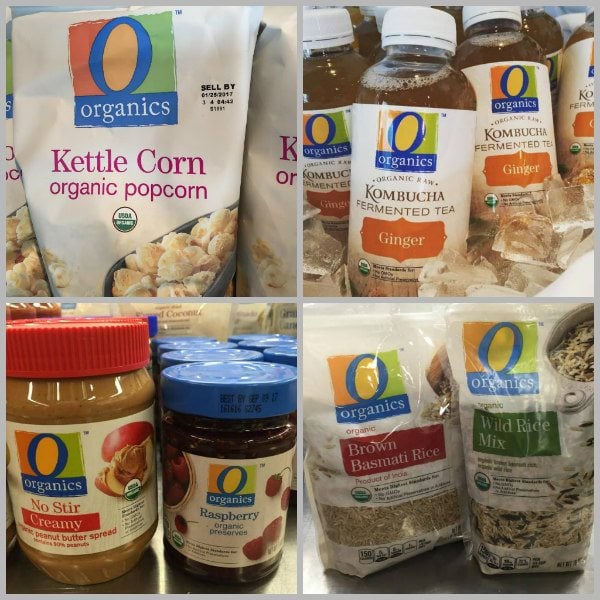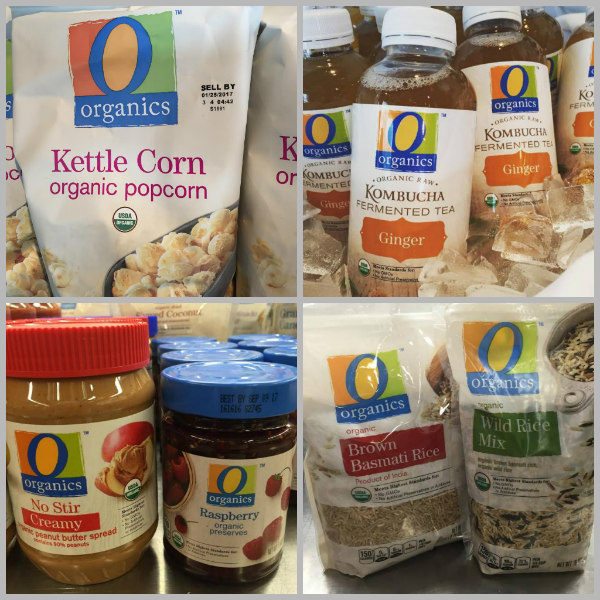 I traveled to Chicago recently to attend an O Organics event and learn more about the brand.  I buy organic products quite often for my recipes, and I'm often disappointed at how much money I have to shell out for the organic brands.  I was delighted to learn that the O Organics brand offers high quality products at a much better price than the leading national organic brands.  Here are a few items I picked up on a recent Safeway shopping spree.  At the recent O Organics 'Organic for All™' event in Chicago, I had the opportunity to work with a vast selection of O Organics products, but please check your local Albertsons family store to see what's available in your area.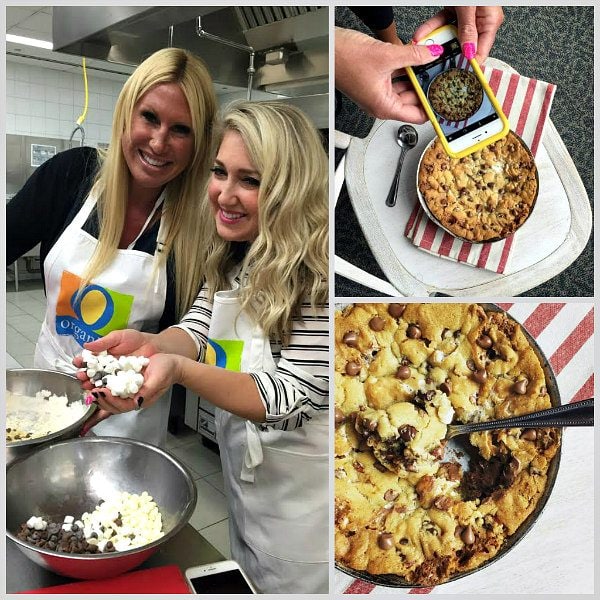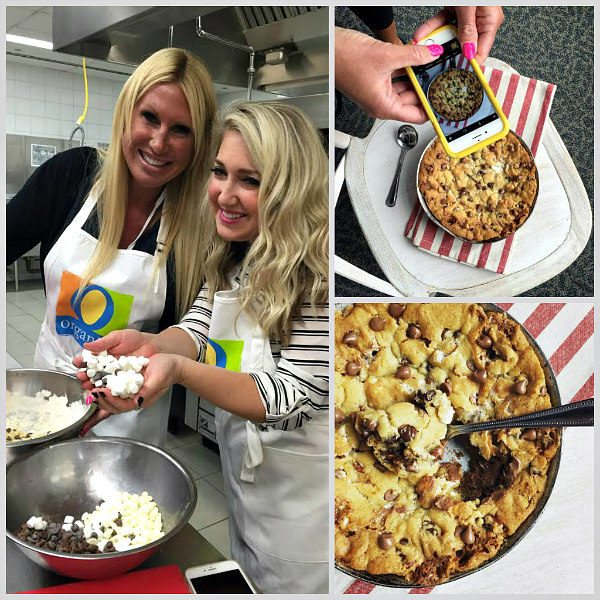 At the Chicago event, I had a chance to get in the kitchen and create recipes with good blogging friends Jenny (Picky Palate) and Averie (Averie Cooks) using the O Organics products.  Together we baked a Loaded Skillet Cookie!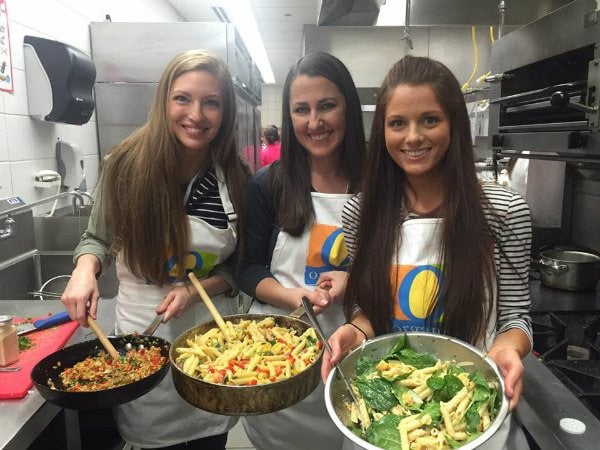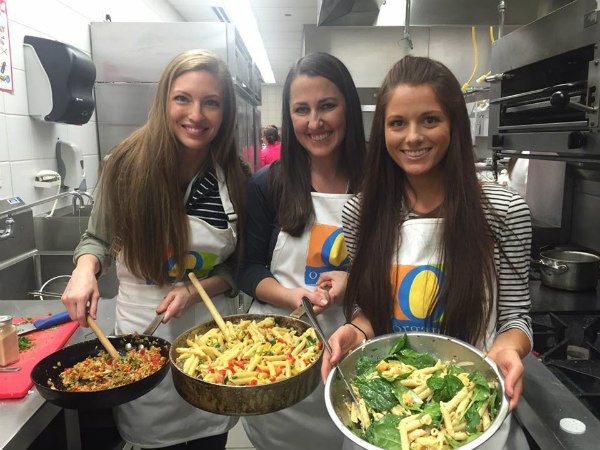 Here are three more blogging friends who were also in the kitchen doing some creating:  Chelsea (Chelsea's Messy Apron), Rachel (The Stay at Home Chef) and Tiffany (La Creme de La Crumb).  All fabulous blogs to check out!
Next time you're in one of the Albertson's Company stores mentioned earlier in this post, keep an eye out for the O Organics brand.  I think you'll be surprised at how many products are offered and how affordable they are too.  It's super easy to add organic products to your everyday meals: O Organics = Organics for All!
Sweet Potato Soup with Bacon and Crispy Sage
Yield:
About 8 cups
Prep Time: 30 minutes
Cook Time: 30 minutes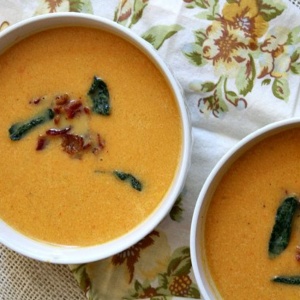 Ingredients:

8 strips bacon
16 or so small O Organics fresh sage leaves
1 tablespoon bacon fat
2 large stalks celery, chopped
2 large carrots, peeled and chopped
1 medium onion, chopped
1 teaspoon kosher salt
1 teaspoon O Organics ground ginger
1/2 teaspoon black pepper
2 large sweet potatoes, peeled and chopped (about 3 cups)
4 cups O Organics chicken broth
2 cups O Organics apple juice
1/2 cup O Organics half and half cream

Instructions:

In a large skillet, fry the bacon until crisp.  Remove the bacon to paper towels to cool and drain.  Crumble the bacon and set aside.
Add sage leaves to the hot bacon grease and fry until crisp.  Remove the sage to paper towels to cool and drain.  Set aside.
Add 1 tablespoon of the bacon fat to a large soup pot and turn heat to medium.  Add celery, carrot, onion, salt, ginger and pepper.  Sauté until vegetables are a little bit softened.  Add potatoes, chicken broth and apple juice.  Bring to a boil, then reduce heat and simmer until the potatoes are very soft- about 20 minutes.
Puree the soup mixture in batches in a blender or food processor, or use a hand immersion blender to puree directly in the pot.  Pour the puréed soup back into the pot.  Stir in the cream and re-heat until warmed.
Ladle soup into bowls, and garnish with bacon and crispy pieces of sage.
SOURCE:  RecipeGirl.com
Here are a few more soup recipes you might enjoy:
Disclosure:  This recipe was created in partnership with Safeway.  I only write about products that I already use in my kitchen- and this is one of them!  RecipeGirl.com maintains full editorial control of the content published on this site. As always, all thoughts, opinions, and enthusiasm for products are entirely my own.