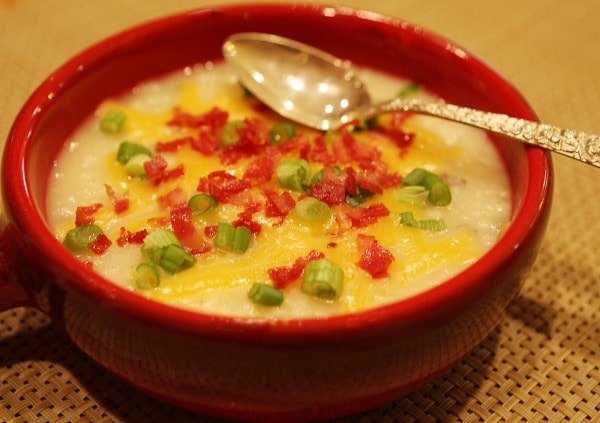 Baked Potato & Bacon Soup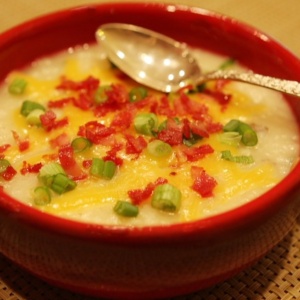 This hearty soup is (lighter) comfort food at its best...
Yield:
8 Servings (Serving size: 1 cup soup, 1 tsp. bacon, 1 Tbsp. cheese + sprinkle of green onions)
Prep Time: 25 minutes
Cook Time: 1 hour, 20 minutes
Ingredients:
2 1/2 pounds white skinned potatoes
3 1/2 slices turkey bacon
2 cups chopped onion
1/2 teaspoon salt
2 large cloves of garlic, minced
1 whole bay leaf
3 3/4 cups 1% low-fat milk
3/4 teaspoon black pepper
2 cups fat-free, less-sodium chicken broth
1/4 cup chopped fresh parsley, optional
3/4 cup sliced green onions
2/3 cup finely shredded reduced-fat sharp cheddar cheese
Directions:
1. Preheat oven to 400°F.
2. Pierce potatoes with fork; bake for 1 hour or until tender. Cool slightly. Partially mash potatoes, including skins, with a potato masher; set aside.
3. Cook bacon in a Dutch oven over medium heat until crisp. Remove bacon from pan; crumble. Add onion to bacon drippings in pan; sauté 5 minutes. Add salt, garlic, and bay leaf; sauté 2 minutes. Add potato, milk, pepper, and broth; bring to a boil. Reduce heat, and simmer 10 minutes. Stir in parsley, if desired.
4. Top individual servings with bacon, green onions and cheese.
Tips:
*You can sub regular bacon (& other regular fat ingredients) in this recipe, but you'll be messing with the nutritional information.
*I use the white skinned potatoes for this recipe. Since you leave the skins on the potatoes, the soup tends to look a little dirty with brown-skinned potatoes.
Nutrition:
Nutrition Facts- Amount Per Serving
Serving size: 1 cup soup, 1 tsp. bacon, 1 Tbs. cheese & a sprinkle of green onions
Calories 215, Calories From Fat (14%) 29, Total Fat 3g, Sat Fat 1.53g, Cholesterol 13.15mg, Sodium 442.76mg, Potassium 935.54mg, Carbohydrates 36g, Dietary Fiber 4.30g, Sugar 9.06g, Net Carbohydrates 32g, Protein 11g
WW POINTS per serving:
Points Plus Program: 5 Old Points Program: 5.5