Roasted Vegetable Rosemary Chicken Soup
This Roasted Vegetable Rosemary Chicken Soup is a wonderful, comforting meal.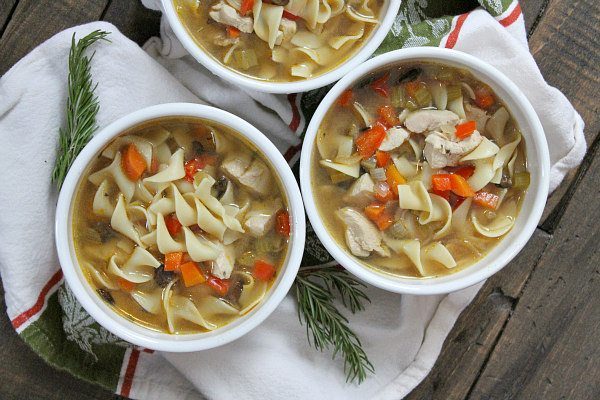 It has been a tough year, I must say.  We made a major move, which was a major life decision for our whole family.  My teenager transitioned to a new high school in his Junior year.  We are still finding our way in our new place (Arizona) and are gradually meeting new sets of friends.  We've had ups and downs in our families and beyond.  Life isn't ever very easy.
Food is comfort, and for that I am grateful.  I find that a big bowl of hot soup is like medicine for my soul.  It doesn't take away any worries, and it certainly doesn't solve any problems.  But it feels good going into my body, and delivers a sense of accomplishment that at least my body is taken care of for the time being.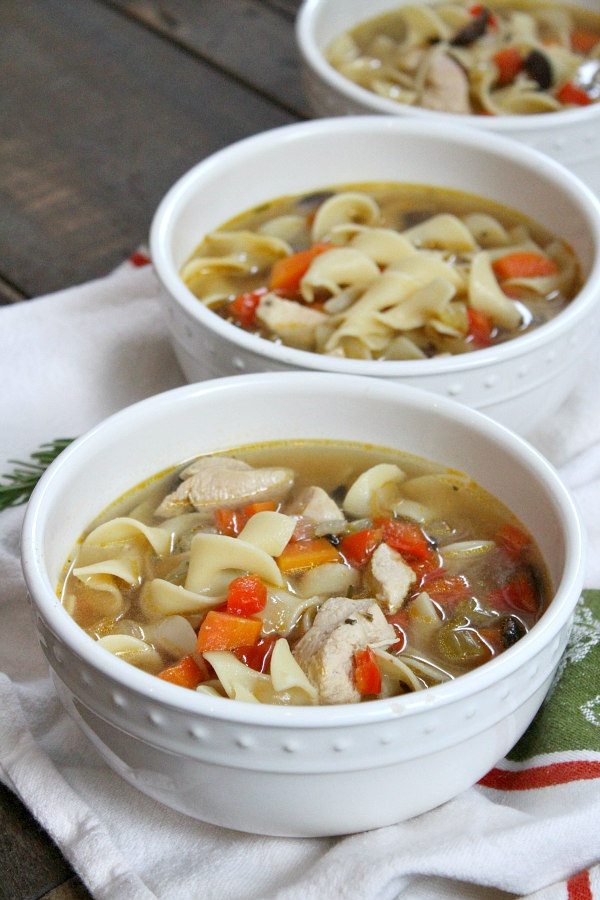 This pot of wonder is packed with some pre-roasted vegetables.  If you have the time to take about 45 minutes to throw these veggies into the oven for roasting, I think you'll find that they're a nice addition to the soup.
The recipe calls for carrot, onion, celery, mushrooms and red bell peppers– but you can certainly adjust that to your liking and sub in zucchini or whatever you might like.  It's perfect as it is though!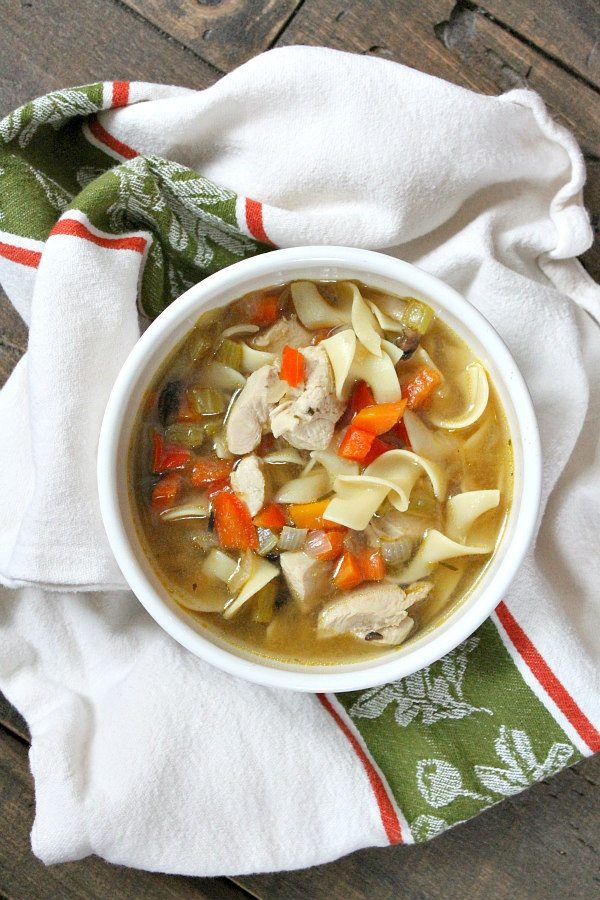 Besides the roasted veggies, this soup is simmered with a garlicky chicken broth housing some chicken breast, egg noodles and fresh rosemary. It all comes together in a soup that might just become your new favorite.
It's not so freezing in Arizona right now, but it's certainly a good soup for one of our rare rainy days like we had today.  And I know many of you live in much colder places.  This soup is one that will keep you warm.  Enjoy!
Yield: 8 servings (1 cup per serving)
Prep Time: 25 minutes
Cook Time: 2 hours
Roasted Vegetable Rosemary Chicken Soup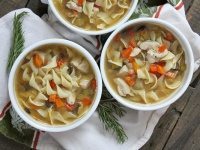 Ingredients:
1 cup 1-inch cubed carrot
1 cup 1-inch cubed onion
1 cup coarsely chopped mushrooms
1 cup 1-inch pieces celery
1 cup 1-inch pieces red bell pepper
2 tablespoons extra virgin olive oil
1 cup water
2 tablespoons chopped fresh rosemary
1/4 teaspoon salt
4 (14-ounce) cans fat-free, less sodium chicken broth
2 cloves garlic, minced
1 pound skinless, boneless chicken breast, cut into 1/2-inch pieces
2 cups uncooked egg noodles
Directions:
Preheat oven to 375°F.
Combine first 5 ingredients in a large bowl; drizzle with oil, and toss well to coat. Arrange vegetable mixture in a single layer on a jelly-roll pan lined with foil. Bake for 50 minutes or until browned, stirring occasionally.
Combine water and next 5 ingredients (through chicken) in a large Dutch oven; bring to a boil. Reduce heat, and simmer 30 minutes. Add roasted vegetables; simmer 30 minutes. Bring soup to a boil. Add pasta; simmer 10 minutes, stirring occasionally.
Tips:
To prepare this recipe as gluten free, be sure to use a brand of chicken broth that is known to be GF. Leave out the egg noodles- you can add in GF pasta or rice in its place.
Nutritional Information per serving (Serving size:

1 cup) 

Calories:

210, 

Fat:

5g, 

Saturated, Fat:

.75g, 

Sugar:

3g, 

Fiber:

3g, 

Protein:

19g, 

Cholesterol:

33mg, 

Carbohydrates:

22g

Weight Watchers POINTS per serving:  Freestyle SmartPoints: 2, Points Plus Program: 5, Old Points Program: 5
Here are a few more chicken soup recipes you might enjoy:
Comments