Here's a recipe for a beautiful and healthy side dish:  Roasted Vegetable Quinoa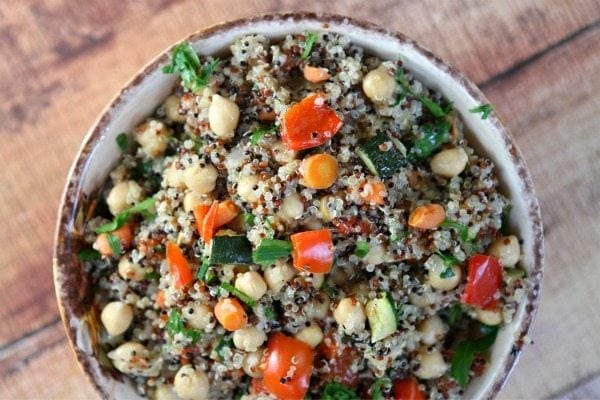 Well, it's a New Year.  And that means thinking about making small changes to make it a healthier year.  I almost always make it a point to make some healthy changes… always on a quest to live a little bit longer and take off a few pounds.
I've decided that my family eats FAR to much white rice.  White rice isn't that great for you, so it's time to get rid of that on our dinner menu and replace it with something much better for us: quinoa.  Quinoa is high in protein, and it's gluten-free too.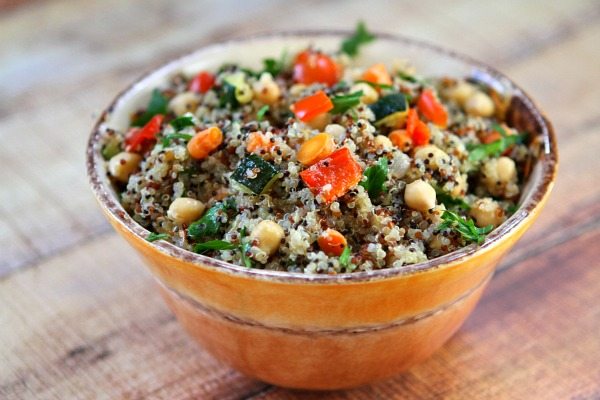 I love this tri-color blend of quinoa, and I chose to cook it in chicken broth and add garbanzo beans too.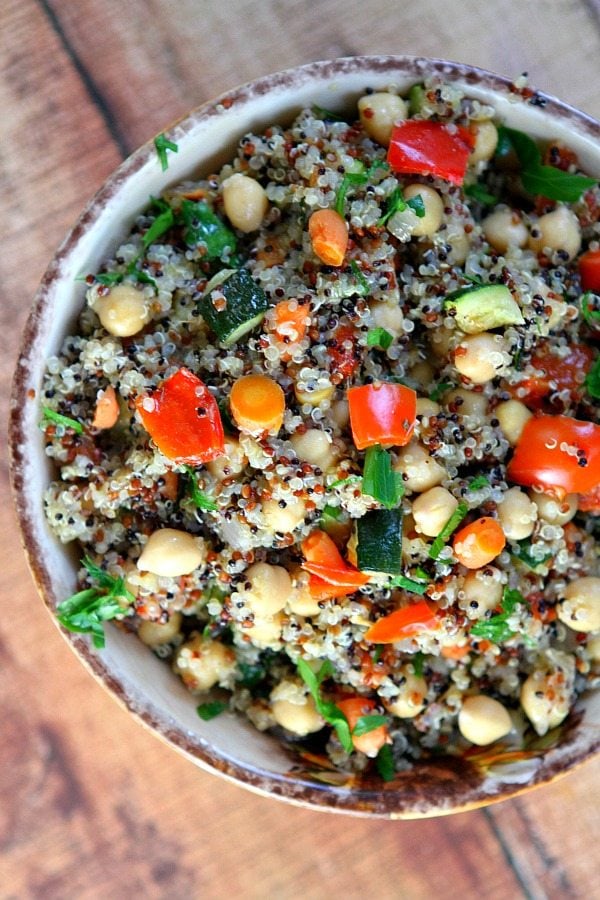 I added simply roasted vegetables (carrots, zucchini, red bell peppers and shallots) to the cooked quinoa and garbanzo beans along with a lemony, red wine vinegar dressing.
This side dish can be served either warm or cold.  It's healthy and delicious- a better choice over white rice indeed!
Roasted Vegetable Quinoa
Yield:
4 to 6 servings
Prep Time: 30 minutes
Cook Time: 50 minutes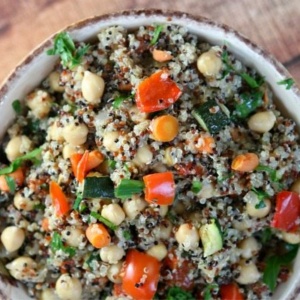 Ingredients:

ROASTED VEGGIES:

1 large red bell pepper, seeded and chopped
1 medium to large zucchini, chopped
1 large carrot, peeled and chopped
1 large shallot, peeled and chopped
1 tablespoon olive oil
Kosher salt and freshly ground black pepper

QUINOA:

1 cup Tri-color Quinoa
2 cups fat-free chicken or vegetable broth
1 can garbanzo beans, drained and rinsed

DRESSING:

2 tablespoons freshly squeezed lemon juice
1 1/2 tablespoons red wine vinegar
1 tablespoon extra-virgin olive oil
1/2 teaspoon oregano
Kosher salt and freshly ground pepper, to taste

Instructions:

Roast the vegetables: Preheat the oven to 425 degrees F. Place veggies in a bowl and toss with the olive oil. Place veggies on a baking sheet and roast for 30 minutes, or until softened and slightly charred. Remove from the oven and set aside to cool.
Prepare the quinoa: Rinse the quinoa well in a fine sieve. In a medium saucepan bring the chicken broth to a boil. Add the rinsed quinoa, cover and reduce to a simmer. Cook for 20 minutes, or until the liquid is completely absorbed.
Assemble the dish: In a small dish, whisk together the dressing ingredients. In a medium to large bowl, toss the roasted vegetables with the cooked quinoa, garbanzo beans and dressing. Serve immediately as warm, or cover and refrigerate and serve cold at a later time.

Nutrition:

5 Weight Watchers Freestyle SmartPoints per serving (divided into 6 servings)
SOURCE: RecipeGirl.com
Here are a few more quinoa recipes you might enjoy: