This recipe is easy to follow and it turns out great! > Roasted Vegetable Meatloaf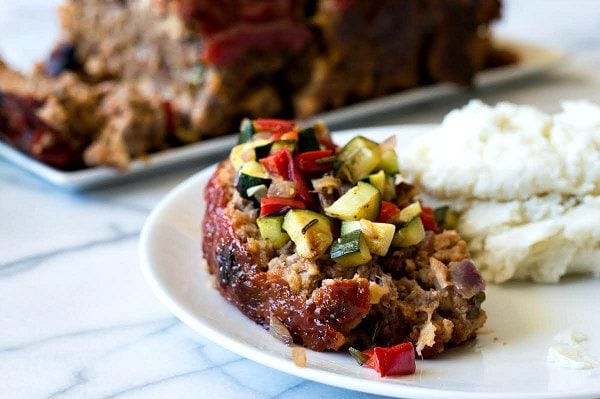 Despite the generous amount of vegetables in this meatloaf, kids tend to love it just as much as the adults.  Bonus!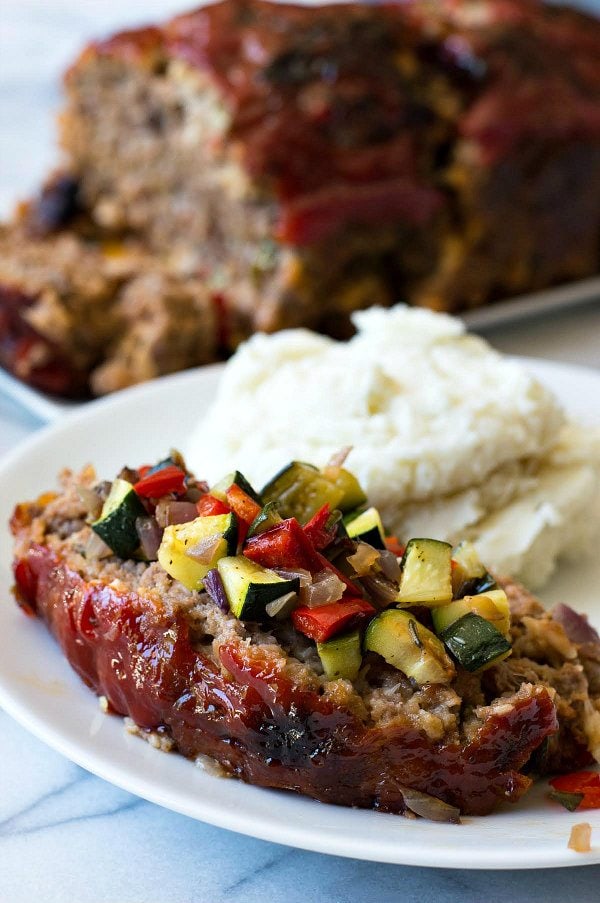 Roasted Vegetable Meatloaf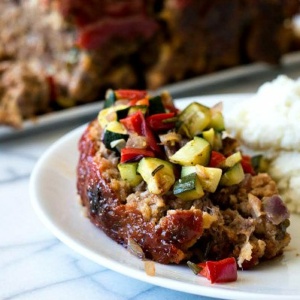 Yield:
6 servings
Prep Time: 25 minutes
Cook Time: 1 hour and 30 minutes
Ingredients:
3 small zucchini, diced
2 large red bell peppers, seeded and diced
2 medium red onions, diced
2 tablespoons olive oil
1 tablespoon chopped fresh rosemary
2 pounds ground beef (20% fat)
2 cups finely grated mozzarella cheese (about 8 ounces)
1 1/2 cups Panko (Japanese breadcrumbs)
1 cup thinly sliced fresh basil
1 teaspoon dried marjoram
1 1/2 teaspoons salt
1/2 teaspoon ground black pepper
1/2 teaspoon dried crushed red pepper
1 cup ketchup, divided
2 large eggs
1/4 cup dry red wine
Directions:
Preheat oven to 450°F.
Combine zucchini, peppers and onions in medium bowl. Add oil and rosemary; toss to coat. Spread evenly on rimmed baking sheet; sprinkle with salt and pepper. Roast until vegetables are tender, about 25 minutes. Remove from oven; cool.
Preheat oven to 375°F.
Mix ground beef, mozzarella, Panko, basil, marjoram, salt, pepper, dried crushed pepper, and 1 cup roasted vegetables in large bowl. Whisk 1/2 cup ketchup, eggs and wine in medium bowl. Add to beef mixture; mix with hands just until well incorporated; spoon into 9x5x3-inch loaf pan, forming rounded top.
Spoon 1/2 cup ketchup over top of loaf. Bake meatloaf until cooked through, juices run clear, and top is browned, about 1 hour, 10 minutes. Remove pan from oven; let meatloaf rest 20 minutes.
Re-warm remaining vegetable mixture in microwave. Turn meatloaf out; cut into 1-inch-thick slices. Top with roasted vegetable mixture. Serve with mashed potatoes.
Tips:
Using ground beef with a higher fat content ensures a moist meatloaf.
SOURCE: RecipeGirl.com (Adapted from Bon Appetit )