This Turkey Meatloaf is Weight-Watchers friendly with a few simple modifications.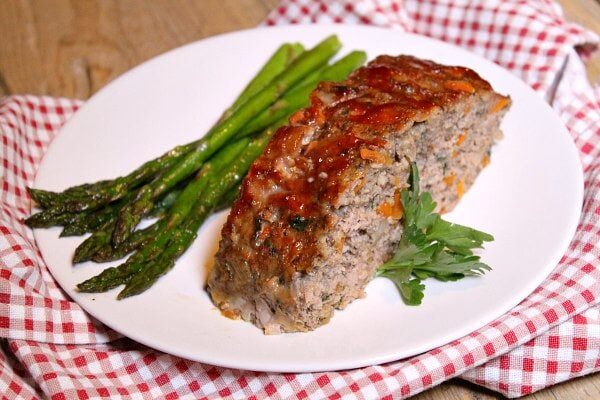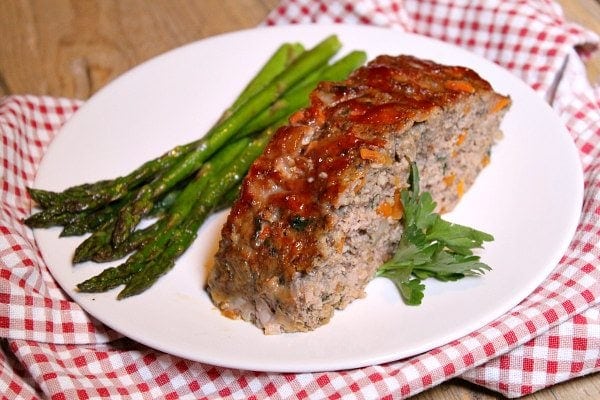 I do enjoy a good meatloaf.  But it's tough to share with all of you because meatloaf is very hard to make pretty.  It's just not a nice food to look at!
So I made it as pretty as I could.  And I hope that does it a little bit of justice… because this turkey meatloaf is quite delicious!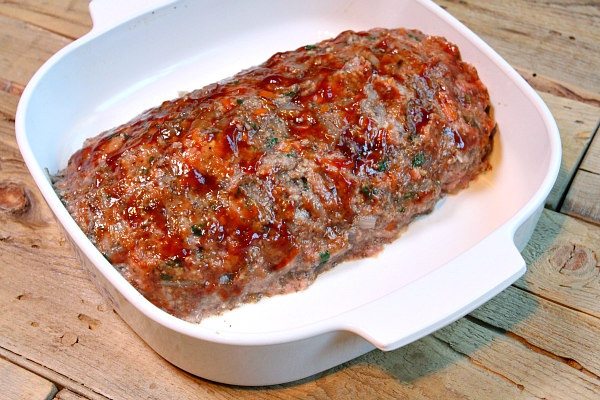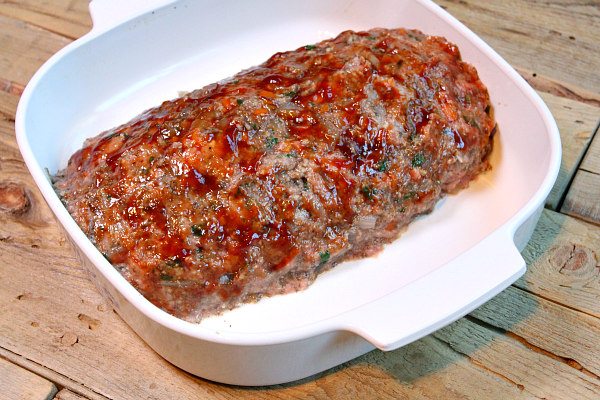 In this recipe, I use 93% lean turkey.  If you try to use the 99% lean turkey, I fear that it will come out much too dry and inedible. With just a little bit of fat added in there, it's perfect for imparting moisture and flavor into the meatloaf.
There's a delicious mix of carrots and very finely chopped mushrooms in this meatloaf.  The mushrooms help keep the meatloaf very tender too.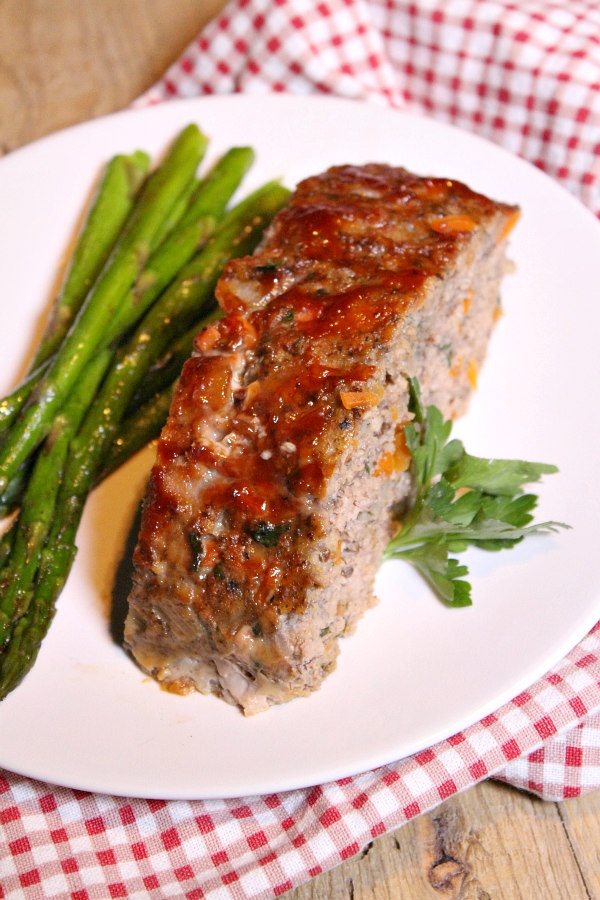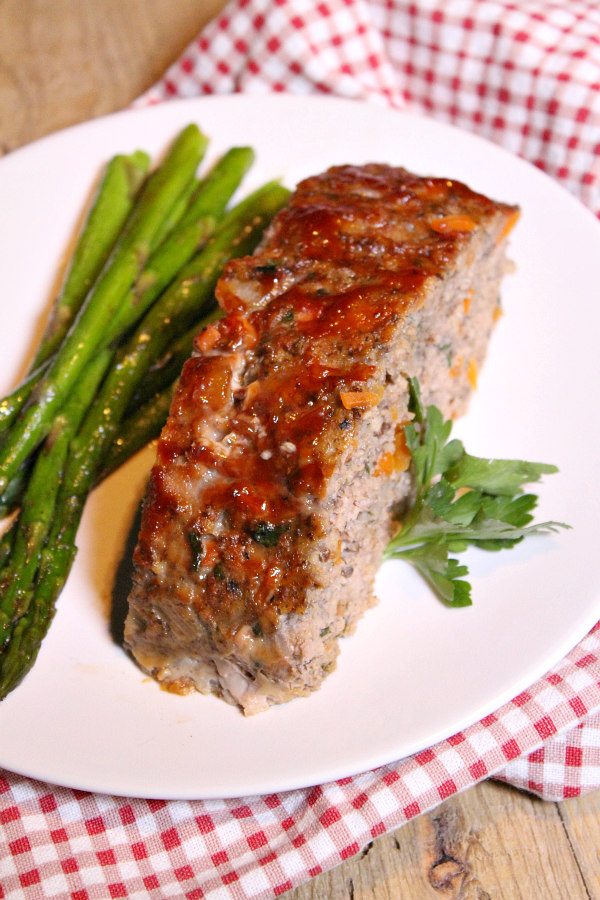 A sweet spread of sweet barbecue sauce on top of the meatloaf finishes it off quite nicely.  You won't miss the beef in this meatloaf at all!
Note:  If you are on the Weight Watchers program, here are the modifications you should make: use a one-point bread to make the breadcrumbs and use sugar-free barbecue sauce.
Turkey Meatloaf
Yield:
6 servings
Prep Time: 35 minutes
Cook Time: 1 hour and 15 minutes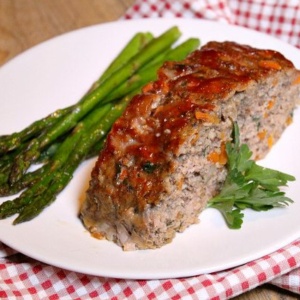 Ingredients:

1 1/2 cups finely chopped onion
1 tablespoon minced garlic
1 teaspoon olive oil
1 medium carrot, peeled & cut into 1/8-inch dice
3/4 pound cremini mushrooms, trimmed & very finely chopped in food processor
1 teaspoon salt, divided
1/2 teaspoon black pepper, divided
1 1/2 teaspoons worcestershire sauce
1/3 cup finely chopped fresh parsley
1/4 cup + 1 tablespoon barbecue sauce, divided
1 cup fine fresh bread crumbs (from 2 slices firm white bread)
1/3 cup skim milk
2 large eggs, lightly beaten
1 1/4 pounds 93% lean ground turkey

Instructions:

Preheat oven to 400°F.
Cook onion and garlic in oil in a 12-inch nonstick skillet over moderate heat, stirring, until onion is softened, about 2 minutes. Add carrot and cook, stirring, until softened, about 3 minutes. Add mushrooms, 1/2 teaspoon salt, and 1/4 teaspoon pepper and cook, stirring occasionally, until liquid mushrooms give off is evaporated and they are very tender, 10 to 15 minutes. Stir in worcestershire sauce, parsley, and 3 tablespoons barbecue sauce, then transfer vegetables to a large bowl and cool.
Stir together bread crumbs and milk in a small bowl and let stand for 5 minutes. Stir in egg and egg white, then add to vegetables. Add turkey and remaining 1/2 teaspoon salt and 1/4 teaspoon pepper to vegetable mixture and mix well with your hands. (Mixture will be very moist)
Form into a 9x5-inch oval loaf in a lightly oiled 13x9-inch by 2-inch metal baking pan and brush meatloaf evenly with remaining 2 tablespoons barbecue sauce. Bake in middle of oven until thermometer inserted into meatloaf registers 170°F., 50 to 55 minutes.
Let meatloaf stand 5 minutes before serving.

Nutrition:

Nutritional Information- Per Serving (meatloaf divided into 6 equal portions): Calories 246, Calories from Fat 44, Total Fat 5g, Sat Fat 1.25g, Cholesterol 77mg, Sodium 1632g, Potassium 689mg, Carbohydrates 27.25g, Dietary Fiber 3g, Sugar 9.5g, Net Carbs 24g, Protein 23g
Weight Watchers SmartPoints per serving: 4 with the following modifications: use sugar-free barbecue sauce and use thin, light bread (I like Dave's Killer Thin-Slice bread)
SOURCE: RecipeGirl.com
Here are a few more recipes for meatloaf you might enjoy: