I'm quite fond of Ellie Krieger and her talent for making good, healthy food taste good. This recipe for Spaghetti with Turkey Meatballs in Spicy Tomato Sauce comes from her book: The Food You Crave.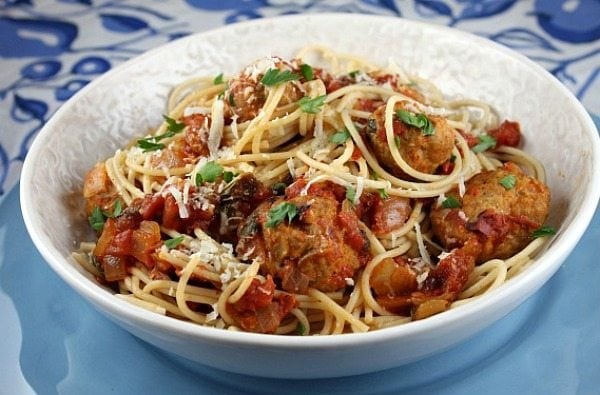 Spaghetti with Turkey Meatballs in Spicy Tomato Sauce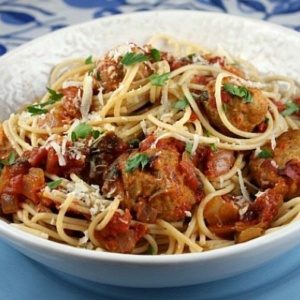 Yield:
6 servings
Prep Time:35 minutes
Cook Time:45 minutes
Ingredients:
SAUCE:
1 tablespoon olive oil
1 medium onion, chopped
4 cloves garlic, minced
3 tablespoons tomato paste
One 28-ounce can crushed fire-roasted tomatoes, liquid included
1 teaspoon finely minced canned chipotle en adobo and sauce, or more/less to taste
2 teaspoons chopped oregano leaves
1 sprig fresh rosemary
salt
1/4 cup torn fresh basil leaves
MEATBALLS:
1 pound ground turkey
1 slice fresh whole-wheat bread, pulsed into crumbs
1/4 cup grated Parmesan, plus more for serving
1/2 cup finely grated carrot
1/2 cup finely chopped onion
2 large cloves garlic, minced
2 tablespoons minced fresh Italian parsley leaves, plus more for garnish
2 teaspoons minced fresh thyme leaves
1 large egg, lightly beaten
1/2 teaspoon salt
freshly ground black pepper
One box (16 ounces) whole-wheat spaghetti
Directions:
Fill a large pot with water and bring to a boil for pasta.
Make the sauce: In a large saucepan heat oil over medium heat. Saute onions until translucent, about 3 minutes, then add the garlic and cook for 1 minute more. Add tomato paste, tomatoes, chipotles, oregano, rosemary, and salt. Bring all the ingredients to a low boil, reduce heat and cook for approximately 15 minutes, until liquid has evaporated slightly. Season with salt and pepper, to taste. While sauce is cooking, make meatballs.
Make the meatballs: Preheat the broiler. Spray a baking sheet with cooking spray. Combine the turkey with all other ingredients in a large bowl. Form into 2 1/2 -inch balls and place on a baking sheet. Broil for 10 minutes, or until browned and almost entirely cooked through. Meanwhile, remove rosemary sprig from sauce and add fresh basil. Add the meatballs to the sauce, cover, and cook additional 10 minutes, or until sauce has slightly thickened and meatballs have absorbed some of the sauce. While the meatballs are cooking, cook the whole-wheat spaghetti according to package directions.
Drain pasta and return it to the pot. Add the sauce and meatballs, toss and heat through over medium heat. Divide evenly among 4 pasta bowls and garnish with parsley and 1 tablespoon grated Parmesan.
Tips:
I like to use the Barilla Brand pasta.
Make ahead tip: prepare the meatballs, set them on a baking sheet, cover with plastic wrap and refrigerate until you're ready to bake them. The sauce can be made ahead of time too.
The sauce has quite a kick to it from the chipotle chiles. I recommend adding just a little at a time until you are satisfied with the flavor. I liked it spiced up pretty well, but kids might find it much too spicy.
Nutrition:
Nutritional information per serving (1 1/3 cups pasta and sauce, plus 2 meatballs) calories 330; total fat 10.5g (mono 4.3g, poly 2g, sat 3g); protein 23g; carb 38g; fiber 7.5g; chol 60mg; sodium 625mg
Weight Watchers POINTS: SmartPoints: 11, PointsPlus: 8, Old Points Program 7
More spaghetti recipes you might enjoy:
Disclosure: There are Amazon affiliate links included within this post.