An enjoyable appetizer or a delicious addition to dinner:  Cranberry Meatballs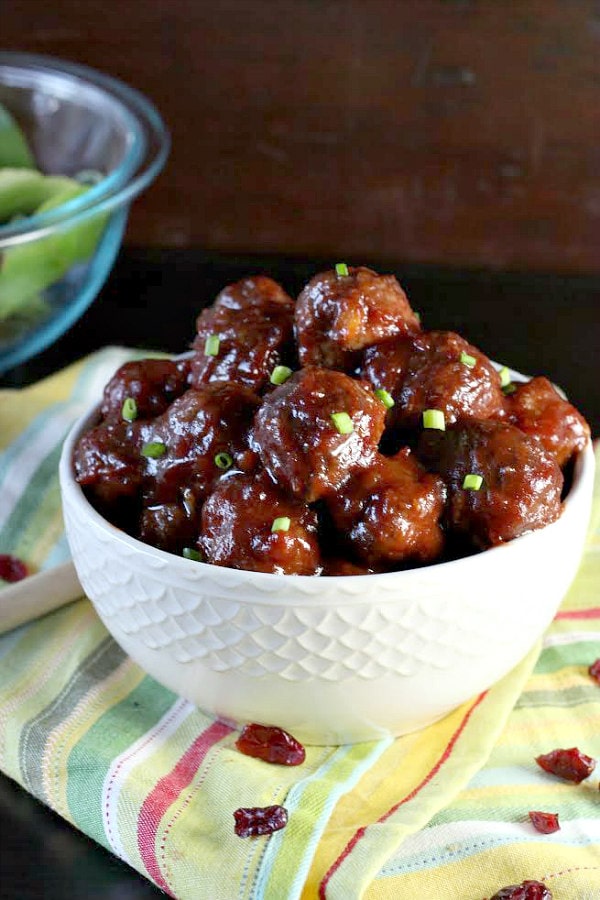 Cranberry Meatballs
The sauce is what makes these delicious. It's addicting...
Yield:
4 dozen or so
Prep Time: 25 minutes
Cook Time: 20 min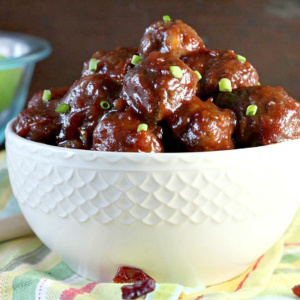 Ingredients:

2 pounds ground beef (don't use any less than 10% fat)
2 large eggs
1/3 cup dried breadcrumbs
1 teaspoon salt
1/2 teaspoon pepper
1/2 teaspoon garlic powder
1/2 teaspoon onion powder
1/4 teaspoon dried thyme
1 (16 ounce) can jellied cranberry sauce
1 (12 ounce) jar chili sauce
1/4 cup orange marmalade
1/4 cup water
2 Tablespoons soy sauce
2 Tablespoons red wine vinegar
1 teaspoon dried red pepper flakes
chopped chives or green onions for garnish, optional

Instructions:

Combine first 8 ingredients (through thyme) in a large bowl. Shape mixture into about 50 (1-inch) balls.
Cook meatballs, in batches, in a large skillet over medium-high heat until browned (about 5 minutes); remove meatballs from pan, and drain well on paper towels.
Stir together cranberry and chili sauces and remaining ingredients in a large Dutch oven over medium heat, and cook, whisking occasionally, 5 minutes or until smooth. Add meatballs; reduce heat to low, and cook, stirring occasionally, 15 to 20 minutes or until centers are no longer pink.

Tips:

Bottled chili sauce is found in your market near the ketchup.
To make ahead, place cooked meatballs in a zip-top plastic freezer bag, and freeze up to 1 month. Thaw in refrigerator, and cook, stirring occasionally, until thoroughly heated.
Here are a few more appetizer meatball recipes you might enjoy: