Goat Cheese Truffles with Maple Spiced Pecans are savory cheese truffles that are a unique appetizer addition to a party.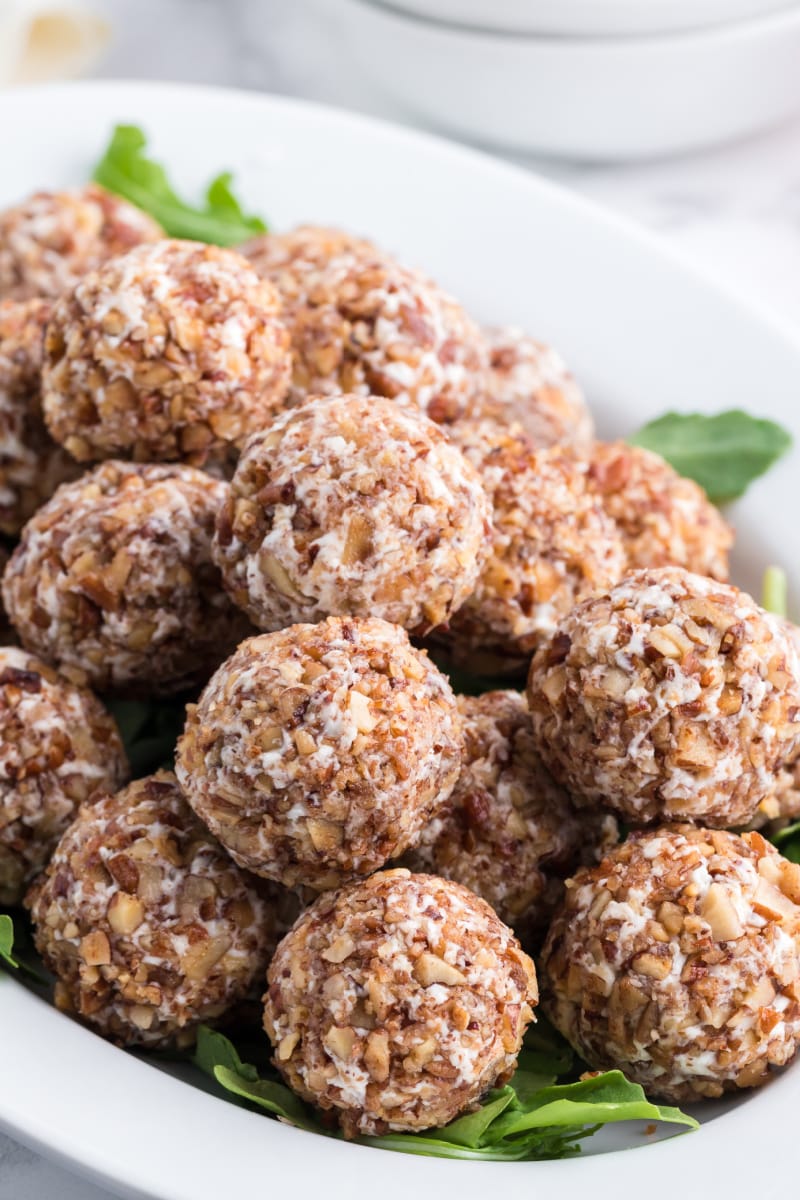 These goat cheese truffles are basically just little rolled balls of goat cheese sprinkled with salt and pepper. Then they're rolled in the most amazing sweet pecans. They're terrific eaten on their own (especially if your a goat cheese lover!) And they're good served with crackers for spreading too.
I know I got this recipe from a cookbook many years ago. I'm pretty sure it was a little cookbook of cocktail appetizers, but of course I don't have that cookbook anymore and I can't remember the source. If you have spotted these in a cookbook, let me know! I would certainly like to credit the book if I can.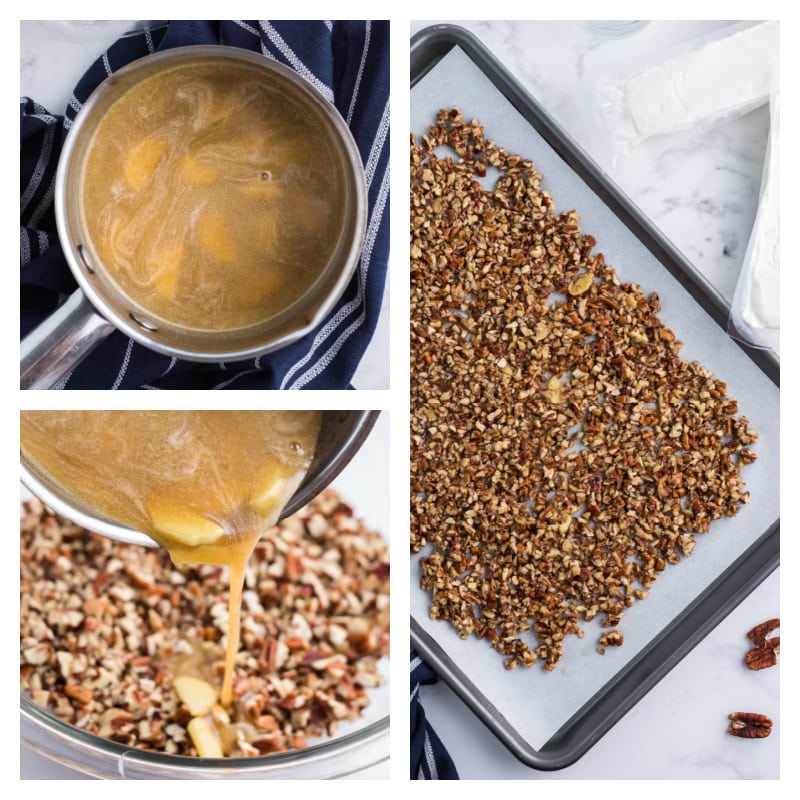 How to make Maple Spiced Pecans:
The pecans in the recipe are the key to the big flavor that will happen for these goat cheese truffles! Chop the pecans. Don't chop them too small or they'll burn when roasting them. Just regular chopped pecans will be perfect.
In a saucepan, combine butter, maple syrup, fresh ginger, water, ground ginger, salt and Tabasco sauce. Simmer for a few minutes, and then fish out the fresh ginger and discard. Pour the maple sauce over the nuts in a bowl and toss to coat. Transfer the coated nuts to a baking sheet and bake until the nuts have dried out and are toasted with the maple glaze. Let them cool. Freeze any extra nuts in a freezer baggie, and use them to add to salads!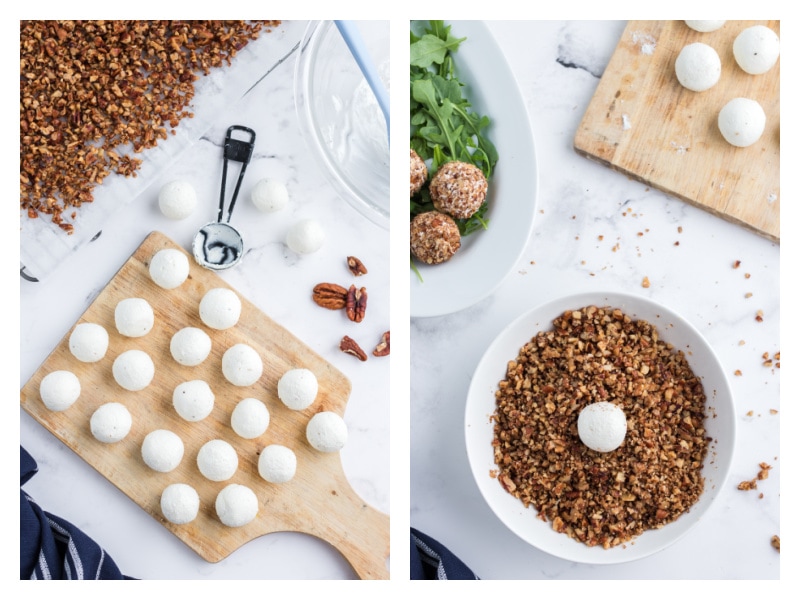 How to make Goat Cheese Truffles:
Roll goat cheese into small, round balls. Don't roll them too large because no one will want to eat that much goat cheese! Roll the goat cheese balls into the maple spiced pecans.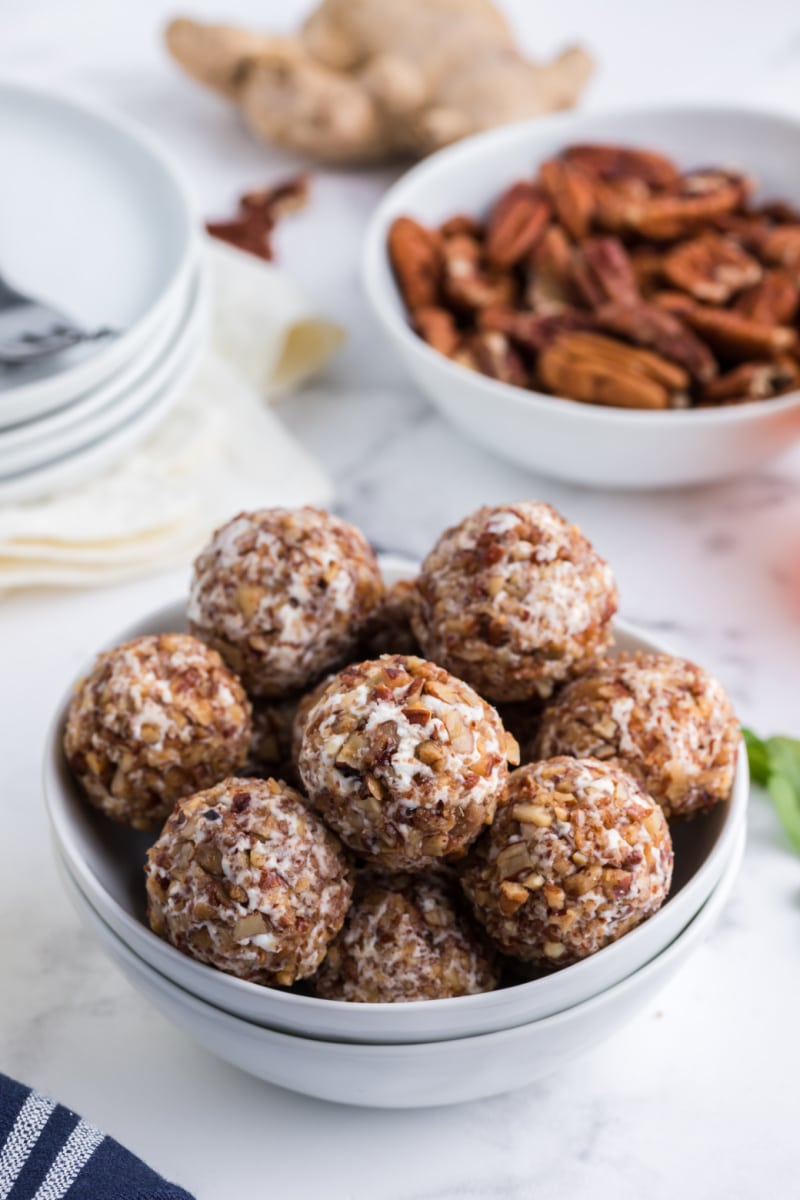 Display the goat cheese truffles in a bowl or on a platter. Line the bowl or platter with fresh arugula to make them pretty.
Make-Ahead Tips:
It's okay to make the nuts ahead of time. Store in the freezer, if you need to. Make the truffles several hours ahead of serving time. Keep them refrigerated, and display them on a platter with greens just before serving.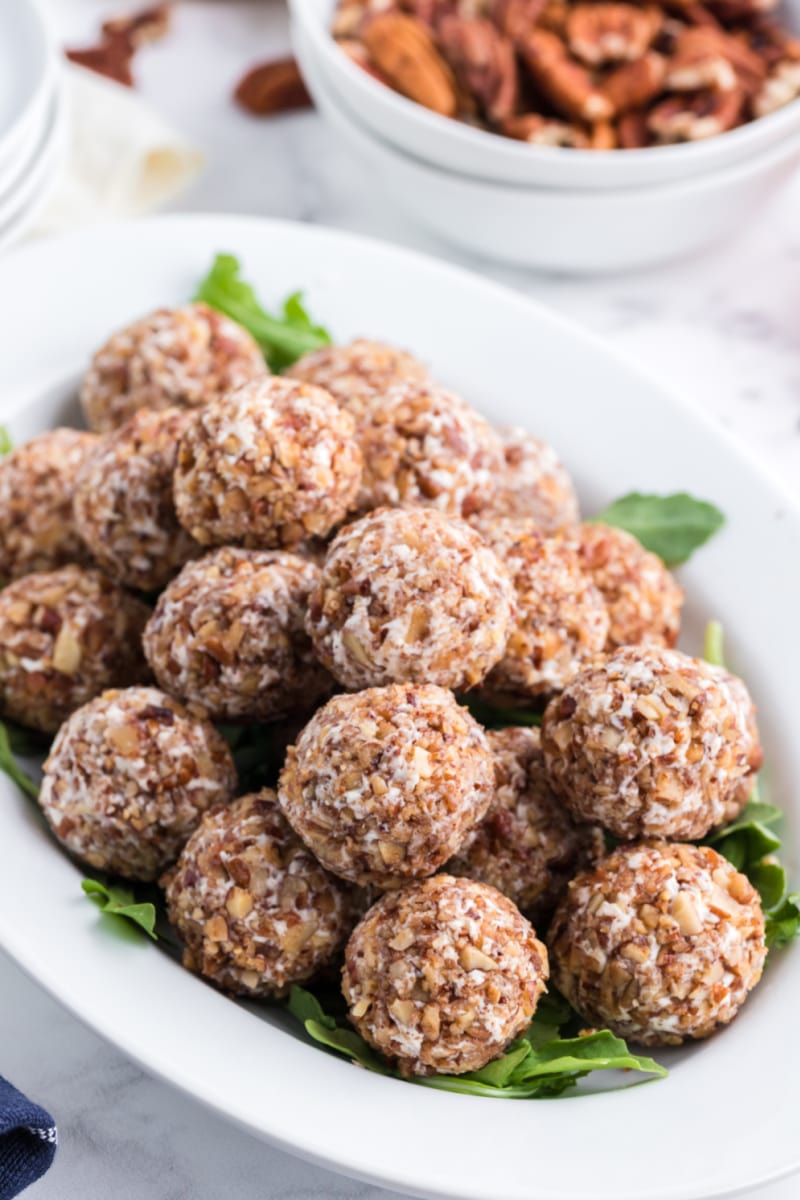 This is such a fabulous appetizer because it's not one that's all that common. Party-goers will love the tangy goat cheese combined with the sweet maple pecans. Delish.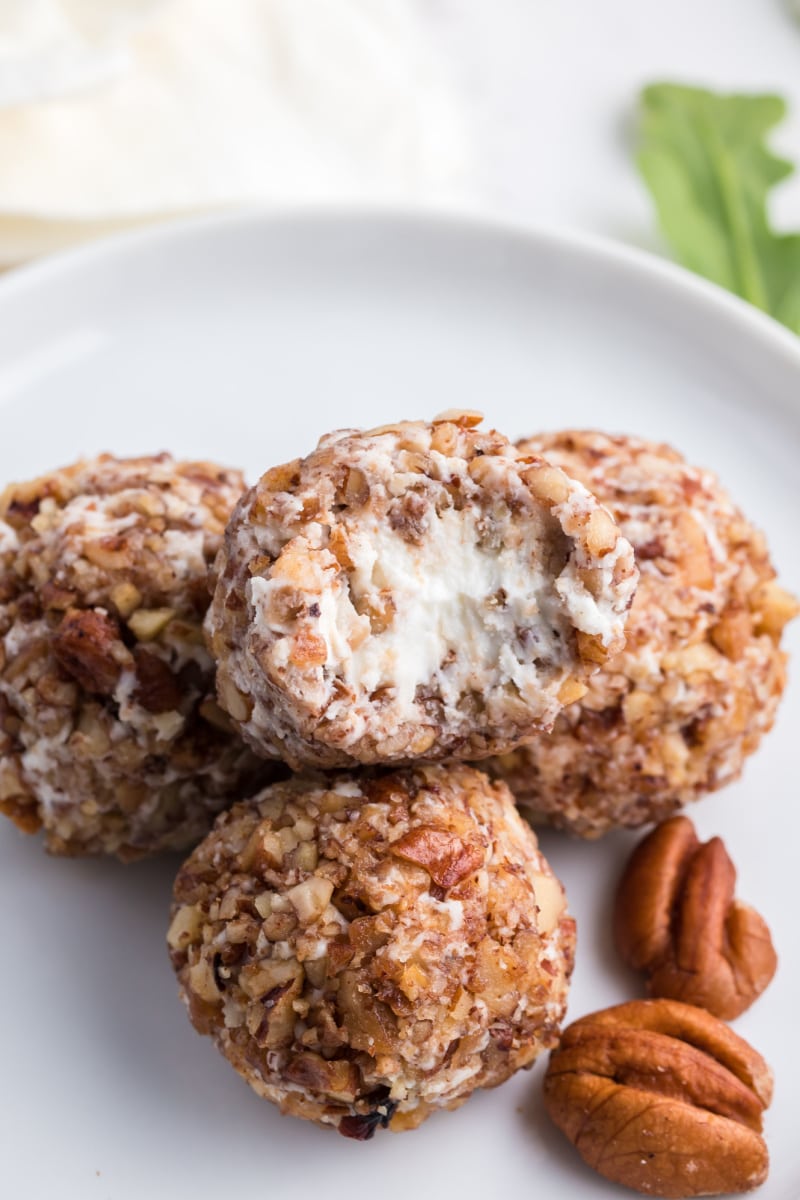 If you're a lover of goat cheese appetizers, you might also like to try my vegetable goat cheese spread, pancetta crisps with goat cheese and pear or this strawberry goat cheese bruschetta.
Goat Cheese Truffles
These savory truffles are a unique and delicious appetizer!
Recipe Details
Ingredients
¼

cup (1/2 stick)

unsalted butter

⅓

cup

maple syrup

6

slices

peeled fresh ginger

1

tablespoon

water

1

teaspoon

ground ginger

1

teaspoon

salt

1

teaspoon

Tabasco sauce

(more or less, to taste)

12

ounces

pecans,

finely chopped

16

ounces

soft goat cheese,

at room temperature

salt and freshly ground black pepper

1

cup

arugula leaves (for garnish and display),

optional
Instructions
PREPARE THE PECANS:
Preheat the oven to 300°F. Line a baking sheet with parchment paper or a Silpat. Combine the butter, syrup, ginger, water, ground ginger, salt, and Tabasco in a small saucepan and simmer over low heat for 2 to 3 minutes. Spoon out the ginger and discard. Place the nuts in a bowl, pour the glaze over them and toss well to coat. Spread the nuts in a single layer on the prepared baking sheet and bake 20 to 30 minutes, stirring at 5 minute intervals, until the nuts are light and almost dry when you toss them. Timing will depend on your oven, so keep a close eye. Slide the parchment paper or Silpat off the baking sheet and onto a rack to cool the nuts completely.
ASSEMBLE THE TRUFFLES:
Place the goat cheese in a bowl and stir in a generous pinch each of salt and pepper. Roll the cheese into 24 small balls. Roll the balls in the spiced, baked nuts. Place the arugula on a platter and top with the coated truffles. These may be eaten on their own, or you can display crackers to be eaten with them.
Notes
Don't chop the pecans too tiny- they'll burn if they're teeny tiny. The nuts may be made ahead and stored in airtight containers at room temperature or in the freezer for up to one month. Extra nuts are terrific in salads.
Goat cheese truffles can be made up to 6 hours in advance and refrigerated. Place on arugula-lined platter just before serving.
Reader tip: You could even make this one big 'cheese ball' by taking the pound of goat cheese and mixing in a few of the nuts, rolling it into a large ball and rolling it in nuts- served with crackers.
Nutrition
Serving:
1
truffle
,
Calories:
178
kcal
,
Carbohydrates:
5
g
,
Protein:
5
g
,
Fat:
16
g
,
Saturated Fat:
5
g
,
Polyunsaturated Fat:
3
g
,
Monounsaturated Fat:
7
g
,
Trans Fat:
1
g
,
Cholesterol:
14
mg
,
Sodium:
172
mg
,
Potassium:
75
mg
,
Fiber:
1
g
,
Sugar:
3
g
,
Vitamin A:
265
IU
,
Vitamin C:
1
mg
,
Calcium:
42
mg
,
Iron:
1
mg