Vegetable- Goat Cheese Spread
This recipe has been featured in a post on The Recipe Girl blog: Vegetable Goat Cheese Spread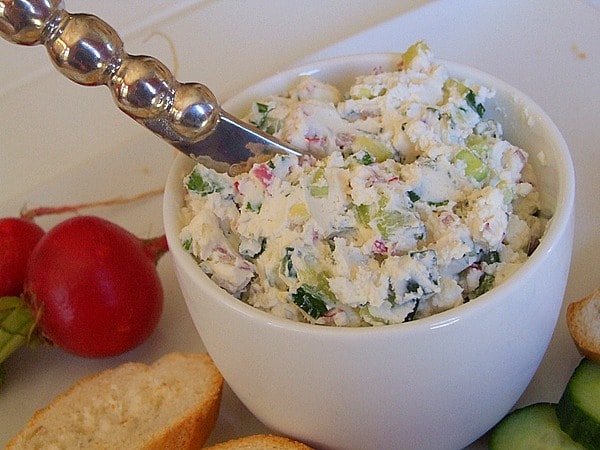 Yield: 1 cup (2 Tablespoons per serving)
Prep Time: 20 min + chill time
Vegetable- Goat Cheese Spread
This is a great, fail-proof dip. Increase the cream cheese to extend the dip, and serve with a variety of vegetables and crackers.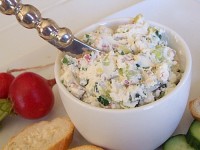 Ingredients:
4 ounces goat cheese
2 ounces low fat cream cheese, at room temperature
3 Tablespoons heavy whipping cream
1/2 teaspoon worcestershire sauce
1/8 teaspoon salt
1/2 cup cucumber, finely diced
1/4 cup radishes, finely diced
1/4 cup red onion, finely diced
2 Tablespoon chives, finely chopped
2 teaspoons fresh thyme, chopped
2 teaspoons fresh mint, chopped
Directions:
1. In small bowl with strong rubber spatula or wooden spoon, blend cheeses, cream, worcestershire sauce, and salt until smooth.
2. Stir in cucumber, radishes, red onion, chives, thyme and mint.
3. Cover and refrigerate for at least one hour.
4. Serve with sliced baguette or assorted crackers.
Nutritional Information per serving:
Serving size: 2 Tablespoons
Calories per serving: 79
Fat per serving: 6.36g
Saturated Fat per serving: 4.16g
Sugar per serving: .36g
Fiber per serving: .34g
Protein per serving: 3.7g
Cholesterol per serving: 18.2mg
Carbohydrates per serving: 1.8g
WW POINTS per serving:
Points Plus Program: 2 Old Points Program: 2
Leave a Comment