If you're on a diet, move along. This Hot Spinach Artichoke Dip is rich and creamy & completely capable of blowing a diet. (It's worth cheating though)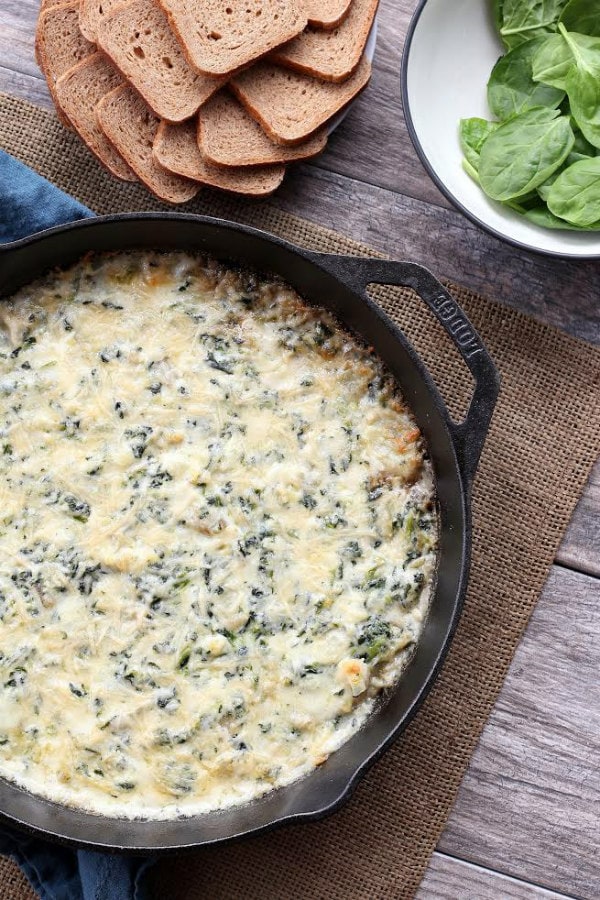 Hot Spinach Artichoke Dip
Yield:
Serves 8 to 10
Prep Time: 25 minutes
Ingredients:
4 Tablespoons unsalted butter, divided
1 medium onion, chopped finely
2 (9-ounce) boxes frozen artichoke hearts, thawed, squeezed dry, & chopped
2 cloves garlic, minced
1/4 cup all-purpose flour
2 cups half and half cream
1 1/2 cups grated Parmesan cheese, divided
1 Tablespoon freshly squeezed lemon juice
1 Tablespoon Tabasco sauce
1 teaspoon salt
1 (10 ounce) box frozen chopped spinach, thawed & squeezed dry
Directions:
Adjust oven rack to middle position and heat oven rack to 450°F.
Melt 2 Tablespoons butter in large saucepan over medium-high heat. Saute onion until softened, about 5 minutes. Add artichokes and cook until lightly browned, about 5 minutes. Stir in garlic and cook until fragrant, about 30 seconds. Transfer artichoke mixture to a bowl and set aside.
Melt remaining butter in empty pan. Stir in flour and cook until just golden, about 1 minute. Slowly stir in half & half, 1 1/4 cups Parmesan, lemon juice, hot sauce and salt. Reduce heat to medium-low and simmer until thickened, about 3 minutes. Remove from heat and stir in spinach and artichoke mixture.
Transfer to greased 1-quart baking dish and sprinkle with remaining 1/4 cup cheese. Bake until golden brown and bubbling, about 15 minutes. Cool 5 minutes. Serve warm with crackers or sliced baguette.
Nutrition:
To make ahead: Prepare the whole dip (but don't bake it). Cover tightly for up to 24 hours. To heat, let dip sit at room temperature for 1 hour, then sprinkle with cheese and bake, covered with foil, in a 450 degree oven for 10 minutes. Remove foil and bake until golden brown and heated through, about 15 minutes longer.