Here's the dip that is loved by so many: a Lighter Spinach and Artichoke Dip… it's nice to share a lighter version of the classic.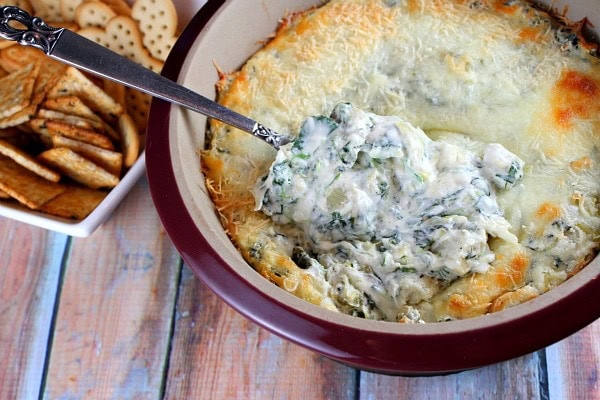 Well, I have to admit… I had it all wrong.  I was calling for a Patriots vs. Niners Super Bowl.  BUMMER.  I'm going the classy route though, and I'm going to admit that the Broncos and Seahawks totally deserve to be in the final game.  They both had amazing seasons, and it will be a fun Super Bowl to watch for sure.
And even if you don't really care that much about football- the FOOD is really what matters on Super Bowl Sunday anyways, right?  Here's some food to get you started > some Lighter Spinach and Artichoke Dip.  Readers have piped in and asked for some Super Bowl snacks on the lighter side.  This one isn't going to get you into a bikini or anything, but it's definitely lighter than the original version you've probably tried at one point or another.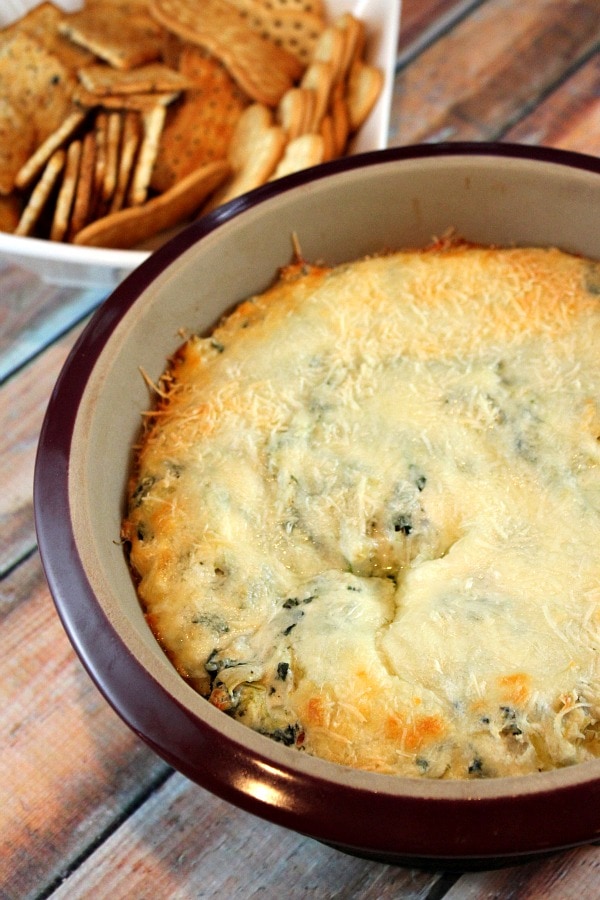 There are still some evil things in this dip to make it taste wonderful- just a little bit on the lower fat side of things.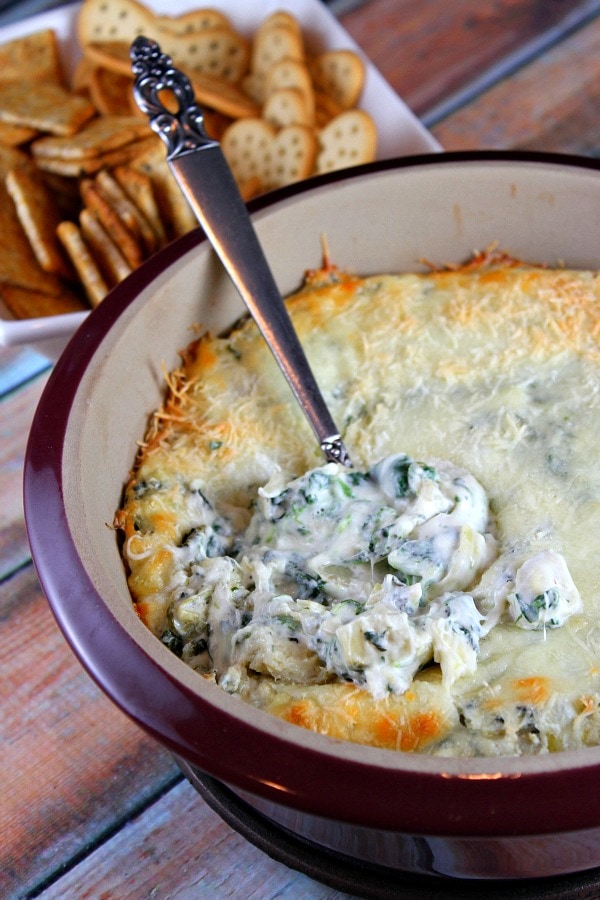 You can nibble about 1/4 to 1/3 cup of this good stuff for about 106 calories (and if you choose to dip carrots and celery in there instead of chips, you'll be making a wiser choice calorie-wise).  I use the Spark People Recipe Calculator for my nutritional calculations.  They're probably not spot-on exactly perfect, but they're probably pretty darn close.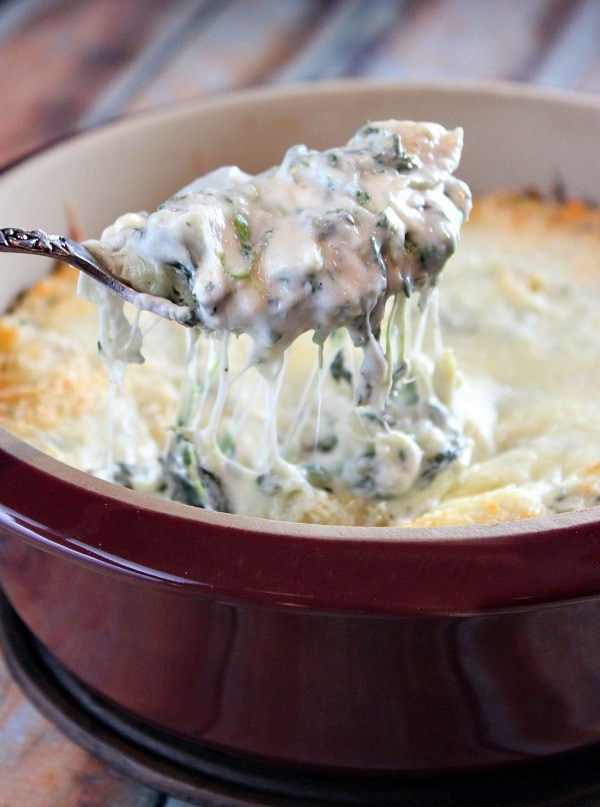 Yeah… take a big bite of that! Will you be watching the big game? Are you planning a menu to share with friends, or will you be going to a Super Bowl party? Or maybe you hate football and you'll be going to a movie or shopping at the mall that day. In any case, this is a good appetizer to share any time of year. Enjoy!
Lighter Spinach and Artichoke Dip
Yield:
About 15 servings (about 1/4 cup per serving)
Prep Time: 15 minutes
Cook Time: 40 minutes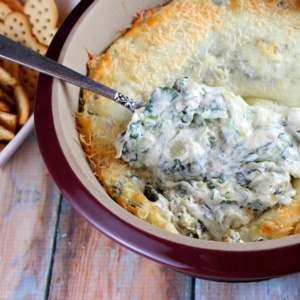 Ingredients:

2 cups (8 ounces) shredded part-skim mozzarella cheese, divided
1/2 cup nonfat plain yogurt, divided
1/4 cup (1 ounce) grated fresh Parmesan cheese, divided
1/4 teaspoon black pepper
3 cloves garlic, minced
1 (14 ounce) can artichoke hearts, drained and chopped
2 (8 ounce) packages 1/3-less-fat cream cheese, at room temperature
1 (10-ounce) package frozen chopped spinach, thawed, drained and squeezed dry

Instructions:

Preheat oven to 350°F. Spray 1 1/2-quart baking dish with nonstick spray.
Combine 1 1/2 cups mozzarella, yogurt, 2 tablespoons Parmesan, pepper, garlic, artichoke hearts, cream cheese and spinach in a large bowl. Stir until well-blended. Spoon the mixture into the prepared baking dish. Sprinkle with 1/2 cup mozzarella and the remaining 2 Tablespoons Parmesan.
Bake for 40 minutes or until bubbly and golden brown on top. Serve with vegetables or chips (extra calories for the chips!)

Nutrition:

Nutritional Information per serving (Serving size:

About 1/3 cup) 

Calories:

106, 

Fat:

6.3g, 

Saturated Fat:

4.3g, 

Sugar:

.8g, 

Sodium:

228.2mg, 

Fiber:

.8g, 

Protein:

6.2g, 

Cholesterol:

20.4mg, 

Carbohydrates:

3.6g

WEIGHT WATCHERS POINTS per serving:  Freestyle SmartPoints: 4, Points Plus Program: 3 Old Points Program: 2
Here are a few more dip recipes you might enjoy: