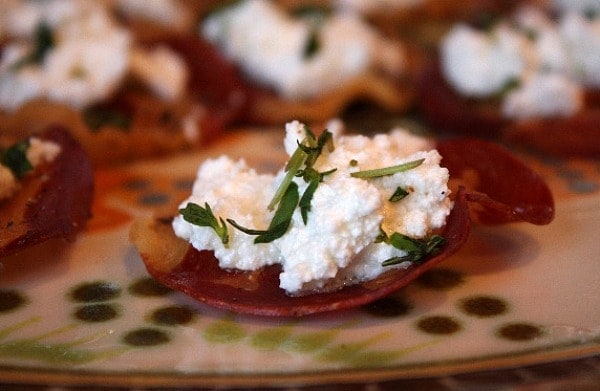 Pancetta Crisps with Goat Cheese and Pear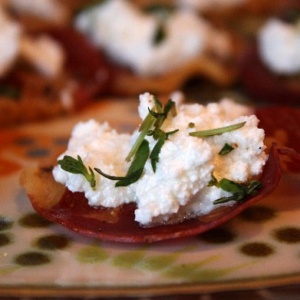 Yield: 16 appetizers
Prep Time: 20 minutes
Pancetta usually comes in wonderfully-shaped round slices, which are perfect for this appetizer. If you can't locate pancetta, you can certainly substitute prosciutto (but the pancetta is better... and easier to serve as a finger food app!
Ingredients:
16 thin slices pancetta
16 teaspoons soft fresh goat cheese (from a 5-ounce log)
2 small very-ripe pears, halved, cored, cut into ¼-inch slices
fresh thyme leaves, chopped
Directions:
1. Preheat oven to 450°F.
2. Place pancetta slices in single layer on large rimmed baking sheet. Sprinkle with pepper. Bake until golden, about 10 minutes. Using spatula, slide pancetta crisps onto platter. Top each with 1 tsp. goat cheese and 1 pear slice. Sprinkle with thyme and serve.
Tips:
*Plan ahead w/ your pears... purchase them a couple of days before using and let them sit on your counter to ripen. Crunchy pears won't be good on this appetizer.
*No fresh thyme? In a pinch, use a sprinkle of parsley instead- you won't get the flavor, but the garnish will work just fine.
*Preparing this as a gluten free appetizer? Just check with your deli to make sure there are no added preservatives to the pancetta that contain gluten.
Recipe Source: Adapted from Bon Appetit