When asked recently by Pepperidge Farm if I would create a simple and sophisticated recipe using their Puff Pastry product and an ingredient somewhat native to Southern California (the avocado), the wheels began a-spinnin'. I dreamed about Puff Pastry and all its possibilities, I tested out all kinds of savory recipes, I turned out a few duds and I cherished my keepers. I ended up settling on a "bruschetta" of sorts… Southwestern Bruschetta Bites.
They're a Mexican version of Italian bruschetta (which is usually toasted bread with a chunky tomato mixture placed on top), instead utilizing a spiced-up Puff Pastry base with a Southwestern-style topping.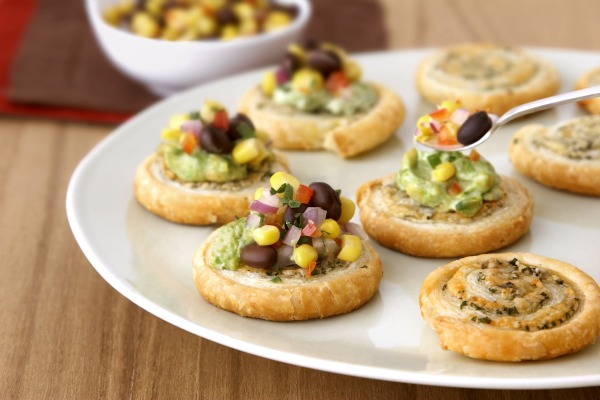 Be sure to check out the new Puff Pastry recipe collections, and most specifically… the collection of recipes that was created by food bloggers! 🙂
Southwestern Bruschetta Bites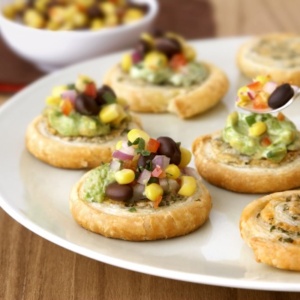 A unique twist on Italian bruschetta- using puff pastry as a base for a Southwestern-style topping.
Yield:
20 appetizers
Prep Time: 40 min
Cook Time: 15 min
Ingredients:
1 large egg
1 Tablespoon water
1/2 (17.3-ounce) package Pepperidge Farm® Puff Pastry Sheets (1 sheet), thawed
1/2 cup shredded Cheddar- Jack cheese
1/3 cup chopped fresh cilantro leaves
1/2 cup fresh or thawed frozen whole kernel corn
1/2 cup canned black beans, drained & rinsed
2 Tablespoons finely chopped red onions
2 Tablespoons finely chopped red bell peppers
1 teaspoon minced seeded jalapeño pepper
1 teaspoon ground cumin
2 teaspoons freshly squeezed lime juice, divided
1 medium avocado, pitted & peeled
1 Tablespoon sour cream
ground black pepper
Directions:
1. Preheat oven to 400°F. Beat egg and water in a small bowl with a fork.
2. Unfold the pastry sheet on a lightly floured surface. Brush the pastry with the egg mixture. Sprinkle with the cheese and cilantro to within 1/2 inch of the edge. Starting at a long side, roll up like a jelly roll. Press the seam to seal. Cut pastry roll into 20 (1/2-inch) slices. Place the slices, cut-side down, onto 2 baking sheets.
3. Bake for 15 minutes or until the pastries are golden brown. Gently flatten the hot pastries with a spatula. Let cool on baking sheets on wire racks for 10 minutes.
4. Stir corn, beans, onion, red pepper, jalapeño pepper, cumin and 1 teaspoon lime juice in a medium bowl.
5. Mash avocado in a medium bowl. Stir in sour cream and remaining lime juice. Season with black pepper.
6. Top each pastry with about 2 teaspoons avocado mixture and 1 Tablespoon corn mixture. Garnish with additional fresh cilantro, if desired.
Nutrition:
Nutritional Information per serving:
Serving size: 1 piece
Calories per serving: 187
Fat per serving: 12g
Saturated Fat per serving: 5g
Fiber per serving: 3g
Protein per serving: 5g
Cholesterol per serving: 27mg
Carbohydrates per serving: 15g
Disclosure: This post, as well as recipe development have been sponsored by Pepperidge Farm.