This is my simple, Southern California way to whip up a great batch of guacamole. It's the best!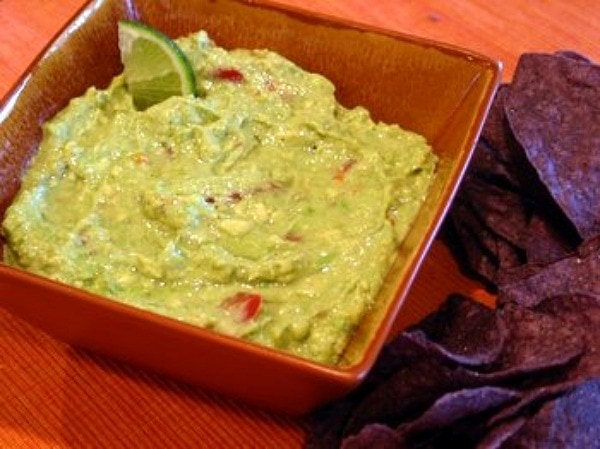 Guacamole
I have a taste-and-see kind of attitude with guac, starting with the base recipe below and then adding more of each flavor as needed after tasting. The most important thing is to have nice, ripe avocados (Hass)- that are firm to the touch but give a little when you squeeze them. If they're too hard, they won't mash & will have a funky flavor. If they're too soft, they'll be black inside and the flavor won't be any good.
Yield:
2 cups
Prep Time: 15 min
Ingredients:
4 large ripe avocados, pit removed and avocado meat scooped out.
1/3 cup sour cream (low fat is fine)
1/4 teaspoon onion powder
1/4 teaspoon cayenne pepper
salt & pepper to taste
1 medium tomato, chopped finely
1 large lime, cut in half
tortilla chips
Directions:
1. In a medium bowl, mash avocado until somewhat creamy (leave some chunks if you'd like). Add sour cream and stir until well blended. Add onion powder and cayenne pepper. Stir in salt and pepper; taste and keep adding until desired flavor is reached.
2. Stir in tomatoes and squeeze 1/2 of a lime into the guacamole. Stir and then scoop into serving bowl; drizzle lime juice on top (this will help to keep the avocado from browning).
3. Serve with tortilla chips.
Tips:
*Try using a couple of dollops of chunky tomato (jarred) salsa in place of the tomatoes.