This is my simple, Southern California way to whip up a great batch of Guacamole. It's the best!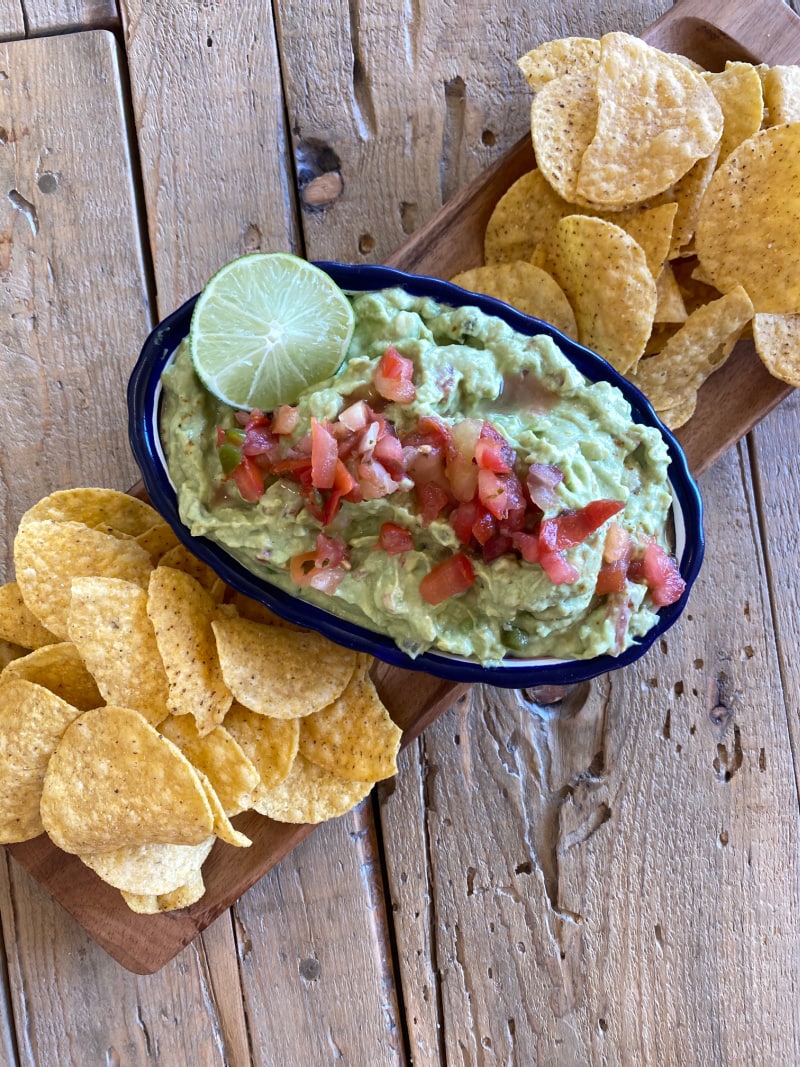 I'm just going to tell you right here and now that this isn't a classic recipe for traditional guacamole. Guacamole purists might object to how I make my guacamole. I do need to tell you though that everyone who encounters my recipe is completely enamored. It's a good one. It's perfect for eating with shrimp tacos or my Mom's tacos. But mostly we just make it to eat with tortilla chips.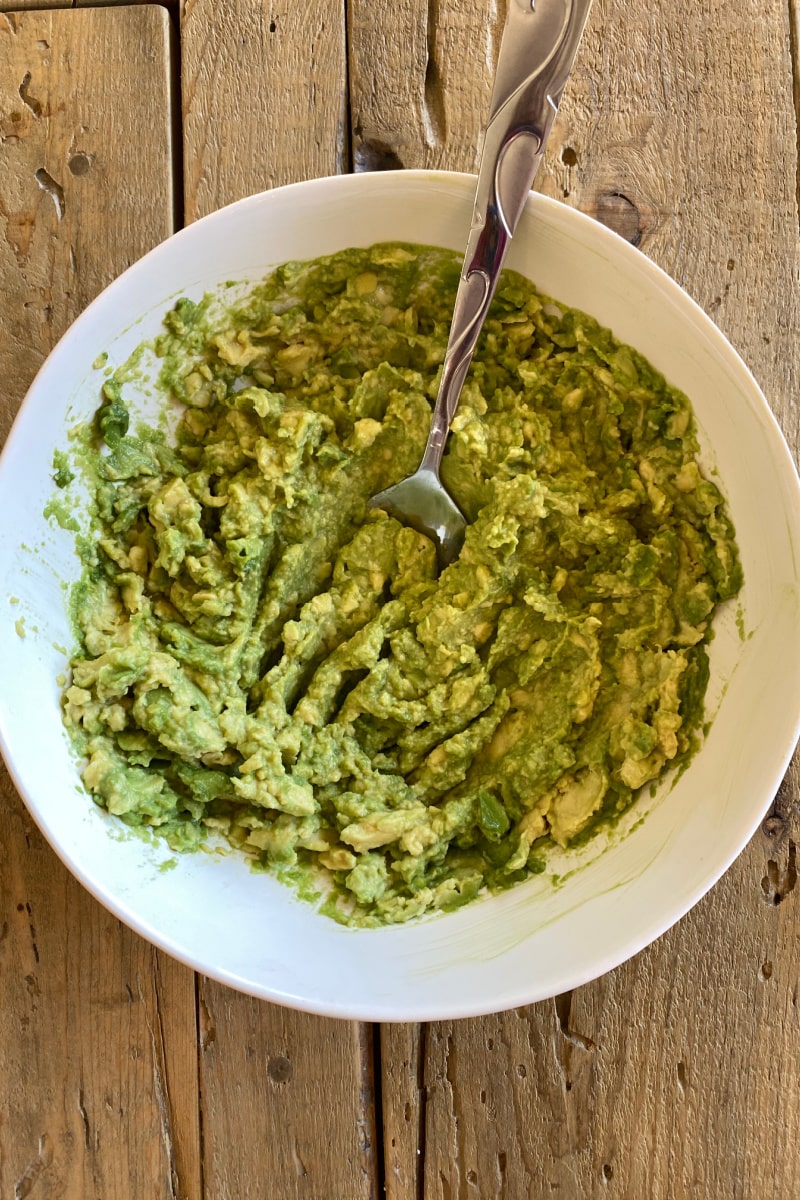 How to make Guacamole (Recipe Girl style):
Mash four ripe avocados in a bowl. I like to use large Haas avocados.
How do you know when avocados are ripe?
A ripe avocado will yield lightly to pressure when squeezed. It'll be slightly soft but not squishy. If it's squishy, then an avocado has gone beyond the point of no return, and it won't be good to use for guacamole.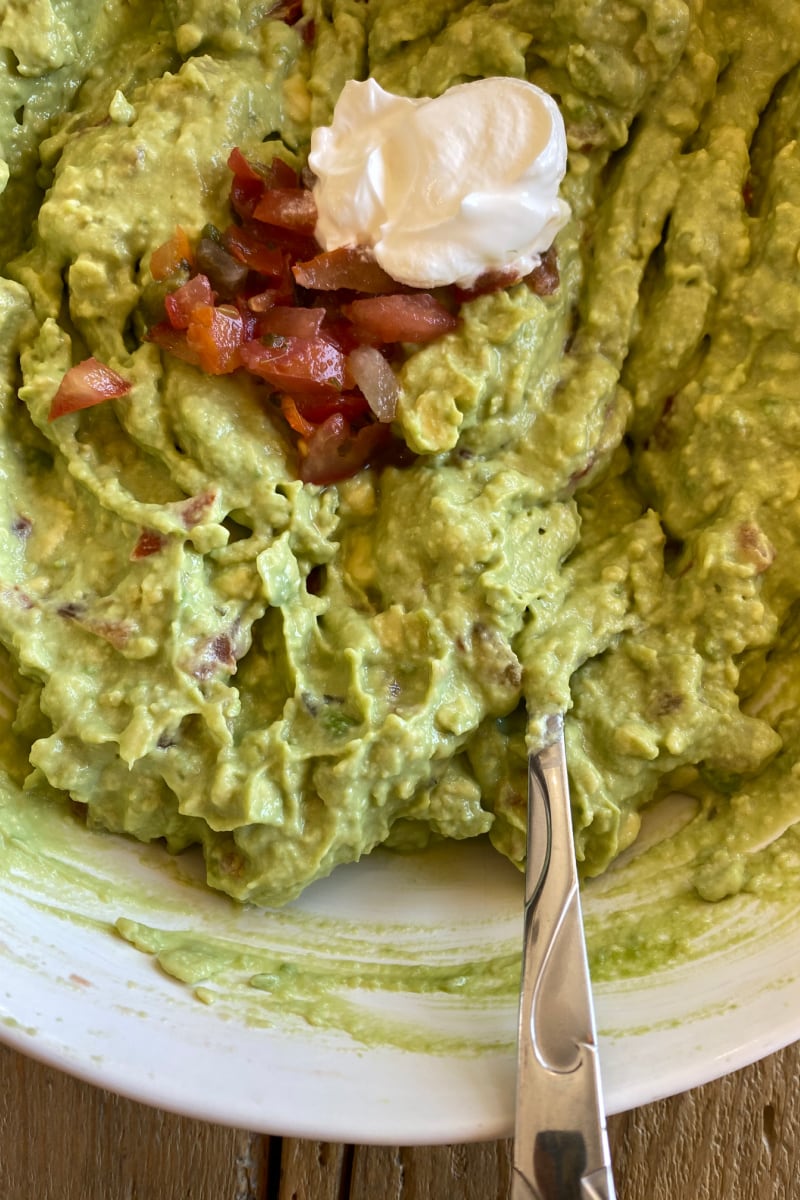 Here's where things get different. I like to add a little sour cream to my guacamole. There are two reasons for this. The first is that it adds a little creaminess to the guacamole. The second is that it gives you a little more guacamole! It doesn't do much to the flavor at all. If you are a purist (or if you avoid dairy), then it's okay to leave out the sour cream.
Next I add a large scoop of fresh salsa. This means you can get a little tomato, onion and cilantro in there to spice things up without having to buy tomatoes, onions and cilantro.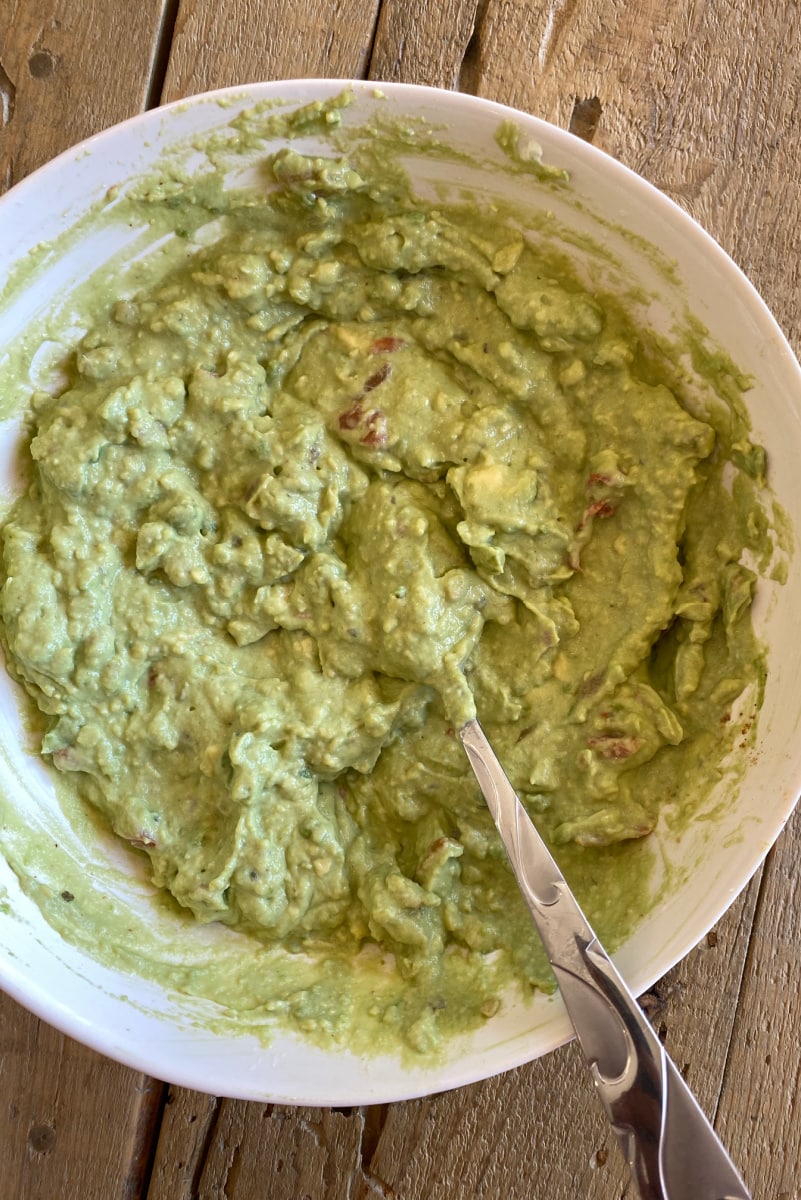 Stir it all up, add in some fresh lime juice and a generous sprinkle of ground cayenne pepper. Taste it, and add as much salt as desired. That's it!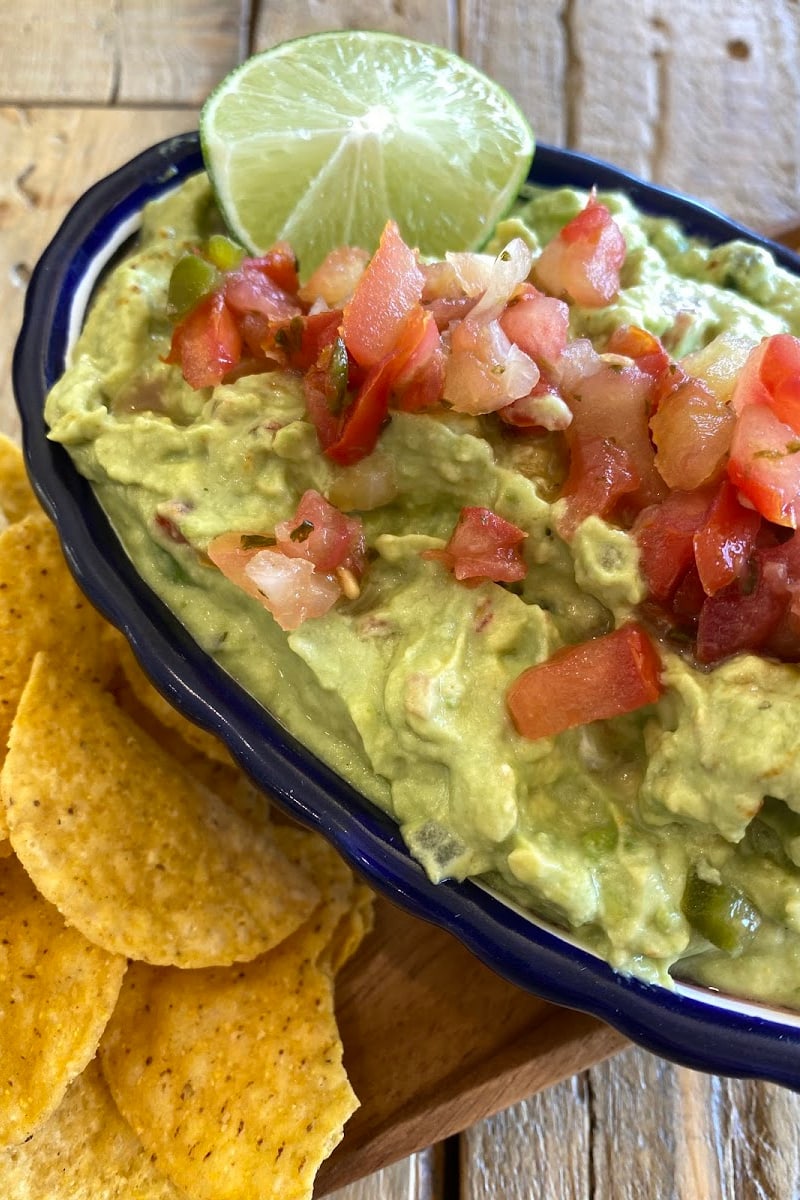 Guacamole is best when eaten the day it's made. To finish things off, I squeeze more lime juice on top (to help prevent the air from browning the avocado), then I put a little fresh salsa on top too.
If you want to serve it in a couple of hours, take a piece of plastic wrap and cover the guacamole. Press the plastic wrap down so it's touching the guacamole, and refrigerate it.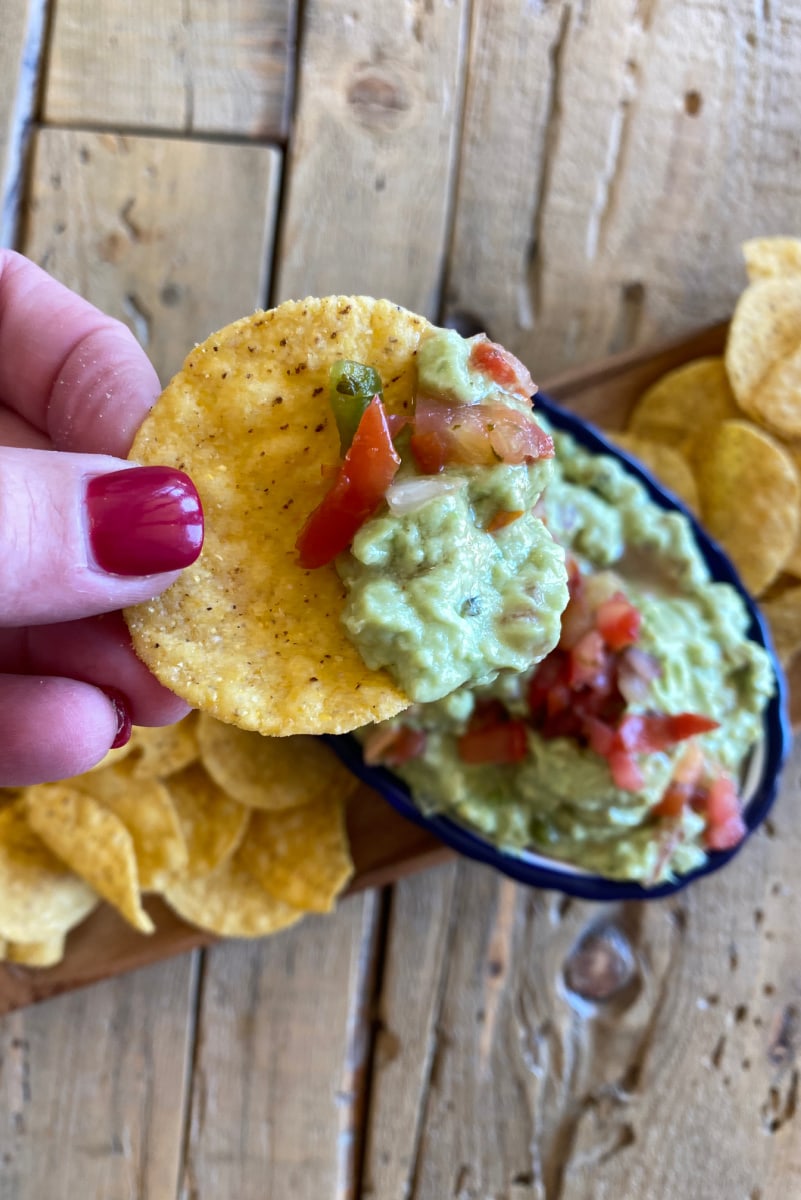 Serve with your favorite tortilla chips, and come back for more and more!
Guacamole
A creamy version of classic guacamole that everyone seems to love!
Recipe Details
Ingredients
4

large

avocados,

peeled and pits removed

¼

cup

sour cream

¼

cup

fresh salsa

(additional for garnish, if desired)

1

medium

lime

⅛

teaspoon

ground cayenne pepper

salt,

to taste

chips,

for serving
Instructions
Place the avocado in a bowl and mash. Leave some chunks here and there.

Stir in sour cream, salsa, ½ squeezed lime and cayenne pepper. Add salt, to taste.

Scrape the guacamole into a serving dish, and squeeze fresh lime juice on top. Garnish with more fresh salsa. Serve immediately.
Notes
If serving later (should be served same day), cover with plastic wrap and press the plastic wrap to the guacamole, so it's touching the guacamole. This will prevent air from coming in and turning the top of the guacamole brown.
Nutrition
Serving:
1
serving
,
Calories:
180
kcal
,
Carbohydrates:
10
g
,
Protein:
2
g
,
Fat:
16
g
,
Saturated Fat:
3
g
,
Cholesterol:
4
mg
,
Sodium:
70
mg
,
Potassium:
530
mg
,
Fiber:
7
g
,
Sugar:
1
g
,
Vitamin A:
248
IU
,
Vitamin C:
13
mg
,
Calcium:
25
mg
,
Iron:
1
mg