Avocados are best though when you mash them up and make a big bowl of fresh guacamole.  I usually just make my basic guacamole recipe, but my recent trip to Mexico had me thinking about different ways to prepare it. My new creation: Citrus Guacamole with Baked Cumin-Dusted Tortilla Chips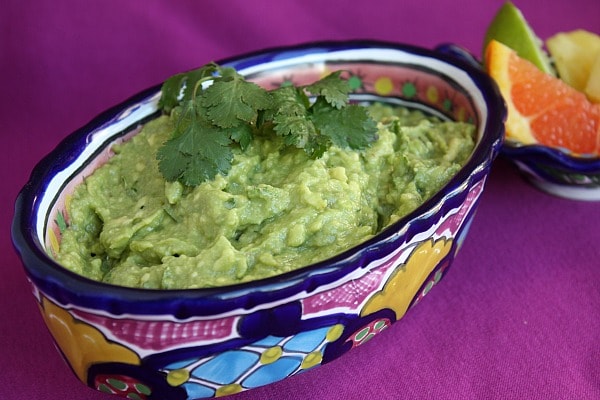 A really simple guacamole to make, mash up some avocados and add fresh lime and orange juices. I know that pineapple isn't technically considered a "citrus" fruit, but there's some pineapple juice in there too. A little hot sauce, cilantro and sea salt and this guacamole is ready to serve.
When you make guacamole, it's all about preparing it to taste. If you want more of a certain flavor, just add more. Freshly baked chips are wonderful dipped into guac. Fresh pineapple dunked into guacamole is also pretty delicious.  This guacamole turns out to have a slight hint of citrus and spice (again… you can make it more citrusy or more spicy if you desire).
Citrus Guacamole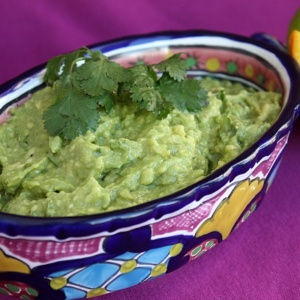 Yield:
4 to 6 servings
Prep Time: 15 minutes
Ingredients:
2 to 3 ripe avocados, mashed
1/2 tablespoon lime juice + a little more
1/2 to 1 tablespoon orange juice
1/2 to 1 tablespoon pineapple juice
1/4 cup coarsely chopped fresh cilantro
1 tablespoon hot sauce (more or less to taste)
sea salt, to taste
Directions:
Place mashed avocado in a small bowl. Add juices (start w/ 1/2 tablespoon each & then add a little more, if desired, to taste). Add hot sauce (as much as is desired) and sea salt, to taste.
Scoop into a serving bowl and drizzle the surface with lime juice (this will help prevent the guacamole from turning brown). Refrigerate until ready to serve. Serve within a couple of hours of making.
Nutrition:
How do you know if an avocado is ripe? Hold it in your hand and gently press. It should give in just a little. If it's too hard, bring it home and let it sit at room temperature for a day or two until it softens. If they're already ripe but you're not ready to use it yet, keep it in the refrigerator for a couple of days until you're ready to use them (the chill will stop the ripening).
Hot sauce recommendation- I like Cholula brand but you can use any kind of picante sauce or spicy taco sauce.
Make some quick & easy Cumin-Dusted Tortilla Chips to serve with your guacamole: Preheat oven to 425 degrees F. Place four corn tortillas on a baking sheet. Spray the tortillas with nonstick spray. Sprinkle lightly with cumin powder and a tiny bit of cayenne pepper. Finish them off with a good sprinkle of sea salt and use a pizza cutter to cut into wedges. Bake 8 to 12 minutes, until wedges are crispy. Let cool and then serve with the guacamole.
SOURCE:  RecipeGirl.com
More guacamole recipes you might enjoy: