Just another really good guacamole recipe > Sweet and Smoky Mango Guacamole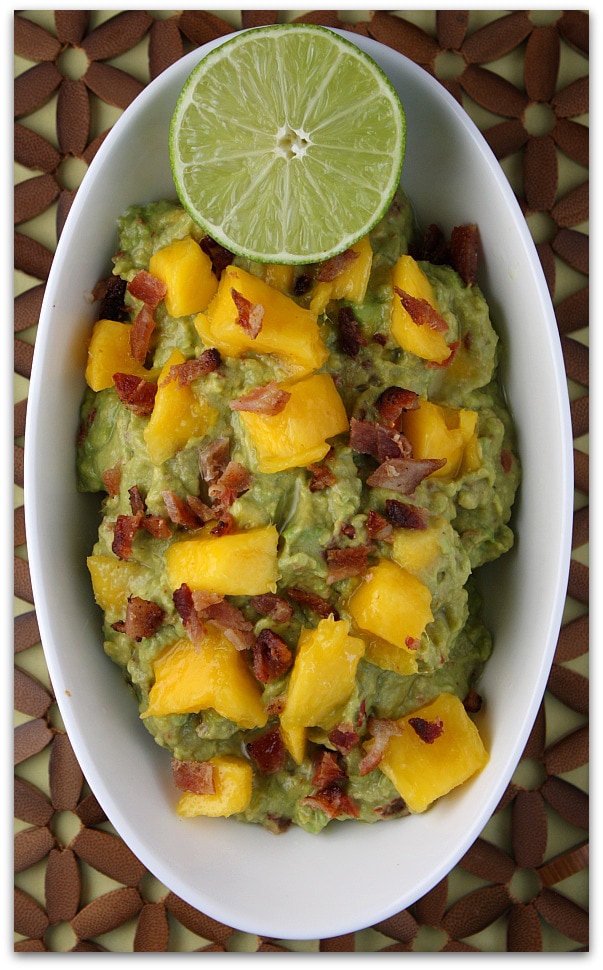 Sweet Smokin' Hot, Mango- Chipotle Guacamole
I worked really hard to perfect this recipe with the intention of entering it into a contest at the San Diego County Fair, and then I realized that I was not eligible (as a food professional) to enter 🙁 So I'm sharing it with my readers instead. What do you think... prize winning capabilities?
Yield:
2 cups
Prep Time: 20 minutes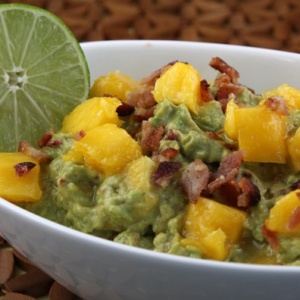 Ingredients:

2 medium perfectly ripe avocados (*see tips below)
1/2 medium lime, divided
2 Tablespoon sour cream (light is fine)
1 teaspoon chopped chipotle chile in adobo sauce, seeds removed (from a can)
1/2 teaspooon chipotle sauce (*see tips below)
3 slices Applewood Smoked Bacon, cooked 'till crisp & crumbled, divided
3/4 cup chopped fresh mango, divided
3 Tablespoons fresh salsa
salt and pepper, to taste

Instructions:

In a medium bowl, mash avocado roughly with a fork (leave some chunks). Squeeze the juice from 1/4 of a lime on top. Add sour cream, chipotles & sauce. Stir gently until combined.
Mix in 2 slices of crumbled bacon, 1/2 cup mango and salsa.
Add salt and pepper to taste. Drizzle guacamole with juice of 1/4 of a lime. Sprinkle with remaining crumbled bacon and mango.
Serve immediately (or soon) with tortilla chips and/or jicama slices.

Tips:

To figure out if an avocado is ripe or not, you need to hold it in your hand and press lightly. A perfectly ripe avocado has a little bit of give to it when you press down. If it's easy to squish, it's too ripe. If there are any soft (or hollow) spots, it's too ripe. If you can't find avocados that are ready to use... they're not quite ripe enough, bring them home and let them sit on your counter for a day or two. Put them in a paper bag to speed up the ripening process.
Chipotles chiles in adobo sauce are sold canned, and you should be able to find them in your market's latin products section.
If you open a new can of chipotles in adobo, you'll have lots left over. They freeze really well. Just scoop a chipotle and some sauce into individual zip baggies and throw them in the freezer. Simply let them thaw out when you need them again. Works great.
If you like things extra spicy, you can always add a little more chipotle sauce. Go with what's in the directions, and add more if desired.
This recipe calls for Applewood Smoked Bacon, which is really good. If you can't find it, use regular smoked bacon. The Applewood variety can be found in specialty markets (and Trader Joe's).
Fresh salsa can usually be found in your market's deli section, where they might carry other refrigerated Latin products.
SOURCE: RecipeGirl.com