This version of classic guacamole adds a bit of juicy, ripe mango to create Mango Guacamole.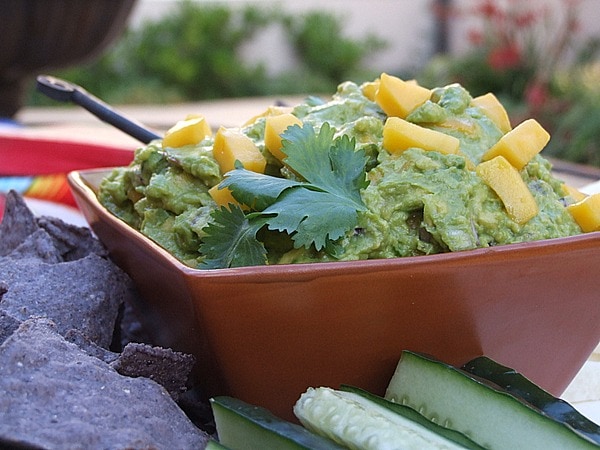 Mango Guacamole was the second appetizer that I made for our Yucatan-themed Gourmet Club's dinner party. (The first one was a Ceviche) If I have any advice for prepping avocado for guacamole it would be to not pulverize the heck out of the avocado. It's much better if you mash it roughly with a large fork and leave chunks within than if you turn it into the texture of mashed potatoes.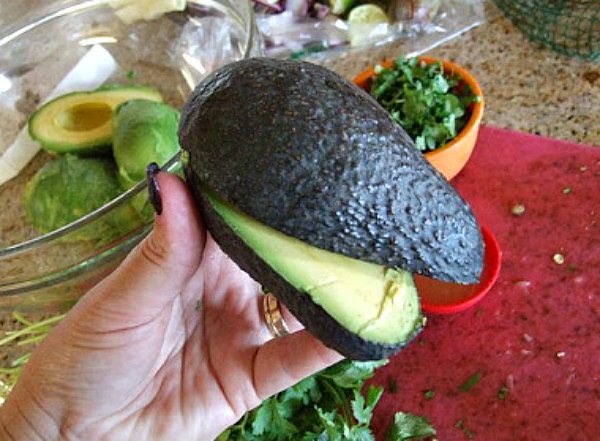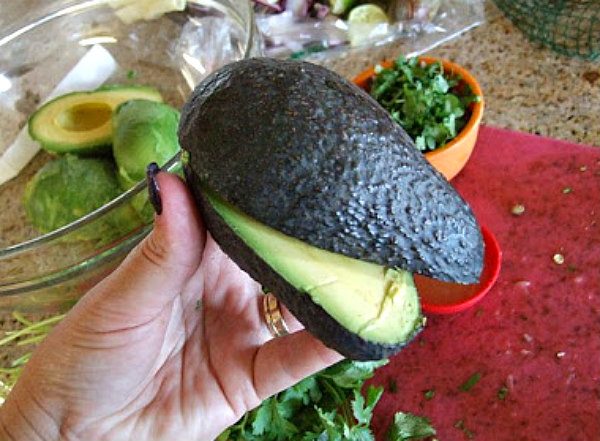 A ripe avocado should give just slightly when you gently squeeze it. If it's hard, the avocado will need a couple of days on your counter to ripen. Open it up by slicing a knife all the way around and down to the pit. Twist halves in opposite directions to open it up.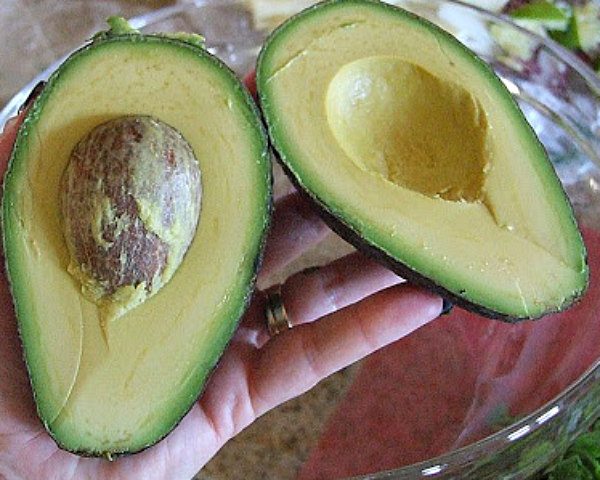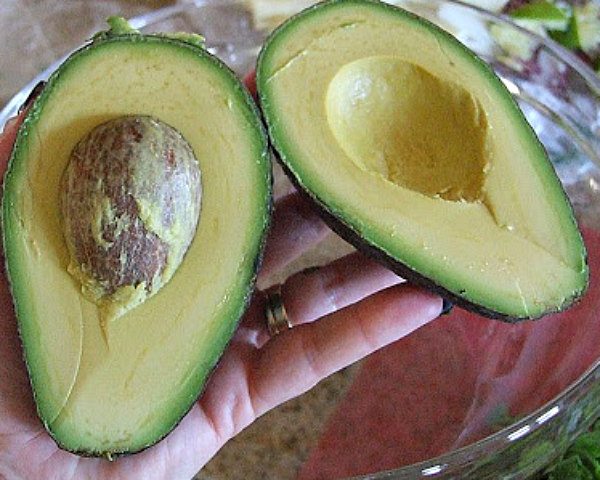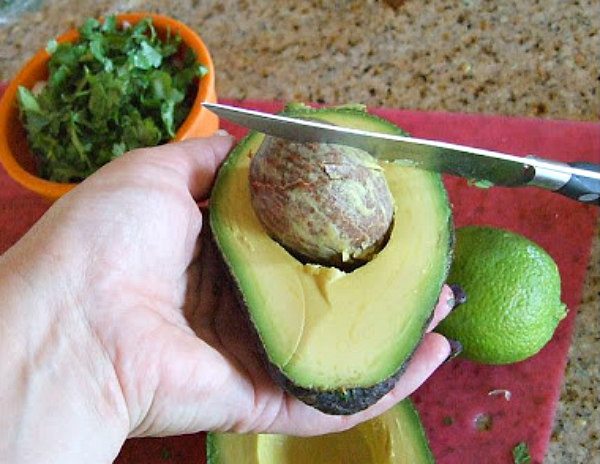 To remove the pit, gently tap a sharp knife onto the pit. Twist it and it should pop out easily.
Scoop out the flesh with a large spoon and the avocado is ready to use.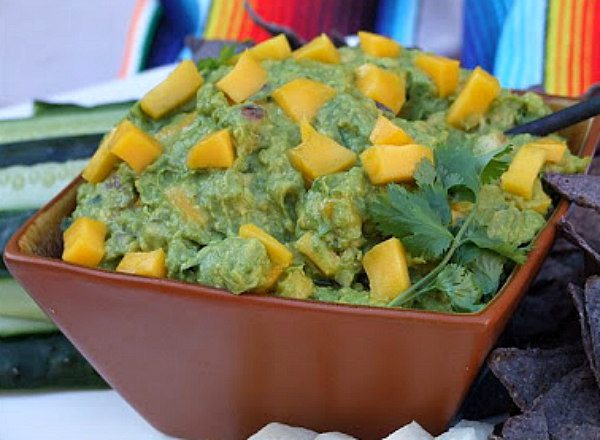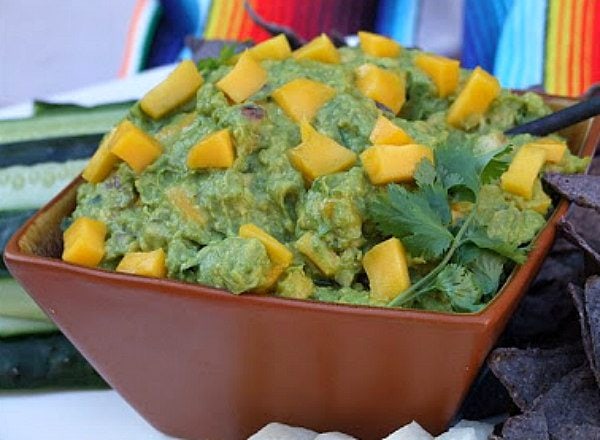 There really isn't any special magic involved in the making of this guacamole. It pretty much just tastes like any great guacamole with the addition of mango. If you've got a perfectly ripe mango that slices nicely and isn't overly squishy, then you'll end up with a good guac. The mango contributes a sweetness to the classic guacamole just as mango salsa is a sweet change from classic salsa. Everyone enjoyed the change and it was devoured quickly with blue corn tortilla chips, sliced jicama and cucumber.
Here is the rest of our menu we used for our Yucatan-themed dinner… all from Rick Bayless (and can be found on his site). And ALL were delicious.
Sangria Mexicana
Salt and Pepper Ceviche
Mango Guacamole
Dzik (steak appetizer)
Authentic Tortilla Soup (Recipe from one of our guests who is from Mexico)
Heirloom Tomato "Carpaccio" with Tomatillo Salad, Avocado & Fresh Herbs
Rice & Black Beans
Achiote Seared Shrimp with Quick Habanero Pickled Onions
Tangy Yucatecan Grilled Pork with Roasted Onions and Fresh Garnishes
Caramelized Mango Tart with Chocolate and Pepitos
Mango Guacamole
The mango adds a sweetness that makes for a nice change from regular guacamole.
Yield:
2 1/2 cups
Prep Time: 20 minutes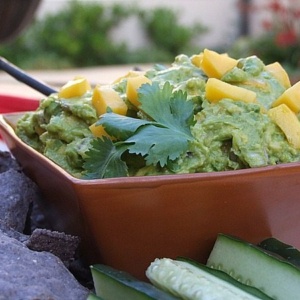 Ingredients:

3 large ripe avocados
1/2 small red onion, diced
1/2 to 1 fresh serrano chile, seeded & finely chopped
2 tablespoons chopped fresh cilantro, plus a few extra leaves for garnish
2 tablespoons freshly squeezed lime juice (about)
1 medium ripe mango, peeled, flesh cut from the pit & diced
salt to taste

Instructions:

Cut avocados in half, running your knife around the pit from stem to blossom end and back up again. Twist the halves in opposite directions to free the pit, and pull the halves apart. Gently tap pit with a sharp knife, twist and remove pit. Scoop avocado flesh into a large bowl. Coarsely mash avocado with a fork.
Rinse chopped red onion under cold water (to get rid of some of the excess onion juices/flavor), shake off excess water, then add it to the avocado along with the chopped chile, cilantro and lime juice.
Mix in two-thirds of the diced mango. Taste and season with salt.
If not serving right away, cover with plastic wrap pressed directly on the surface of the guacamole (to prevent browning) and refrigerate- preferably for no more than a few hours.
When you're ready to serve, scoop guacamole into a serving bowl and garnish with the remaining diced mango and cilantro sprigs. Serve with tortilla chips, slices of cucumber and/or jicama.

Tips:

Use plastic gloves when handling the serrano chile or you'll have that spicy burn on your fingers that will be tough to get rid of.