These Carnitas Tostadas with Pineapple Guacamole make the best dinner for the whole family!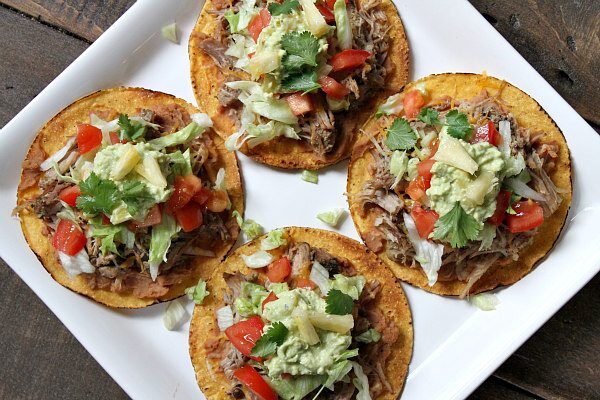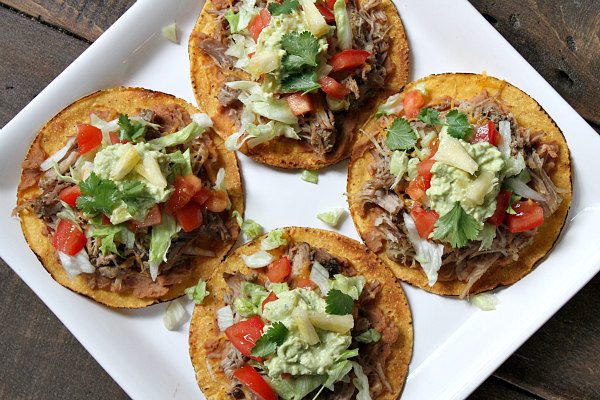 I have been creating recipes for Smithfield for a couple of years now- using all of their marinated fresh pork (pork loins, tenderloins, loin filets and sirloins).  I love that they're pre-marinated and seasoned.  It makes preparing dinner so much easier, and I can usually get food on the table in less than 30 minutes.
Smithfield is currently hosting the Real Flavor, Real Fast contest– challenging you to see what you can do with Marinated Fresh Pork to create a 30-minute meal.  To submit your original tip for a chance to win great prizes, go to www.SmithfieldRealFlavorRealFast.com.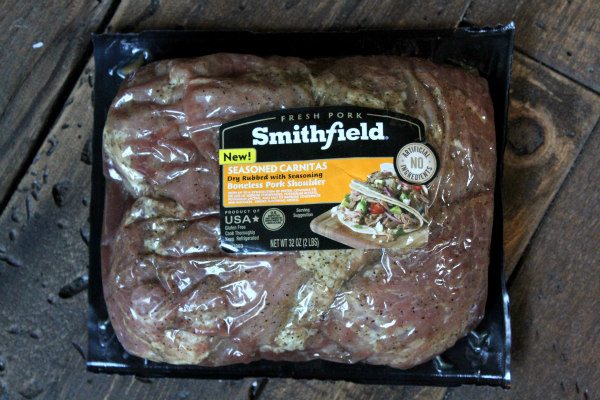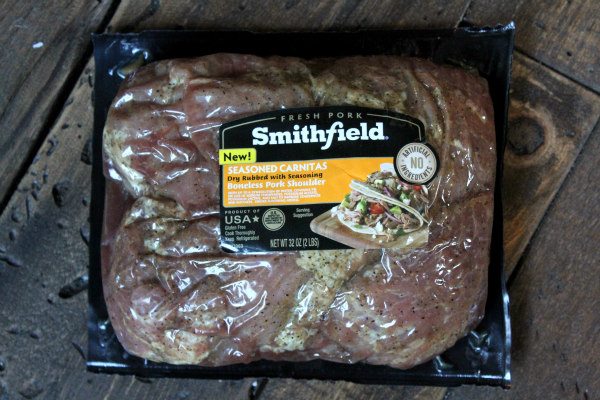 This is the first time I've tried the Smithfield Seasoned Carnitas, and I LOVE THEM!!  It's my favorite Smithfield product by far.
My family loves carnitas as it is, and I make them every once in a great while… but to buy them already seasoned is a big bonus.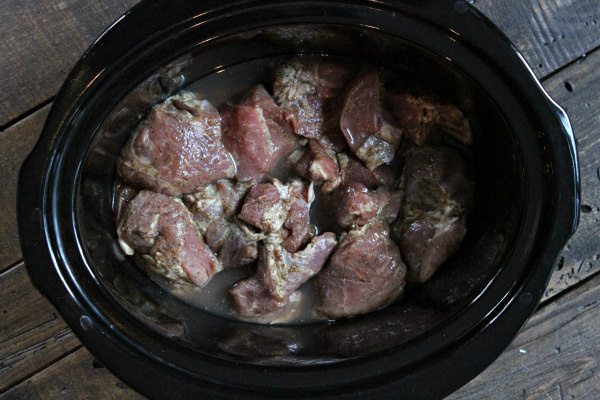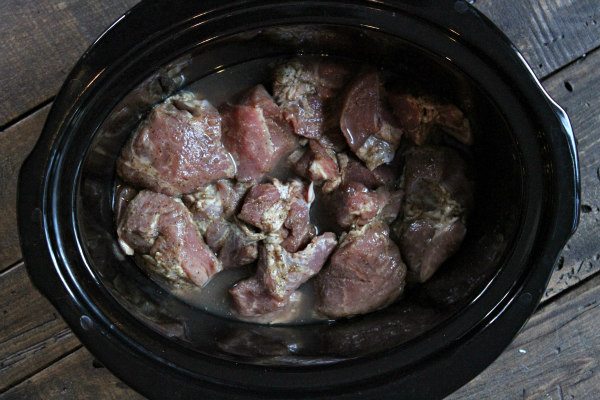 This recipe is so simple.  The carnitas are slow cooked with just a little bit of water.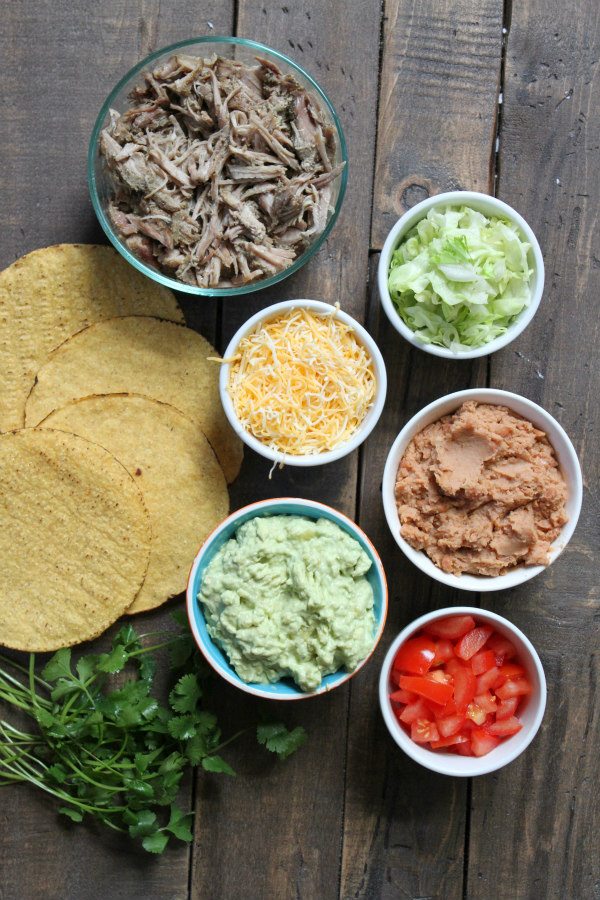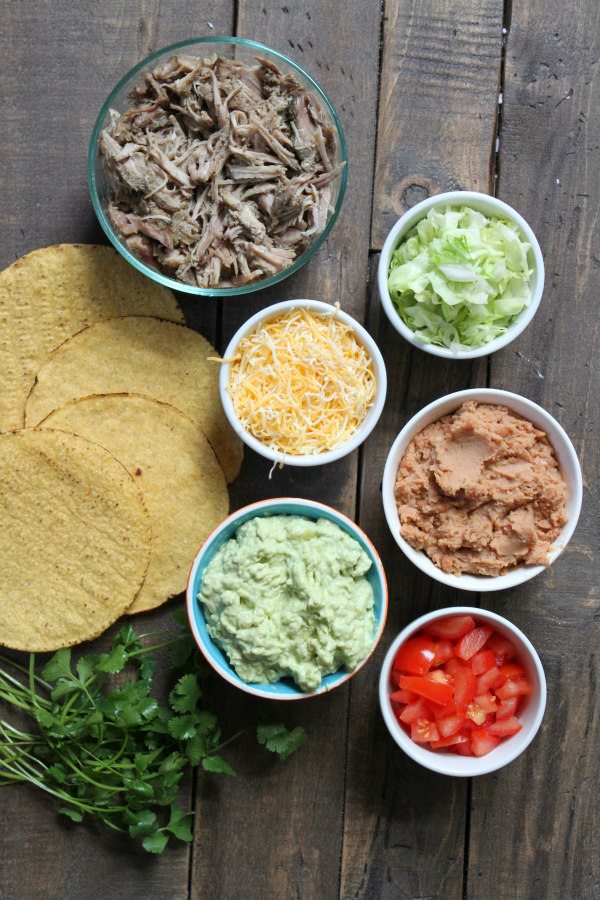 After several hours of slow cooking, the carnitas are pulled apart, and you're ready to assemble them into tostadas for a quick and easy weeknight meal.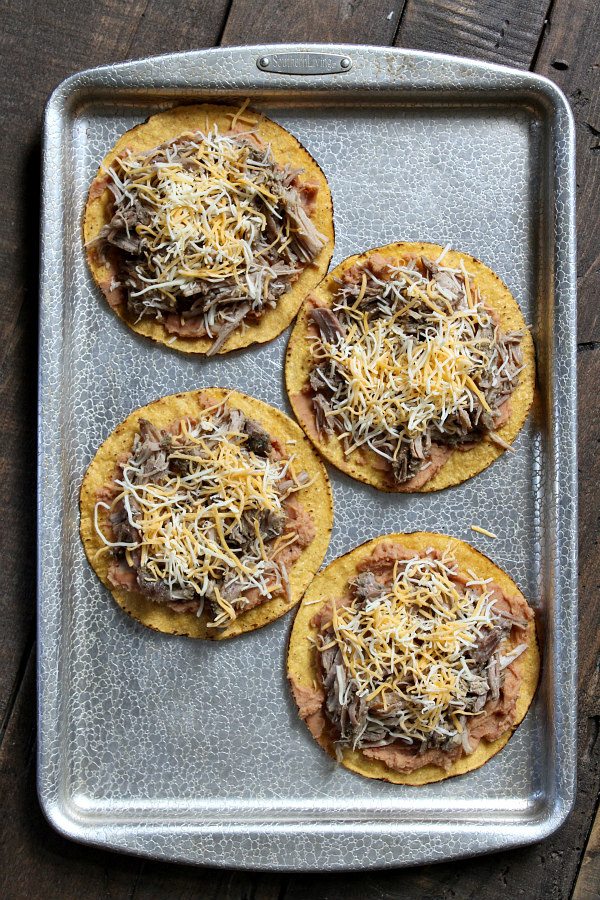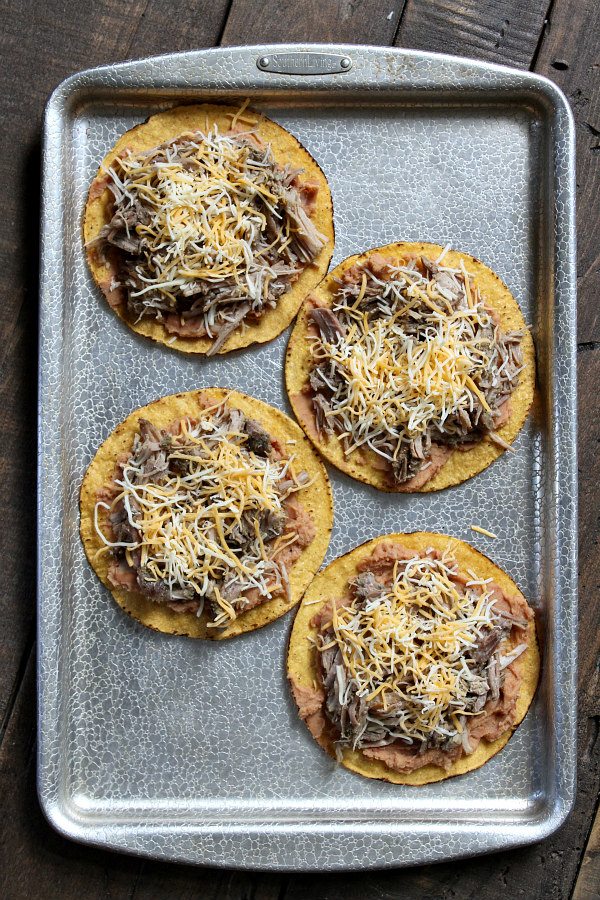 I like to buy the tostada shells in the market that area already crisp.  You'll spread them with a little bit of refried beans, then top with the carnitas and shredded cheese.
Just three minutes under the broiler, and they're ready for the rest of their toppings.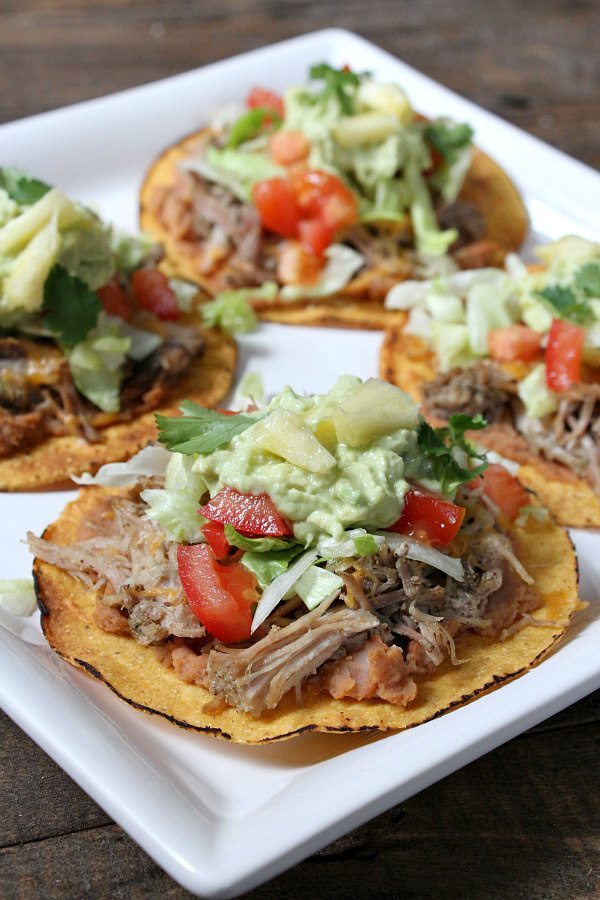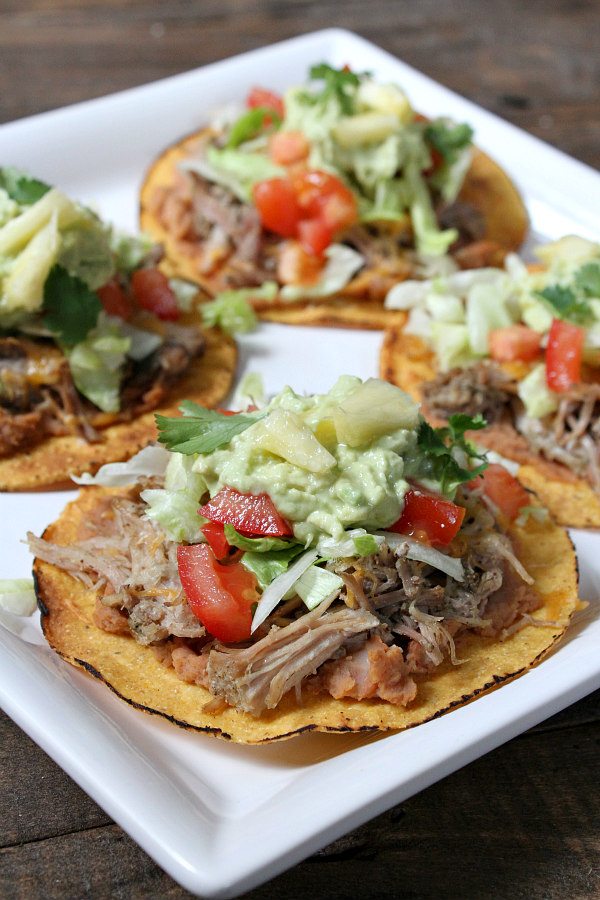 I finish them off with lettuce, tomato,  pineapple guacamole and some fresh cilantro.  I include the recipe for pineapple guacamole below… but you can add sliced avocado in place of the guacamole if you prefer.  Or add sour cream… salsa… jalapeños… whatever you like!
Try this recipe featuring Smithfield Marinated Fresh Pork: Garlic Herb Pork and Onion Po' Boys.  For more meal inspiration and recipe ideas, visit www.SmithfieldRealFlavorRealFast.com or Facebook.com/CookingwithSmithfield.
Carnitas Tostadas with Pineapple Guacamole
Yield:
10 to 12 tostadas
Prep Time: 30 minutes + slow cooker time for the carnitas
Cook Time: 3 minutes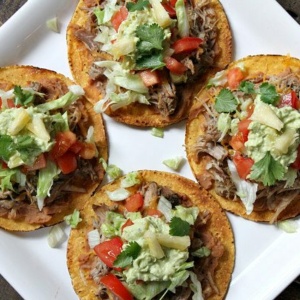 Ingredients:

Tostadas:

2 pounds Smithfield pre-seasoned carnitas
1/2 cup water
10 to 12 corn tostada shells
one to two cans refried beans
1 cup shredded Mexican cheese blend
2 cups chopped iceberg lettuce
2 large chopped tomatoes
chopped fresh cilantro

Pineapple Guacamole:

2 large avocados, mashed
2 tablespoons sour cream
1/2 cup finely chopped fresh pineapple
1 teaspoon freshly squeezed lime juice
ground red pepper and salt, to taste

Instructions:

Prepare the carnitas in the slow cooker according to package directions (about 6 hours on low in the slow cooker with 1/2 cup water).  When done cooking shred the pork.
Preheat your oven broiler.  Spread tostada shells lightly with refried beans, sprinkle some shredded carnitas on top of the beans, and then top with a sprinkle of cheese.  Place under the broiler for 3 to 4 minutes, watching to make sure they do not burn.
Top warm tostadas with whatever you desire- lettuce, tomato, guacamole (just mix all of the guac ingredients together to prepare) and fresh cilantro.  Enjoy!
SOURCE:  RecipeGirl.com
Here are a few more recipes for tostadas that you might enjoy:
Disclosure:  This post has been written in partnership with Smithfield to share their line of marinated pork.  This is a product that I know and use in my kitchen.  All opinions shared are my own.